Session Information
Session Time: 1:45pm-3:15pm
Location: Exhibit Hall C
Objective: To describe the PET-MRI brain and DaTscan findings in a case of Parkinson Dementia Complex of Guam.
Background: The indigenous Chamorro people of Guam have a high incidence and susceptibility to a severe neurodegenerative disease called Parkinson Dementia Complex (PDC), with or without ALS. Its etiology remains elusive, although genetics, environmental and dietary factors have been proposed. Its neuropathological hallmark is increased neurofibrillary tangles in the frontal and temporal cortices mixed with 3R and 4R tau isoforms.
Methods: Case study
Results: A 66-year-old Guamanian-American male of Chamorro ancestry was evaluated at the Movement and Cognitive Disorders clinics for Parkinsonism and dementia, respectively. He left Guam to join the Army at 16 years of age. His symptoms began at age 61 with memory problems, poor judgment, irritability, and disinhibition. Three years later, he developed bilateral hand and right leg tremors, gait difficulty and frequent falls. He has a strong family history for Parkinsonism and dementia in his maternal grandfather, sister, brother and paternal and maternal uncles. Exam showed rest tremor (right>left), postural and action tremor, bradykinesia, slow gait with decreased stride length, normal vertical gaze, positive snout, glabellar and palmomental reflexes. His tremors improved with Levodopa. EMG was negative for ALS. Neuropsychological testing confirmed multi-domain dementia. Brain MRI showed bifrontal atrophy (figure 1). Brain PET/MRI fused images (figure 2) revealed severe decreased metabolic activity in both frontal lobes, left temporal lobe and left parietal lobe, and moderate decreased activity in the left basal ganglia and right cerebellum. DaTScan (figure 3) showed severe loss of dopamine uptake bilaterally. His PET/MRI was initially interpreted as consistent with frontotemporal dementia; however, given his markedly abnormal DaTScan, Chamorro ancestry, and strong family history for similar symptoms, he was diagnosed with Parkinson-Dementia Complex of Guam without ALS.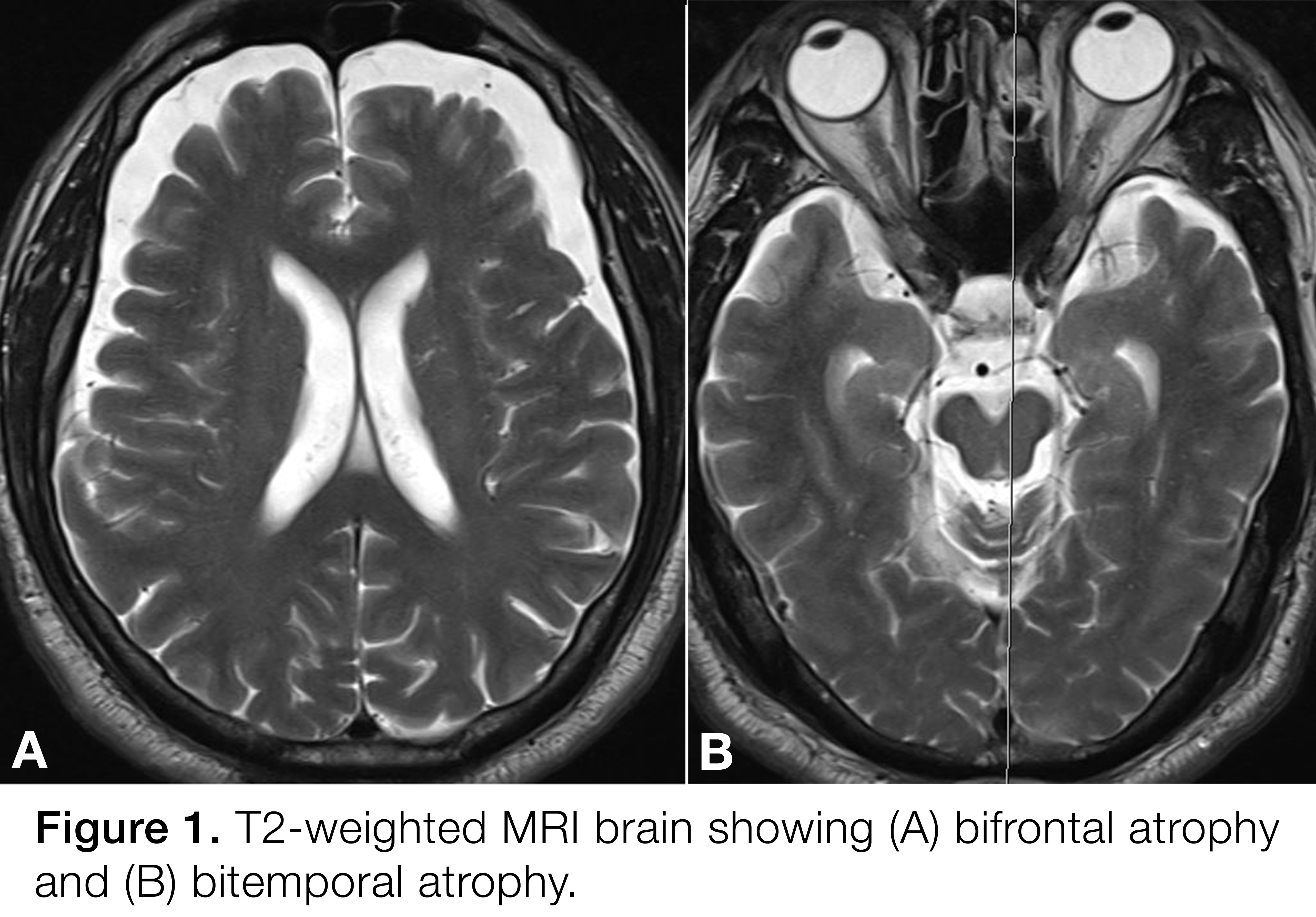 Conclusions: The clinical findings combined with modern neuroimaging tools such as DaT scan and PET-MRI are essential in establishing the presumptive diagnosis of Parkinson's-Dementia Complex of Guam. In cases of motor Parkinsonism with atypical features, the utilization of combined structural data from MRI and functional data from DaTscan and PET are indicated.
References: Steele JC. Parkinsonism-dementia complex of Guam. Mov Disord. 2005 Aug;20 Suppl 12:S99-S107.
To cite this abstract in AMA style:
A. Tran, K. Chan, V. Kharidi, E. Goldstein, R. Burns, P. Reyes. PET-MRI Imaging in Parkinson Dementia Complex of Guam: A Case Report [abstract].
Mov Disord.
2017; 32 (suppl 2). http://www.mdsabstracts.org/abstract/pet-mri-imaging-in-parkinson-dementia-complex-of-guam-a-case-report/. Accessed January 19, 2018.
« Back to 21st International Congress
MDS Abstracts - http://www.mdsabstracts.org/abstract/pet-mri-imaging-in-parkinson-dementia-complex-of-guam-a-case-report/