Session Information
Session Time: 1:15pm-2:45pm
Location: Exhibit Hall C
Objective:
To review the unique features of the ongoing Phase 3 trial for APL-130277.
Background:
Patients with Parkinson's disease (PD) frequently develop problematic OFF episodes despite optimization of therapies. APL-130277 (apomorphine) is administered sublingually and being studied for OFF episodes.
Methods:
This trial included an open-label Dose Titration Phase (DTP) and a double-blind Maintenance Treatment Phase (MTP) [figure1]. Patients with PD who had early AM OFF episodes, total OFF time >2 hours/day and a positive levodopa challenge were eligible. In addition to meeting all pre-specified inclusion/exclusion criteria, approval from the enrollment adjudication committee (EAC) was required. The EAC determined whether a patient was appropriate for inclusion in the study. Exclusions were based upon patient reliability to complete the trial. During the DTP, patients did not take any of their PD meds after midnight and presented in the clinic in an OFF state in the AM. Patients were treated with APL-130277 10 mg. Patients who responded with a full ON < 45 mins could move to the MTP. Patients who did not achieve a full ON response returned for the next dose (i.e., 15 mg) up to 35 mg. The next highest dose could be evaluated at the next visit following a full ON response to assess the potential for an improved full ON. Upon successful completion, patients were randomized to either APL-130277 or placebo in a 1:1 ratio and entered the MTP. During the MTP, patients returned monthly in the OFF state for assessments. During the 12-wk MTP, patients were instructed to continue using their regular PD meds, but should take their study drug for any type of OFF episode up to 5 x/day. For 2 d prior to each of the in-clinic visits; patients completed a home dosing diary. The primary endpoint was the 12-wk clinic visit.
Results:
Of the 111 unique cases submitted to the EAC for consideration, there were 11 who did not receive EAC approval and 1 case where the patient withdrew consent before EAC evaluation. Of those approved, 96 entered the DTP of the study. Prelim data is available for the 96 patients.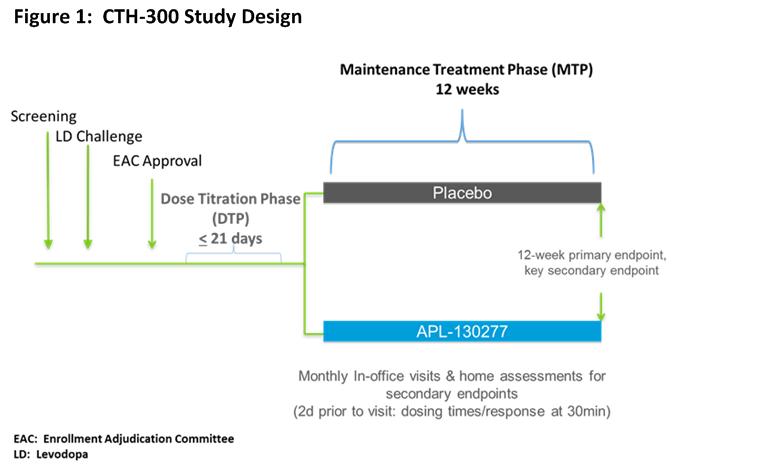 Conclusions: This Phase 3 study of APL-130277 has unique design features such as an EAC to confirm appropriateness of each patient and an open-label DTP to determine the appropriate dose for the MTP.
To be presented at:
1st Pan American Parkinson's Disease and Movement Disorders Congress (February 24-26, 2017; Miami, FL)
To cite this abstract in AMA style:
C.W. Olanow, E. Pappert, P. Gardzinski, B. Dzyngel, A. Agro. Study Design of an Efficacy and Safety Phase 3, Randomized, Double-Blind, Placebo-Controlled Trial of APL-130277 in the Treatment of OFF Episodes (CTH-300) [abstract].
Mov Disord.
2017; 32 (suppl 2). http://www.mdsabstracts.org/abstract/study-design-of-an-efficacy-and-safety-phase-3-randomized-double-blind-placebo-controlled-trial-of-apl-130277-in-the-treatment-of-off-episodes-cth-300/. Accessed February 18, 2018.
« Back to 21st International Congress
MDS Abstracts - http://www.mdsabstracts.org/abstract/study-design-of-an-efficacy-and-safety-phase-3-randomized-double-blind-placebo-controlled-trial-of-apl-130277-in-the-treatment-of-off-episodes-cth-300/