Session Information
Session Time: 1:45pm-3:15pm
Location: Exhibit Hall C
Objective: To describe the prevalence of substance abuse and its relationship with neuropsychiatric features in Huntington's disease (HD).
Background: Substance abuse is not well established in HD. In Mexico, overall frequency of alcohol abuse is 49.1%, tobacco use 18.4 % and marijuana use 17.8%. All more in men (68%). To our knowledge, the prevalence of substance abuse in HD is not widely reported in literature. Moreover, alcohol and drug abuse are associated with suicidal ideation. Only four studies have explored the relationship between substance abuse and HD age of onset, with conflicting results, but the association with neuropsychiatric symptoms was not assessed.
Methods: Subjects diagnosed with HD were included. Data collected included: age, age of onset, sex, and education. Substance abuse History (alcohol, tobacco, marihuana/cocaine), presence of apathy, anxiety, insomnia, aggressiveness, irritability, suicidal ideation, obsessive or compulsive symptoms.
Results: A total of 185 subjects were included (48.1% men). Use of tobacco was reported in 40%. No association was found with neuropsychiatric symptoms (Table 1).
Use of alcohol was reported in 41%. A trend of alcohol use and anxiety was found (p=0.059). Moreover, alcohol use was associated with insomnia (p=0.027) and irritability (p=0.02). Finally, drug abuse was reported in 4.9 % of the sample. had anxiety (p=0.019), 6 patients had insomnio (p=0.027).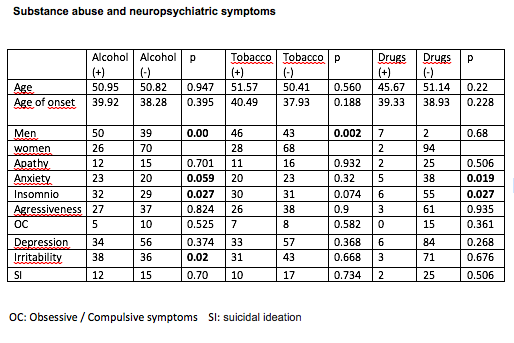 Conclusions: In our sample of subjects with HD tobacco use was higher than in general population. Conversely, alcohol and marihuana/cocaine use was less frequent. A relationship between tobacco use and insomnia and irritability was found. Drug use was related with insomnia and anxiety. No association with suicidal ideation or HD age onset was found for any substance use.
References: 1. Byars, J.A., Beglinger, L.J., Moser, D.J. et al. J Neurol (2012) 259: 1824. doi:10.1007/s00415-012-6415-8
2.Wetzel H, Gehl C, Dellefave L et al. Suicidal ideation in Huntington's disease. The role of comorbidity. Psychiatry Res. 188(3), 372–376 (2011).
To cite this abstract in AMA style:
K. SALINAS BARBOZA, L. MENDOZA VEGA, A. CRUZ LANDERO, S. ISAIS MILLAN, M. RODRIGUEZ VIOLANTE, A. CERVANTES ARRIAGA, N. DAVILA AVILA. Prevalence of substance abuse in Huntington´s disease patients and its relationship with neuropsychiatric symptoms [abstract].
Mov Disord.
2017; 32 (suppl 2). https://www.mdsabstracts.org/abstract/prevalence-of-substance-abuse-in-huntingtons-disease-patients-and-its-relationship-with-neuropsychiatric-symptoms/. Accessed December 11, 2023.
« Back to 2017 International Congress
MDS Abstracts - https://www.mdsabstracts.org/abstract/prevalence-of-substance-abuse-in-huntingtons-disease-patients-and-its-relationship-with-neuropsychiatric-symptoms/