Session Information
Session Time: 1:45pm-3:15pm
Location: Exhibit Hall C
Objective: Clinical description and interpretation of complementary diagnostic exams of a patient with probable PSP with corticobasal syndrome phenotype (PSP-CBS).
Background: Underlying pathologies of CBS are heterogeneous, but 70% of cases have a tauopathy. CBS, however, is a rare presentation of PSP and PSP-CBS comprises of only 4% of PSP cases.
Methods: A 78 years-old, female patient with a previous history of anxiety disorder developed at age of 77 years-old gait difficulties, loss of balance with frequent falls (mainly backwards) and cognitive complains. In the neuropsychological assessment, she scored 25 in MMSE and 14 in MoCA (12 years of education), affecting mainly executive functions. At neurological examination, she presented asymmetric blepharospasm, slow vertical saccades with vertical superior limitation, bilateral asymmetric limb apraxia much more marked in left side, dystonic posturing of left upper limb with motor overflow, progressive clumsiness of left upper limb with functional disability, bradykinesia, axial rigidity without appendicular rigidity and severe loss of postural reflexes. Treatment with levodopa/carbidopa was started until doses of 750 mg/day, with no clinical benefit.
Results: The brain MRI presented a prominent midbrain atrophy with preserved pons dimensions (Hummingbird sign) and right side upper parietal lobe atrophy [Figure 1]. The beta-CIT PET revealed asymmetric bilateral dopaminergic deficit more evident in right side [Figure 2]. CSF biomarkers showed slight elevated levels of Tau and phosphorylated Tau protein with normal beta-amyloid levels.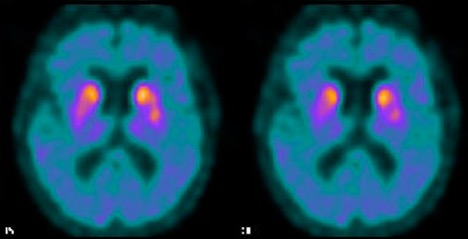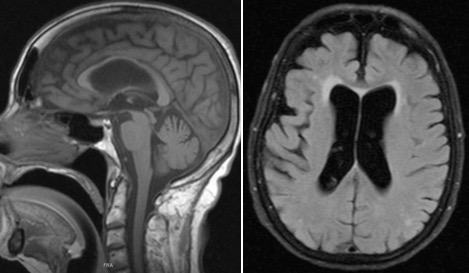 Conclusions: This case depicts the importance of confronting clinical and complementary diagnostic exams to reach the more accurate diagnosis possible, in vivo, and identify the different PSP variants. A better understanding of the factors that influence the selective pathological vulnerability in different PSP variants will provide further insights into neurodegenerative process underlying tauopathies.
To cite this abstract in AMA style:
M. Sousa, R. Varela, C. Januário, A. Morgadinho. Progressive supranuclear palsy presenting with corticobasal syndrome: a case report [abstract].
Mov Disord.
2017; 32 (suppl 2). https://www.mdsabstracts.org/abstract/progressive-supranuclear-palsy-presenting-with-corticobasal-syndrome-a-case-report/. Accessed December 2, 2023.
« Back to 2017 International Congress
MDS Abstracts - https://www.mdsabstracts.org/abstract/progressive-supranuclear-palsy-presenting-with-corticobasal-syndrome-a-case-report/