Objective: To describe a patient who underwent multiple DAT-SPECT scans over a 20-year clinical follow-up period in three distinct clinical settings: a normal scan excluding PD diagnosis, a SWEDD scan, and an abnormal scan with a PD diagnosis.
Background: DaT-SPECT is a sensitive method for detecting dopaminergic degeneration, aiding in the early diagnosis of Parkinson's disease (PD). A normal scan is considered as one of the exclusion criteria for PD diagnosis, as studies showed that most patients with a scan without evidence of dopaminergic deficit (SWEDD) are misdiagnosed with PD. However, some evidence suggested that patients with SWEDD may have PD, and a normal scan may be seen in early-stage PD. Limited research has compared DaT-SPECT scans during long-term disease progression in the same patient.
Method: A 60-year-old man initially presented with mild tremors in his right hand, which were stable and more apparent during rest with dystonic posturing and was diagnosed with dystonic tremor. However, over subsequent years, the tremor progressed to the left hand but remained asymmetrical. Brain MRI and two DaT-Scans (7 and 13 years after tremor onset) were normal (figure1,2), leading to a diagnosis of SWEDD. Over the next 5 years, he developed mild rigidity in his right arm and leg and reduced right arm swing, but no bradykinesia was definitive on finger tapping, and the resting hand tremor remained asymmetrical to the right.
Results: A third DaT-Scan, 18 years after onset, showed significantly reduced tracer uptake more in the left putamen (figure 3), corresponding to his clinical picture, and a diagnosis of PD was made. Levodopa was prescribed and showed moderate clinical improvement at a daily dose of 450mg. Despite never reporting hyposmia, nonmotor features, or levodopa-induced dyskinesia, and having no PD gene mutation, he demonstrated clinical progression at the 5-year follow-up after his PD diagnosis.
Conclusion: This case highlights limitations of using normal DaT-SPECT scan for early PD. It also emphasizes the need for further understanding of the relationship between dopaminergic dysfunction and PD progression; and questions the reliability of DaT-SPECT as a biomarker for early diagnosis. The SWEDD term warrants reconsideration, and patients with clinical suspicion of PD should undergo a levodopa trial.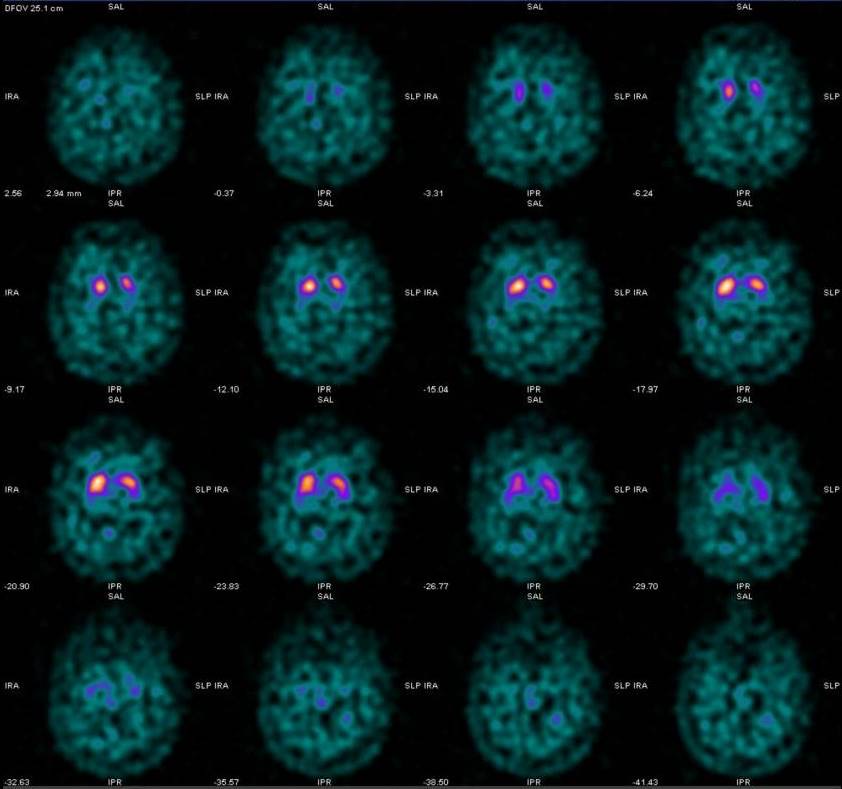 References: 1. Postuma RB, Berg D, Stern M, Poewe W, Olanow CW, Oertel W, et al. MDS clinical diagnostic criteria for Parkinson's disease. Mov Disord. 2015;30(12):1591-601.
2. Marek K, Seibyl J, Eberly S, Oakes D, Shoulson I, Lang AE, et al. Longitudinal follow-up of SWEDD subjects in the PRECEPT Study. Neurology. 2014;82(20):1791-7.
3. Erro R, Schneider SA, Stamelou M, Quinn NP, Bhatia KP. What do patients with scans without evidence of dopaminergic deficit (SWEDD) have? New evidence and continuing controversies. Journal of Neurology, Neurosurgery & Psychiatry. 2016;87(3):319-23.
To cite this abstract in AMA style:
S. Virameteekul, K. Bhatia. A 20-Year Follow-Up Case Report with Three DaT-SPECT Scans in Parkinson's Disease Diagnosis [abstract].
Mov Disord.
2023; 38 (suppl 1). https://www.mdsabstracts.org/abstract/a-20-year-follow-up-case-report-with-three-dat-spect-scans-in-parkinsons-disease-diagnosis/. Accessed September 25, 2023.
« Back to 2023 International Congress
MDS Abstracts - https://www.mdsabstracts.org/abstract/a-20-year-follow-up-case-report-with-three-dat-spect-scans-in-parkinsons-disease-diagnosis/