Session Information
Session Time: 12:00pm-1:30pm
Location: Exhibit Hall located in Hall B, Level 2
Objective: To characterise international dosing practice for abobotulinumtoxinA (Dysport®, ABO) for cervical dystonia (CD) in a large observational study.
Background: The safety and efficacy of ABO in the management of CD is well established. However, little is known about how physicians in different parts of the world utilise ABO for the management of CD patients in routine clinical practice.
Methods: INTEREST IN CD2 is an ongoing observational which enrolled CD subjects from 34 countries which have been grouped into regions. All subjects included in this Baseline data analysis were treated with ABO at the Baseline/first injection visit (V1).
Results: Of the 1050 subjects enrolled in the study, 723 were treated with ABO at V1 and had verified Baseline data (Asia=111, Australia=17, Europe=428, Latin America=72, North Africa/Middle East=77 and USA=18). For the total population; 63.8% ABO-treated subjects were female and mean age was 54.4 years. The predominant CD pattern was rotation (64.9%) followed by laterocollis (24.3%). Median total dose injected was 500U; median total volume was 2mL and number of injection points was 7. Injection guidance (mainly electromyography) was used in 31.5% subjects. In all regions, the 5 most frequently injected muscles were: splenius capitis, sternocleidomastoid, trapezius, levator scapulae and semispinalis capitis. Injection parameters in these muscles per region are shown in Table 1.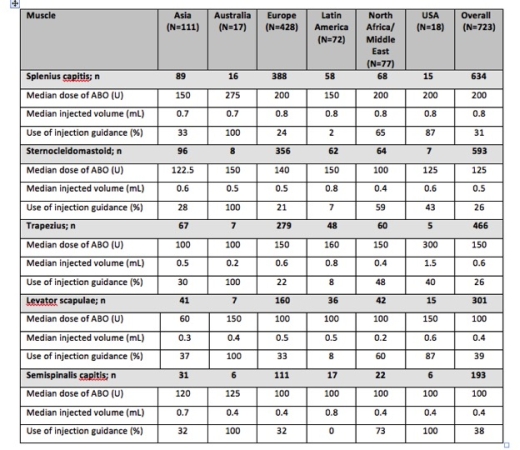 Conclusions: Although there were some international differences in ABO injection patterns (e.g. lower doses in Asia); overall ABO utilisation was in accordance with current labeling recommendations. Future analysis from this ongoing study will provide additional insights into ABO injection patterns and efficacy.
To cite this abstract in AMA style:
T.M. Chung, C. Colosimo, V.P. Misra, D. Charles, P. Maisonobe, S. Om. AbobotulinumtoxinA for cervical dystonia: International treatment patterns [abstract].
Mov Disord.
2016; 31 (suppl 2). https://www.mdsabstracts.org/abstract/abobotulinumtoxina-for-cervical-dystonia-international-treatment-patterns/. Accessed September 28, 2023.
« Back to 2016 International Congress
MDS Abstracts - https://www.mdsabstracts.org/abstract/abobotulinumtoxina-for-cervical-dystonia-international-treatment-patterns/