Session Information
Session Time: 12:30pm-2:00pm
Location: Exhibit Hall located in Hall B, Level 2
Objective: Finding new phenotypic features or biomarkers in hereditary spastic paraplegia type SPG35 / Fatty Acid Hydroxylase-associated Neurodegeneration (FAHN) to help clinicians to identify this specific genotype prior to next generation sequencing.
Background: Hereditary spastic paraplegias (HSP) are degenerative diseases of upper motor neurons characterized by a progressive spastic gait disorder which are phenotypically as well as genetically highly heterogeneous. Autosomal recessive spastic paraplegia type 35 (SPG35) is caused by mutations in the fatty acid 2-hydroxylase (FA2H) / SPG35 gene and is allelic with FAHN (Fatty Acid Hydroxylase-associated Neurodegeneration), a neurodegeneration with brain iron accumulation (NBIA) syndrome.
Methods: Here we describe four patients found by whole exome sequencing or a targeted gene panel analysis (HSP panel) with compound heterozygous or homozygous mutations in the SPG35/FA2H gene. Patients presented with outstanding bristle-like hair which was not found in other family members. Hair shaft scanning electron microscopy (SEM) was performed to analyze the hair shaft structure.
Results: We were able to identify hair abnormalities in SEM as a new biomarker in spastic paraplegia type 35. These hair abnormalities consist of longitudinal grooves and adhesive plaques (normal hair – figure 1: A&B) which mimic findings described in FA2H knock-out mice model¹. In mice, sebaceous glands were strongly enlarged by altered composition and physicochemical properties of sebum blocking the hair canal. In humans, this may result in a delayed exit of the hair fiber and subsequent deformation of the hair while outgrowing against these "sebum plugs", thus leading to the longitudinal grooves observed in SEM (figure 1: C1-F1). The adhesive plaques in our patients (figure 1: C2, D, F) are likely to be additional sebum material sticking to the hair shafts.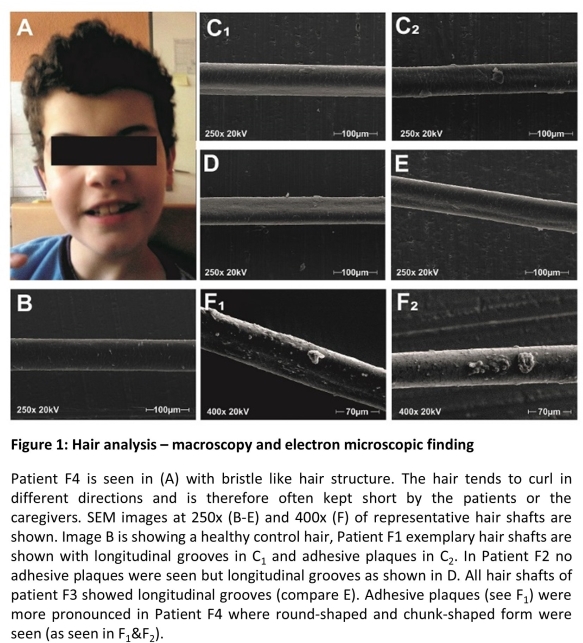 Conclusions: Bristle hair (figure 1:A) seems to be a frequent finding in SPG35 and may point to the underlying disease especially in combination with imaging results or other outstanding phenotypic features like exotropia. Since SEM is widely available, hair may be used as a simple biomarker that could help to diagnose SPG35 cases prior to genetic confirmation. 1. Maier H, Meixner M, Hartmann D, et al. Normal fur development and sebum production depends on fatty acid 2-hydroxylase expression in sebaceous glands. Journal of Biological Chemistry 2011.
To cite this abstract in AMA style:
T.W. Rattay, A.S. Söhn, K.N. Karle, S. Wiethoff, J. Reichbauer, M. Döbler-Neumann, I. Krägeloh-Mann, A. Münchau, B. Wilken, P. Bauer, L. Schöls, R. Schüle. Bristle hair may point to hereditary spastic paraplegia type SPG35/ FAHN [abstract].
Mov Disord.
2016; 31 (suppl 2). https://www.mdsabstracts.org/abstract/bristle-hair-may-point-to-hereditary-spastic-paraplegia-type-spg35-fahn/. Accessed December 7, 2023.
« Back to 2016 International Congress
MDS Abstracts - https://www.mdsabstracts.org/abstract/bristle-hair-may-point-to-hereditary-spastic-paraplegia-type-spg35-fahn/