Session Information
Session Time: 1:45pm-3:15pm
Location: Hall 3FG
Objective: To assess the clinical profile and the factors predicting mortality of Indian patients with Neuroleptic malignant syndrome(NMS) and Parkinsonism hyperpyrexia syndrome (PHS).
Background: NMS and PHS are similar life-threatening neurological emergencies characterized by altered mental state, fever,rigidity and autonomic dysfunction. NMS occurs following use of neuroleptic drugs and other dopamine antagonists while PHS occurs after withdrawl of a dopaminergic drugs in Parkinsonian patients.
Methods: This was a retrospective single centre, study done in between January 2017 to January 2018. Patients meeting DSM-IV criteria of NMS and patients with PD who met the clinical criteria of NMS after withdrawl of dopaminergic medication (PHS) were included in the study.
Results: A total of 14 patients were included in study. (8 patients with PSH and 6 with NMS) were included. All patients were males and mean age in the study was 57.57 + 12.26 years. On assessment of clinical presentation, all patients(100%) had fever and elevated creatinine phosphokinase (CPK), while rigidity, autonomic disturbances and altered sensorium were noted in 92%. Hypotension requiring ionotropic support was present in 42% while 21% had hyponatremia. Among NMS patients, atypical antipsychotic use was common (66.7%). Dopaminergic drugs were accidently stopped in 4 patients with PSH, while acute gastritis, cholecystitis and post surgical cessation of dopaminergic drugs were the causeof PSH in the remaining patients. All patients were treated in intensive care unit with bromocriptine and dantrolene while reintroduction of other dopaminergic drugs was done in PSH patients. Ionotropic support,antibiotics, hydration and ventilatory support was given as required. Mortality was high ( 28.6%). On various clinical and biochemical parameters, older age, higher CPK and blood urea nitrogen were significantly associated with mortality (Table 1).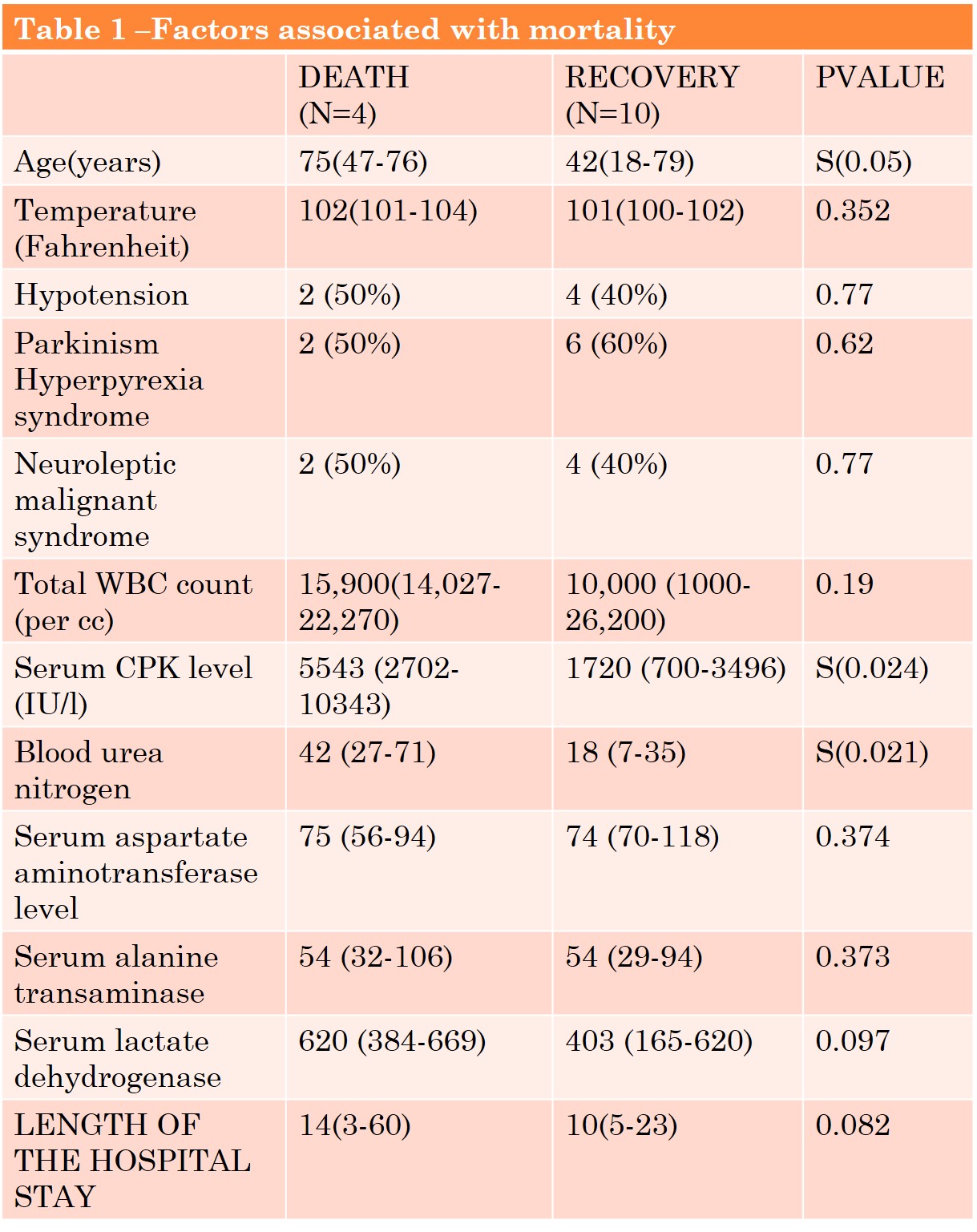 Conclusions: Neuroleptic malignant syndrome and Parkinsonism hyperpyrexia syndrome are life threatening conditions which need to be managed immediately. Atypical antipsychotic drug use was most common cause of NMS in this study, and advanced age and high CK, may be potential risk factors for mortality.
To cite this abstract in AMA style:
R. Kandadai, P. Dutta, S. Meka, T. Syed, S. Tandra, S. Turaga, R. Borgohain. Clinical profile and predictors of outcome in Neuroleptic malignant syndrome and Parkinsonism hyperpyrexia syndrome [abstract].
Mov Disord.
2018; 33 (suppl 2). https://www.mdsabstracts.org/abstract/clinical-profile-and-predictors-of-outcome-in-neuroleptic-malignant-syndrome-and-parkinsonism-hyperpyrexia-syndrome/. Accessed December 5, 2023.
« Back to 2018 International Congress
MDS Abstracts - https://www.mdsabstracts.org/abstract/clinical-profile-and-predictors-of-outcome-in-neuroleptic-malignant-syndrome-and-parkinsonism-hyperpyrexia-syndrome/