Session Information
Session Time: 1:45pm-3:15pm
Location: Hall 3FG
Objective: Through this article we want to highlight extrapyramidal side effects of levosulpiride and need of its awareness among treating physicians.
Background: Levosulpiride is a newer prokinetic agent with increasingly extensive use in India by general physicians. Levosulpiride selectively inhibits gut and central D2 receptors and is associated with various movement disorders like- tremor, Parkinsonism, dyskinesias and rarely dystonia (1,2). Apart from a few case reports/ short case series, data on Levosulpiride induced movement disorders (LIM), particularly dystonia are limited. Report 7 cases of levosulpiride-induced movement disorder (LIM) at our institute.
Methods: We describe 7 patients of levosulpiride induced movement disorder (LIM) presented to our institute over a period of 3 years (2014-2017)
Results: We observed 7 patients with Levosulpiride induced dystonia (age 48-75 years, male/female 3/4), a rarely reported LIM. All seven patients had extrapyramidal side effect at a dose of 25 mg / day and time to onset of symptoms ranging from 3 days to ≤ 1month. Three patients had jaw opening dystonia, 3 had oro-lingual dystonia (OLD) and 1 presented with cranio-cervical dystonia. Drug Induced akathesia and Parkinsonism (DIP) was seen in one patient each. All our patients had at least 50% improvement (global subjective assessment) of symptoms on stopping LVS. All of them were prescribed tetrabenazine and clonazepam, 4 patients received additional baclofen (details in table1). The patient with OLD received 28 IU of injection botulinum toxin in addition to drugs and reported 70% recovery at 1 month follow up. The patient with with cranio-cervical dystonia also received botulinum injection twice (bilateral trapezius 40 IU each and left sternocleidomastoid 30 IU) with 60-70% improvement in symptoms that lasted for 6 months. At follow up of 1-20 months (mean 5.5 months) none of the patients had complete recovery.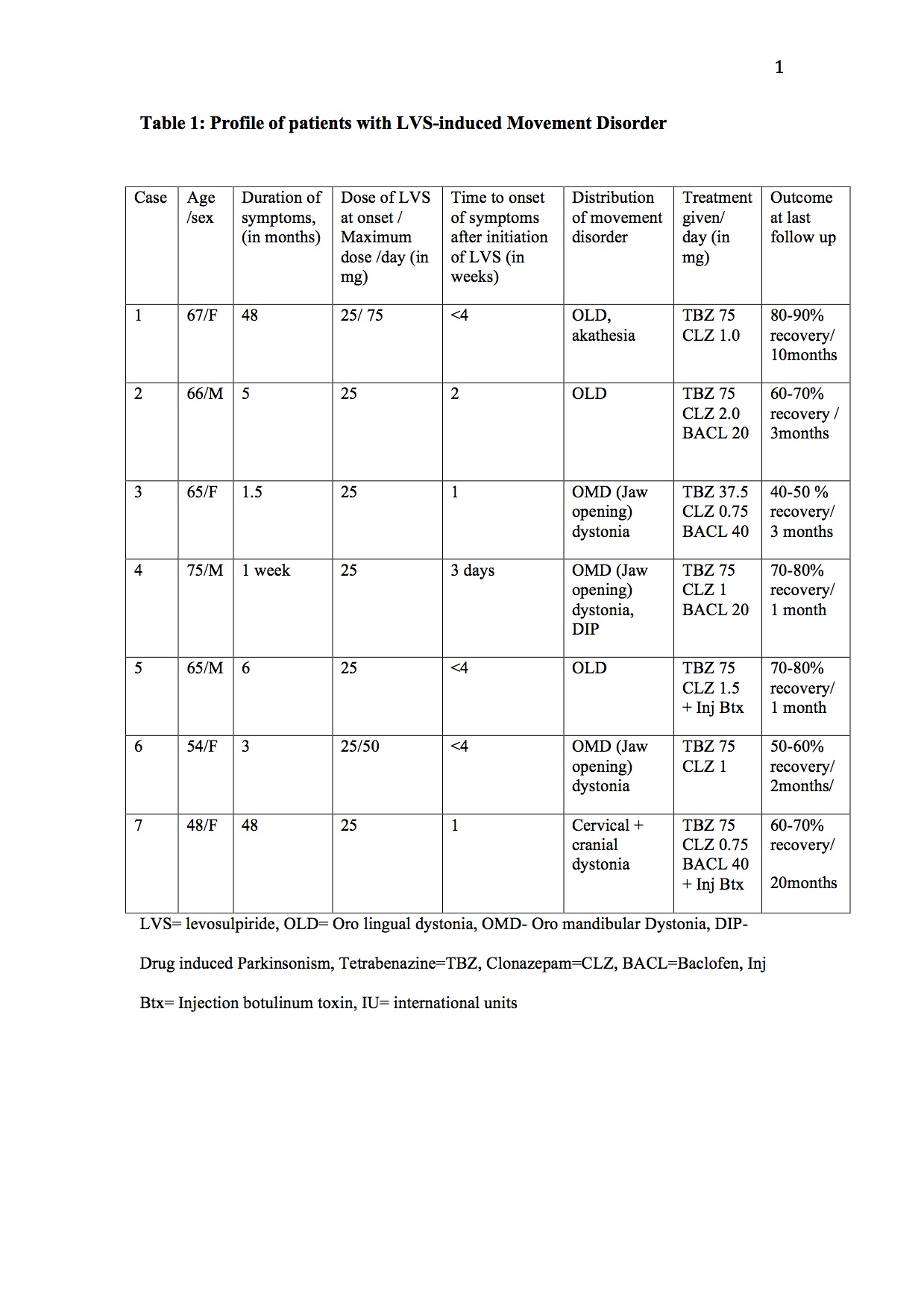 Conclusions: Our article invite attention on LIM, a disabling condition caused by drugs used for relatively minor condition. We want to highlight the long latency in diagnosing LIM, a potentially treatable condition. Though, in our patents none had completely improved after mean follow up of 5.5 months on treatment. This warrants the need for awareness about extrapyramidal side effects of Levosulpiride among physicians. The offending drug to be stopped at slightest suspicion of LIM.
References: 1. Shin, H. -W., Kim, M. J., Kim, J. S., Lee, M. C. and Chung, S. J., Levosulpiride-induced movement disorders. Mov. Disord 2009; 24: 2249–2253. 2. Sharma, JB, Saxena SK, and Singh A. "Levosulpiride induced common and uncommon movement disorders—/INS; Parkinsonism and truncal akathisia: Three case reports." Journal of the Neurological Sciences.2013; 333: e142.
To cite this abstract in AMA style:
D. Radhakrishnan, V. Goyal. Levosulpiride Induced Movement Disorder: 7 cases [abstract].
Mov Disord.
2018; 33 (suppl 2). https://www.mdsabstracts.org/abstract/levosulpiride-induced-movement-disorder-7-cases/. Accessed December 1, 2023.
« Back to 2018 International Congress
MDS Abstracts - https://www.mdsabstracts.org/abstract/levosulpiride-induced-movement-disorder-7-cases/