Objective: This study is aimed at determining if any constituent of combination antiretroviral therapy (cART) can induce cerebellar limb dysmetria and spatial memory impairments in a rat model.
Background: Cerebellar limb dysmetria is a neurodegenerative disease caused by injury to the cerebellum causing uncoordinated movements of the limbs. In our previous studies we demonstrated that cART induced cerebellar degeneration and memory loss.
Method: Forty adult male Wistar rats were randomly grouped into four (n=10): control (distilled water 0.5 ml); Tenofovir (6 mg/kg); Lamivudine (6 mg/kg) and Efavirenz (12 mg/kg). The following neurobehavioral studies were conducted: open field, beam walk, and Morris water maze. Total duration: 42 days. Ethical Approval, CMUL/HREC/03/17/113.
Results: There was marked increase in pyknotic pyramidal cells of the hippocampus and ghost cells in the Purkinje cells of the cerebellum of treatment groups. There was also a significant decrease in antioxidant enzymes with a concomitant increase in lipid peroxidation in the hippocampus and cerebellum of both lamivudine and efavirenz groups. In addition, Lamivudine caused a significant increase (p<0.0001) of microglial activity compared to control. The open field test showed there was a significant decrease (p<0.0001) in the line crossing performance in the efavirenz, lamivudine and tenofovir (with means: 26.4, 4.6, 17.4 respectively) compared to control (50.6). There was also a significant decrease in the grooming (p<0.05) and rearing (p<0.01) in lamivudine group compared to the control group. The beam walking test showed a significantly increased walk latency in efavirenz (p<0.01), and lamivudine (p<0.0001) compared to control in both 17mm and 24mm diameter beams. Also, there was a significant increase in the number of hindlimb slips in the groups treated with efavirenz (p<0.05) and lamivudine (p<0.0001) on 17mm beam compared with control group. The Morris Water Maze test showed significant delay in the time taken to identify the hidden platform in lamivudine and tenofovir exposed groups compared to control (p<0.05). See Figures 1 (cerebellum) and 2 (hippocampus).
Conclusion: Lamivudine induced uncontrolled lipid peroxidation and neuroinflammation leading to neuronal death in the cerebellum and hippocampus causing cognitive impairments and limb dysmetria in rats.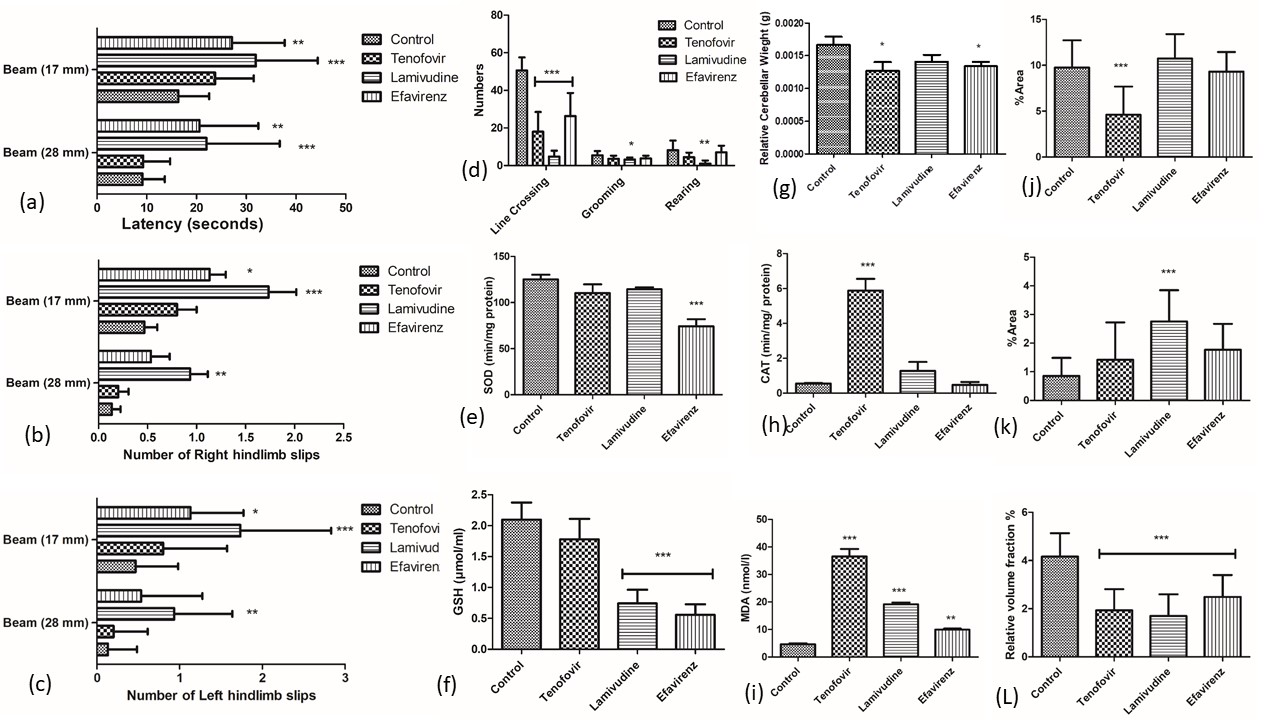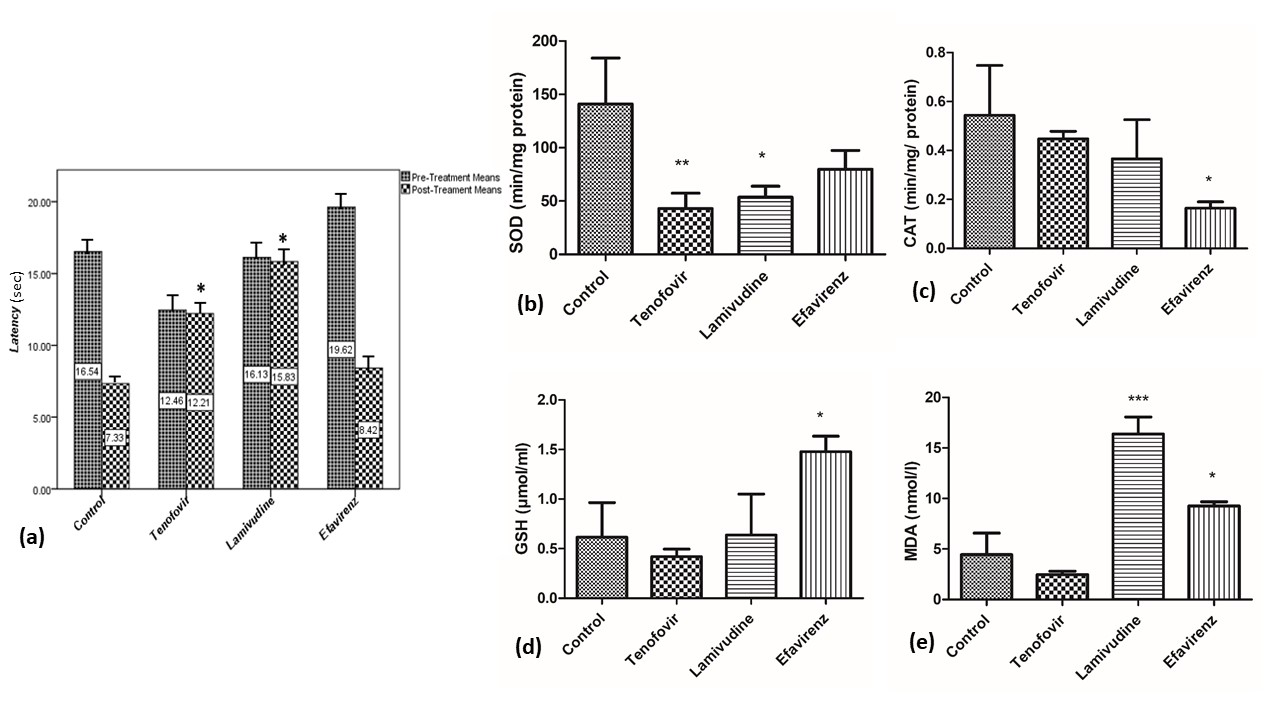 References: Akang, E. N., Dosumu, O. O., Afolayan, O. O., Fagoroye, A. M., Osiagwu, D. D., Usman, I. T., . . . Akanmu, A. S. (2019). Combination antiretroviral therapy (cART)-induced hippocampal disorders: Highlights on therapeutic potential of Naringenin and Quercetin. IBRO reports, 6, 137-146. Oremosu, A. A., Akang, E. N., Dosumu, O. O., Usman, I. T., & Akanmu, A. S. (2018). Cerebellar Perturbations of Combination Antiretroviral Therapy (cART): Can Bioflavonoids Help? Nig. J. Neurosci., 9(2), 53-59.
To cite this abstract in AMA style:
E. Akang, O. Dosumu, S. Afolayan, R. Agumah, A. Oremosu, A. Akanmu. Modeling Cerebellar Limb Dysmetria and Impaired Spatial Memory in Rats Using Lamivudine: A preliminary study [abstract].
Mov Disord.
2020; 35 (suppl 1). https://www.mdsabstracts.org/abstract/modeling-cerebellar-limb-dysmetria-and-impaired-spatial-memory-in-rats-using-lamivudine-a-preliminary-study/. Accessed December 1, 2023.
« Back to MDS Virtual Congress 2020
MDS Abstracts - https://www.mdsabstracts.org/abstract/modeling-cerebellar-limb-dysmetria-and-impaired-spatial-memory-in-rats-using-lamivudine-a-preliminary-study/