Session Information
Session Time: 1:45pm-3:15pm
Location: Hall 3FG
Objective: To describe the diagnosis and treatment of two cases of anti-glycine receptor antibody positive PERM
Background: PERM is a life-threatening autoimmune condition, which presents with rigidity, myoclonus, hyperekplexia, autonomic instability and oculomotor anomalies. Symptoms heterogeneity at presentation and a good response to treatment was previously described (Carvajal-Gonzalez et al., 2014).
Methods: We present two cases of PERM recently treated in our department.
Results: Case 1 is a 62-year-old woman who presented with complete horizontal gaze palsy, rigidity, lower limb weakness, which progressed to inability to walk, diaphoresis and hyperreflexia. She had positive CSF and serum Anti-GlyR antibodies. Her MR brain showed confluent T2/FLAIR hyperintensities which extended between the periventricular and subcortical regions [Figure 1]. The rest of her investigations are summarised in [table 1]. She had a good response to immune-suppressive treatment (methylprednisolone, IV immunoglobulin, mycophenolate mofetil). She recovered mobility within a week and was well at three months follow-up. Case 2 is a 58-year-old man who presented following a four-month prodrome of anorexia, with hiccups, impaired swallow, irritability, visual hallucinations and rigidity evolving into an agitated delirium with pyrexia, diaphoresis and stimulus-sensitive myoclonus. He developed respiratory arrest with pulseless electrical activity and was successfully resuscitated and subsequently had several generalised seizures. CSF and blood were positive for anti-glycine receptor antibodies. Anti-NMDA, VGKC, and GAD antibodies were detected in his blood. The rest of his investigations are summarised in [table 1]. Interestingly, and MR spine performed as part of his work-up showed multiple new vertebral end-plate fractures, probably caused by the hyperekplexia associated with his condition. There was little response to IV methylprednisolone and IV immunoglobulin. Initial improvement with plasmapheresis plateaued so rituximab was administered, with significant improvement. Currently, the patient is still mechanically ventilated, but regained consciousness and can communicate with a speaking valve.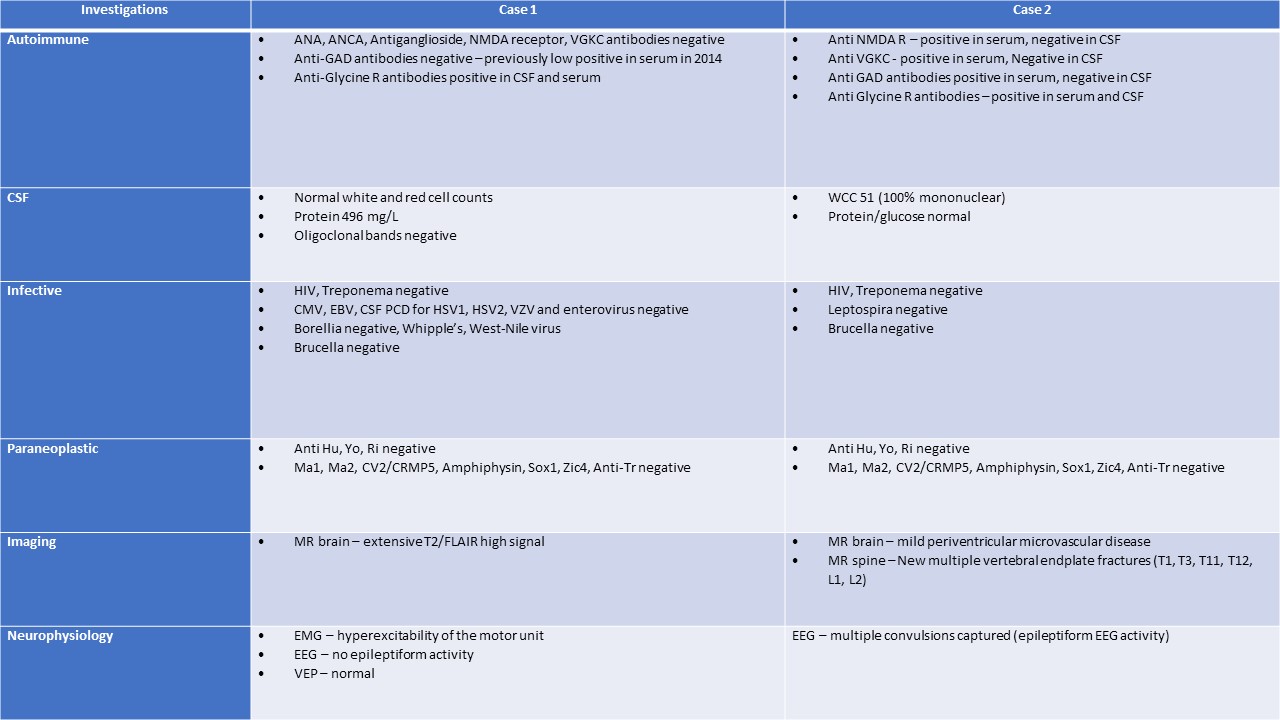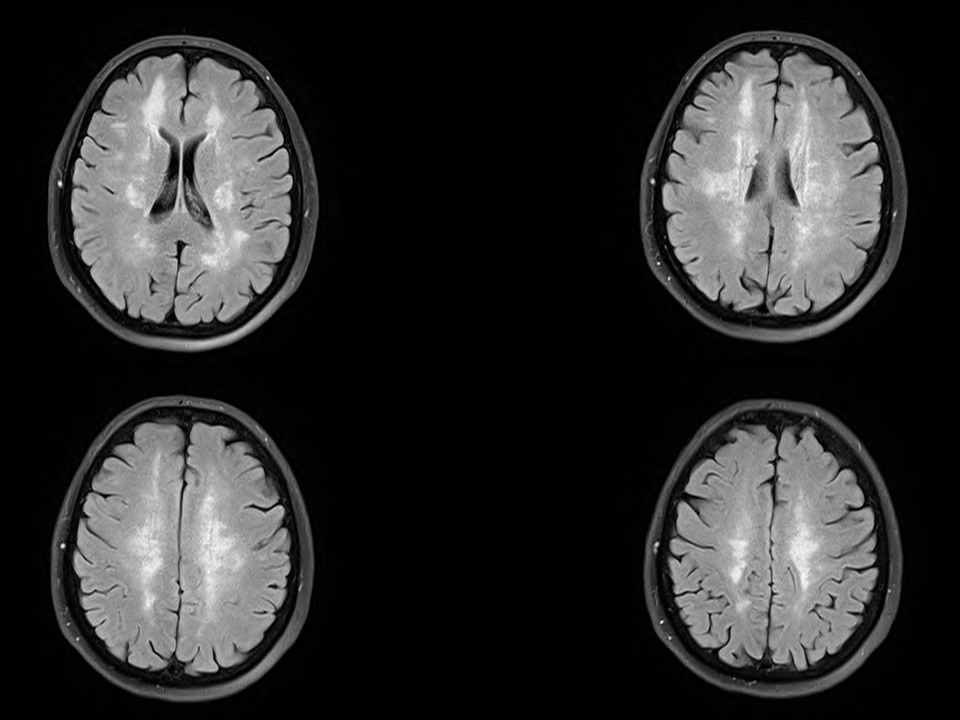 Conclusions: Our presentation highlights the differences in phenomenology and response to treatment in two patients with anti-glycine receptor antibody-positive PERM.
References: Carvajal-Gonzalez, A., Leite, M. I., Waters, P., Woodhall, M., Coutinho, E., Balint, B., . . . Vincent, A. (2014). Glycine receptor antibodies in PERM and related syndromes: characteristics, clinical features and outcomes. Brain, 137(Pt 8), 2178-2192. doi:10.1093/brain/awu142
To cite this abstract in AMA style:
T. Munteanu, Y. LLamas-Osorio, P. Cullinane, T. Lynch. Progressive encephalomyelitis with rigidity and myoclonus (PERM): Phenomenology, investigations and management of two recent cases [abstract].
Mov Disord.
2018; 33 (suppl 2). https://www.mdsabstracts.org/abstract/progressive-encephalomyelitis-with-rigidity-and-myoclonus-perm-phenomenology-investigations-and-management-of-two-recent-cases/. Accessed December 1, 2023.
« Back to 2018 International Congress
MDS Abstracts - https://www.mdsabstracts.org/abstract/progressive-encephalomyelitis-with-rigidity-and-myoclonus-perm-phenomenology-investigations-and-management-of-two-recent-cases/