Objective: To present a Parkinson´s Disease (PD) patient who presented a rapidly progressive dementia after MR-FUS therapy.
Background: MR-FUS thalamotomy is used for unilateral essential tremor as well as tremor associated with PD, but it is not a good choice when previous cognitive impairment is present, as it can produce cognitive decline in addition to sensorimotor, speech and gait effects.
Before performing any thalamus procedure, a solid diagnosis and a complete neuropsychological study must be done.
Method: A 67-year-old female with PD[figure1] was disturbed by her tremor. On recent assessment she presented right hand resting tremor, bradykinesia and a positive pull-test. She had memory complaints, emotional lability and brief episodes of mild confusion or visual hallucinations the past few months. Treatment: Levodopa/Carbidopa, Opicapone and Escitalopram.
Neuropsychological exam showed cortical-subcortical cognitive impairment. Despite the reccomendation against MR-FUS for her tremor, she looked for a second opinion and underwent MR-FUS of left thalamus. One week later, memory and hallucinations worsened, with slow speech and dysnomia. Symptoms got worse over the next weeks, being barely able to sleep due to hallucinations and prayers, marked bradypsichia and severe gait impairment.
She was admitted to Neurology Room. CT[figure2] showed left thalamus hypodensity.
Results: Brain-MRI without additional data. Normal blood and CSF results. First EEG showed generalized lentification. A second one showed background slowing with paroxysmal delta activity with emphasis on left temporal region, so anti-seizure drug regime was started considering a possible non convulsive status epilepticus(NCSE). Although next EEG was just lentified, clinical deterioration was pronounced: low alertness, aphasia, confused and apathetic when awake.
Therapeutic sedation at ICU was started with no clinical changes. A high-dose steroid course was completed. After 12 days intubated without changes, ventilation was withdrawn.
Necropsy found changes consistent with Alzheimer Disease, cortical diffuse Lewy Body disease and left thalamic infarction.
Conclusion: The patient had previous cognitive impairment, being prone to deterioration after MR-FUS. An exacerbated existing dementia due to thalamic injury was considered as first option. NCSE or new onset thalamic dementia seemed less likely.
This case remarks the importance of cognitive status before thalamic procedures.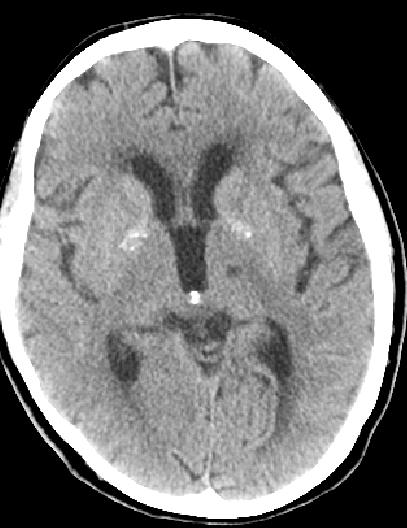 To cite this abstract in AMA style:
JM. Perez Imbernon, S. Lopez Calvo, F. Castillo Alvarez, MT. Marti Sanchez, MM. Zambrano Vera, N. Reurich Gomez, ME. Marzo Sola. Rapidly progressive dementia after MRI-guided Focused Ultrasound (MR-FUS) [abstract].
Mov Disord.
2021; 36 (suppl 1). https://www.mdsabstracts.org/abstract/rapidly-progressive-dementia-after-mri-guided-focused-ultrasound-mr-fus/. Accessed December 7, 2023.
« Back to MDS Virtual Congress 2021
MDS Abstracts - https://www.mdsabstracts.org/abstract/rapidly-progressive-dementia-after-mri-guided-focused-ultrasound-mr-fus/