Objective: To report a patient with sleep-wake disturbance mimicking fatal familial insomnia
Background: Sleep disturbances are well recognized in fatal familial insomnia (FFI) which is a familial form of prion disease. However, sleep-wake abnormality in Creutzfeldt-Jakob disease (CJD) is not a common presenting symptom and have not well identified.
Method: Case report
Results: A 67-year-old woman presented to neurology clinic for sleeping and abnormal movement during the night for one month. Family reported difficulty walking in the past four months. She fell 3 times without major injuries. In the last few weeks, patient refused to walk by herself. Family also reported mood and behavioral changes. She started talking to herself and also visual hallucinations. One month prior she developed sleep-wake disturbances. She barely slept at night, if she fell asleep she developed finalistic movements e.g. eating or grasping in the air. In the day, she was confused between awake and sleep. Her primary physician prescribed lorazepam, sertraline and quetiapine without improvement of sleep. She has no family history of similar condition or any neurological diseases. Examination showed drowsiness but able to arousable with confusion. Palmomental and grasping reflexes were observed. No abnormal movement was observed. VDO recorded by family showed grasping movement during sleep. MRI brain showed diffusion restriction positive in bilateral striatum and medial thalamus (Pulvinar sign) without evidence of cortical ribboning. Due to significant sleep-wake disturbance and abnormal movement during sleep, fatal familial insomnia was concerned. Polysomnography reported significantly decreased REM sleep without evidence of agrypnia excitata. Genetic testing for fatal familial insomnia was negative. RT-QuIC was not sent due to unavailability. Based on clinical presentation and MRI finding, the final diagnosis is Creutzfeldt-Jakob disease (CJD).
Conclusion: Sleep-wake disturbance is not a common presenting symptom for CJD, however it is common in fatal familial insomnia (FFI) which is a familial form of prion disease. Significantly reduced REM sleep may be a sign in CJD, further study is required. It is important to recognize sleep-wake abnormality as a presenting symptoms in CJD, and not misdiagnosed as FFI.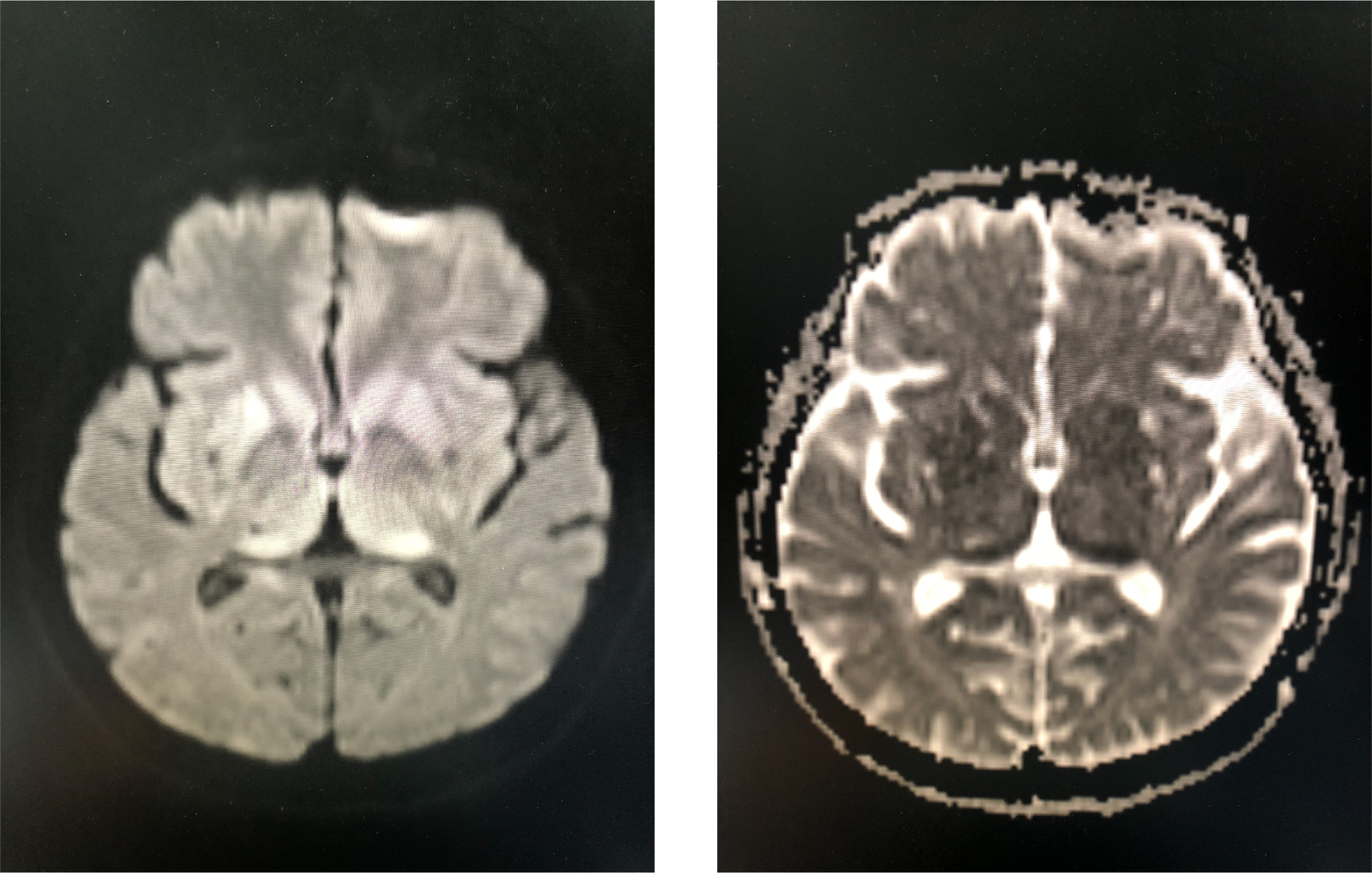 To cite this abstract in AMA style:
T. Thammongkolchai, A. Charoensri, S. Liamsombut, P. Termsarasab. Sleep-wake disturbance in Creutzfeldt-Jakob disease mimicking fatal familial insomnia [abstract].
Mov Disord.
2022; 37 (suppl 2). https://www.mdsabstracts.org/abstract/sleep-wake-disturbance-in-creutzfeldt-jakob-disease-mimicking-fatal-familial-insomnia/. Accessed September 28, 2023.
« Back to 2022 International Congress
MDS Abstracts - https://www.mdsabstracts.org/abstract/sleep-wake-disturbance-in-creutzfeldt-jakob-disease-mimicking-fatal-familial-insomnia/