Objective: To evaluate the frequency and clinical characterization of dysarthria in different types of HSP.
Background: Hereditary spastic paraplegias (HSP) are a group of genetic diseases characterized by lower limb spasticity with or without additional neurological features.
Little is known about the speech pattern in HSP and the better understanding of this symptom may help to provide a broader health care to individuals affected by these rare conditions.
Method:
A two-center cross-sectional prevalence study was performed. Genetically confirmed HSP patients were evaluated clinically by Protocol for the Evaluation of Acquired Speech Disorders (PADAF) through consensus among five experienced speech-language pathologists blinded to diagnosis.
Objective assessment of speech was performed by Praat Software.
Results:
66 individuals participated in the study, 31 with SPG4, 4 with SPG11, 4 with SPG5, 4 with CTX, 3 with SPG7, 2 with SPG3A and 18 healthy individuals as the control group.
Patients with SPG4 showed abnormal resonance, phonation, breathing and articulation. Most severe alternations in speech pattern were seen in SPG11, leading to greater
unintelligibility. In addition, cognitive performance correlated with some speech tasks and speech alterations were more pronounced among males with SPG4.
Conclusion: Prevalence of speech abnormalities in pure and complex HSP is greater than previously considered.
Acoustic analysis expanded speech alterations in SPG4, depicting subclinical alterations and sex-related differences, suggesting that this tool might represent a sensitive disease biomarker that should be assessed in future clinical studies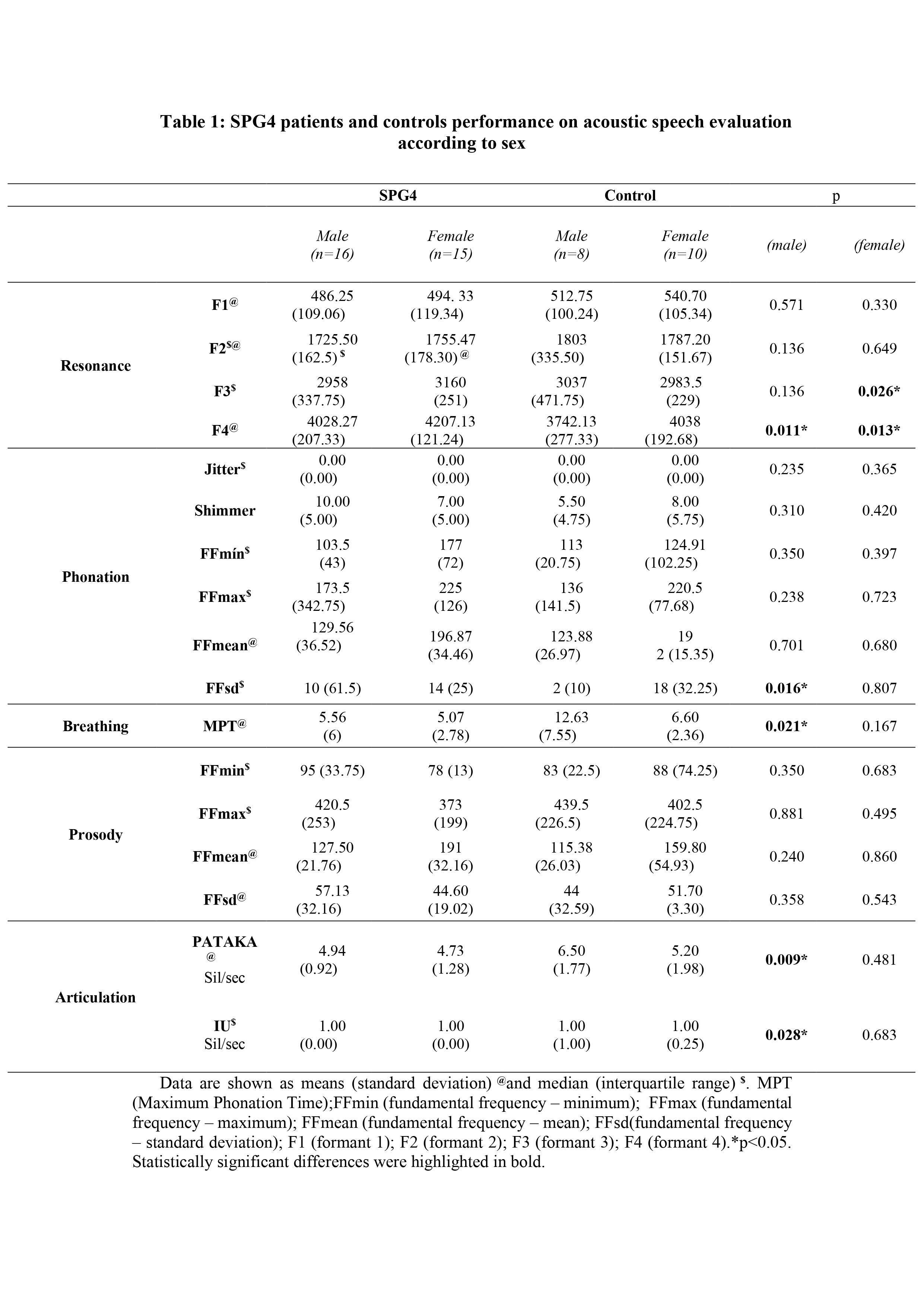 To cite this abstract in AMA style:
M. Olchik, L. Scudeiro, V. Dos Santos, A. Ayres, R. Rech, D. Burguêz, G. Machado, C. González-Salazar, M. Padovani, M. França Junior, J. Saute. SPEECH BIOMARKERS IN HEREDITARY SPASTIC PARAPLEGIA [abstract].
Mov Disord.
2021; 36 (suppl 1). https://www.mdsabstracts.org/abstract/speech-biomarkers-in-hereditary-spastic-paraplegia/. Accessed November 29, 2023.
« Back to MDS Virtual Congress 2021
MDS Abstracts - https://www.mdsabstracts.org/abstract/speech-biomarkers-in-hereditary-spastic-paraplegia/