Objective: This study aims to understand what may lead a person with Parkinson's (PwP) to experience suicidal thoughts. Better knowledge on the subject could lead to opportunities for intervention by the PwP, their supporters, and the wider healthcare team. This appears to be an under researched topic in the UK.
Background: In 2018,a survey highlighted that 27% of the respondents, all of whom were PwP, had experienced suicidal ideation (Parkinson's UK 2018). This figure broadly echoes findings from international studies that up to a 1/3 of PwP can experience suicidal thoughts. The NOS (2023) reported that since that 2018 report was published, 23 people with PwP had taken their own life in England and Wales. There is little published from the UK on reasons why PwP might experience suicidal thoughts.
Method: The term 'suicide' was entered into the main search criteria of an online Forum for people affected by Parkinson's for dates between Jan 2019 and Jan 2023. After the exclusion criteria was applied,16 entries remained, and thematic analysis applied. The posts examined had been written by PwP who had, or were, currently experiencing suicidal ideation or a close family member writing about their relatives experiences of suicidal acts or thoughts.
Results: 5 themes were highlighted as possible contributors to suicidal thinking: Treatment factors, Disease specific factors, Hopelessness, Disconnectedness, and Previous suicide attempts (see image1). Protective factors and tips for improving wellbeing were also shared by contributors to the Forum (see image 2).
Conclusion: The study highlights that suicidal ideation is a phenomena experienced by some PwP that engaged with this online forum between 2019 and Jan 2023. Although not included in this study, there were examples of care partners also having thoughts of suicide. Further study is required to see if the reasons and themes sited by respondents translate to the broader UK Parkinson's community. By knowing more about the risk factors and cognitive processes that contribute to suicidality in this population, Parkinson's specialists can better assess, support, and mitigate against the risks of suicide in their patients. It is also important for PwP, and their supporters, to know of factors that may contribute to suicidal thoughts and to be vigilant and know what help to access when identified.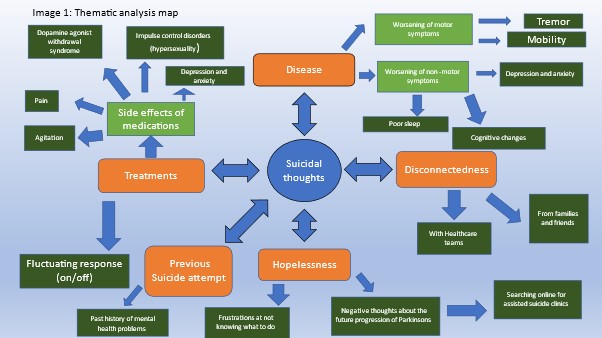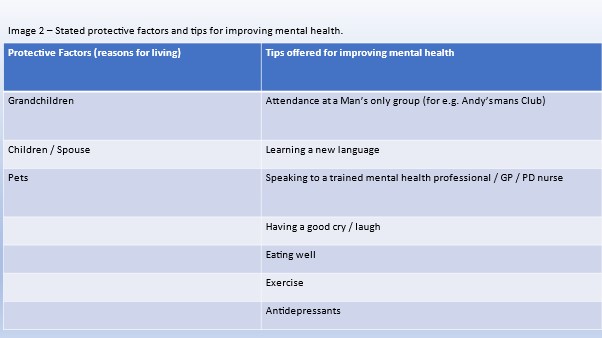 References: Office for National Statistics (ONS), 2023 ,Suicides with Parkinson's disease mentioned on the death certificate, England and Wales, registered between 2011 and 2021 – Office for National Statistics (ons.gov.uk)
Parkinson's UK (2018) APPG Mental health matters too report_2.pdf (parkinsons.org.uk)
To cite this abstract in AMA style:
E. Edwards. 'That dark place' – A thematic exploration of why people with Parkinson's living in the UK, may, at times, experience suicidal ideation, as conveyed through an internet Forum [abstract].
Mov Disord.
2023; 38 (suppl 1). https://www.mdsabstracts.org/abstract/that-dark-place-a-thematic-exploration-of-why-people-with-parkinsons-living-in-the-uk-may-at-times-experience-suicidal-ideation-as-conveyed-through-an-internet-forum/. Accessed September 28, 2023.
« Back to 2023 International Congress
MDS Abstracts - https://www.mdsabstracts.org/abstract/that-dark-place-a-thematic-exploration-of-why-people-with-parkinsons-living-in-the-uk-may-at-times-experience-suicidal-ideation-as-conveyed-through-an-internet-forum/