Session Information
Session Time: 1:45pm-3:15pm
Location: Exhibit Hall C
Objective: We aim to investigate the effect and mechanism of acupuncture in Parkinson's disease (PD) patient with pain.
Background: Acupuncture has been popularly practiced among the world by stimulating so-called meridian or energy-carrying channel to correct imbalance of our body. It has been used to reduce pain or induce analgesia for a long time. Recently, nonmotor symptoms (NMS) of PD have been increasing attention because these symptoms cause lots of burden in patients and their caregivers. The prevalence of NMS is up to 98.6%, and 40% to 80% of PD patients have the complaint of pain. Growing evidence suggested that acupuncture, stimulation at specific acupoints, relieved motor symptoms and markedly improved many NMS such as pain, sleep problems, psychiatric behaviors, and gastrointestinal symptoms in patients with PD.
Methods: We plan to recruit 4 groups subjects, including 3 groups of PD patients with pain and one group of healthy control (Group D). For the verum acupuncture (Group A) and sham acupuncture (Group B) groups of patients, they will receive at least 8 times acupuncture, about once to twice a week. For Group C, the patient received conventional treatment without any acupuncture. We use the King's Parkinson's Pain Scale (KPPS) to assess the effect of acupuncture for pain. Additionally, we also arranged functional magnetic resonance imaging (fMRI) to evaluate the functional connectivity of the brain regions.
Results: Two patients completed the acupuncture treatment courses to date. The KPPS decreased 50% and 66% for each patient. The fMRI before and after acupuncture showed significant increased function connectivity between the Automated Anatomical Labeling (AAL) region 35-62 (cingulate, limbic system, occipital, and parietal lobe) and 80-90 (temporal lobe) with frontal lobe (region 1-26) in post-test of patients with acupuncture.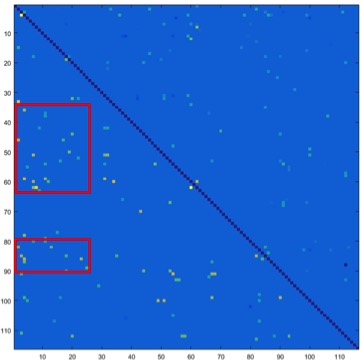 Conclusions: The study is still ongoing. We expect that the PD-related pain will be much relieved, motor and other nonmotor symptoms, as well as quality of life will be improved too. We assume that there will be functional changes in the related brain areas.
References: 1.Chaudhuri, K. R. et al. King's Parkinson's disease pain scale, the first scale for pain in PD: An international validation. Mov. Disord. 30, 1623–1631 (2015).
2.Truini, A., Frontoni, M. & Cruccu, G. Parkinson's disease related pain: A review of recent findings. Journal of Neurology 260, 330–334 (2013).
To cite this abstract in AMA style:
S.-W. Yu, Y.-R. Wu, J.-J. Wang, C.-C. Tsai. The effect and mechanism of acupuncture for pain in Parkinson's disease [abstract].
Mov Disord.
2017; 32 (suppl 2). https://www.mdsabstracts.org/abstract/the-effect-and-mechanism-of-acupuncture-for-pain-in-parkinsons-disease/. Accessed November 29, 2023.
« Back to 2017 International Congress
MDS Abstracts - https://www.mdsabstracts.org/abstract/the-effect-and-mechanism-of-acupuncture-for-pain-in-parkinsons-disease/