Objective: This paper examines the epigenetic association of rs199347 polymorphism variants of the GPNMB with drinking and DNA methylation changes.
Background: Neuroinflammatory response induced by alcohol intake suggests a key contributing factor in the progression of neuropathological processes, such as neurodegeneration. However, the association between Parkinson's disease (PD) risk and alcohol intake is still controversial. Glycoprotein nonmetastatic melanoma protein B (GPNMB) is a potential biomarker and therapeutic target associated with anti-inflammatory effects. Nevertheless, studies of gene expression and DNA methylation changes through alcohol drinking are scarce.
Method: We collected the genetic and DNA methylation data from Taiwan Biobank (TWB) between 2008 and 2016. There were 2,352 participants and we excluded incomplete or missing values (n=995), finally, there were 1,357 analytic participants enrolled in this study finally. We used multiple linear regression to evaluate the association between GPNMB rs199347 genotypes and drinking with GPNMB cg17274742 methylation.
Results: There were 1357 participants overall who met the inclusion criteria of the study, female and male were 709 and 648 respectively. Of these participants, the numbers (percentage) of GPNMB rs199347 AA, AG, GG genotype were 633 (51.72%), 511 (41.75%), 80 (6.54%) in no-drinking, and 66 (49.62%), 53 (39.85%), 14 (10.53%) participants in drinking.
There was an interaction between the GPNMB rs199347 variant and drinking habit (p=0.0102) with cg17274742 methylation (Table 1). After stratification by drinking, rs199347 AG and GG genotype (β=0.00081125, p=0.1804; β=0.00186, p=0.1236) were still not associated with cg17274742 methylation in no-drinking as same as reported in table 2, but rs199347 AG and GG genotype (β= -0.00152, p=0.4276; β= -0.00635, p=0.0366) had reverse effects in drinking, GG genotype was significantly lowered cg17274742 methylation.
After combining rs199347 and drinking together, Only rs199347 GG genotype and drinking (β= -0.00654, p=0.0187) was significantly associated with cg17274742 hypomethylation compared to AA and no-drinking (Table 2).
Conclusion: Those who had rs199347 GG genotype and drinking habits lowered cg17274742 methylation level to express the GPNMB gene which is an influential neuroinflammatory-related PD risk variant.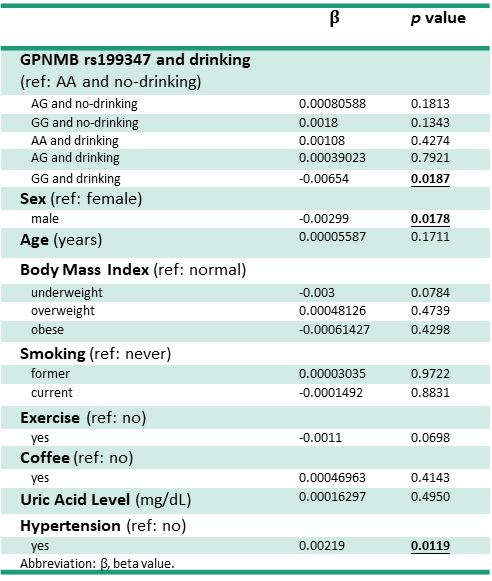 References: 1. Tansey MG, Wallings RL, Houser MC, Herrick MK, Keating CE, Joers V. Inflammation and immune dysfunction in Parkinson's disease. Nat Rev Immunol. 2022;22(11):657-73.
2. Kia DA, Zhang D, Guelfi S, Manzoni C, Hubbard L, Reynolds RH, et al. Identification of Candidate Parkinson Disease Genes by Integrating Genome-Wide Association Study, Expression, and Epigenetic Data Sets. JAMA Neurology. 2021;78(4):464.
3. Diaz-Ortiz ME, Seo Y, Posavi M, Carceles Cordon M, Clark E, Jain N, et al. GPNMB confers risk for Parkinson's disease through interaction with alpha-synuclein. Science. 2022;377(6608):eabk0637.
To cite this abstract in AMA style:
YC. Chen, SL. Wu, YP. Liaw. The epigenetic association of Parkinson's disease risk gene- GPNMB rs199347 with drinking [abstract].
Mov Disord.
2023; 38 (suppl 1). https://www.mdsabstracts.org/abstract/the-epigenetic-association-of-parkinsons-disease-risk-gene-gpnmb-rs199347-with-drinking/. Accessed September 25, 2023.
« Back to 2023 International Congress
MDS Abstracts - https://www.mdsabstracts.org/abstract/the-epigenetic-association-of-parkinsons-disease-risk-gene-gpnmb-rs199347-with-drinking/