Session Information
Session Time: 1:45pm-3:15pm
Location: Hall 3FG
Objective: We report a case with tics in a patient with Wilson's Disease (WD).
Background: Wilson's disease is a genetic disorder of copper metabolism, leading to liver failure and neurological deficits. The most common neurologic manifestations are midline cerebellar disorders (dysarthria, gait disturbances), movement disorders (parkinsonism, dystonia, tremor) and a bunch of psychiatric disorders. Tics and stereotypic movements are extremely rare in WD. This paper presents a 23-year-old male with WD who displayed stereotypic movements. We reviewed all previous WD cases in the literature that present with tics (five cases) and stereotypic movements.
Methods: Case report and literature review.
Results: A 23-year-old male was referred to our clinic due to speech disturbance, difficulty in chewing, gait disturbance and involuntary movements. His mother is his father's first cousin. He has two sisters who were healthy and their blood ceruloplasmin levels were normal. He had stereotypical movements including left-hand elevation and touching to his forehead and flexion of elbow, right hand shaking, elevating left foot and making circular movements which were voluntarily suppressible for a time (video). Also, there were occasional dystonic movements of his right upper limb. Bilateral Kayser- Fleischer rings were seen. Blood tests were remarkable for low ceruloplasmin levels (<0.02 g/L - N:0.22-0.58 g/L). 24-hour urinary copper excretion was 102µg/day and 55,9 µg/day (N:3-35 µg/day) and fourth day after trientine 300 mg twice a day usage, urine copper was 818 µg/day. Cranial MRI showed external capsule hyperintensity on T2/FLAIR (figure 1) , and lentiform, caudate nucleus and bilateral substantia nigra hypointensity on SWI (figure 2). Wilson's Disease was diagnosed and trientine 300 mg three times a day treatment was initiated. [figure 1] [figure 2]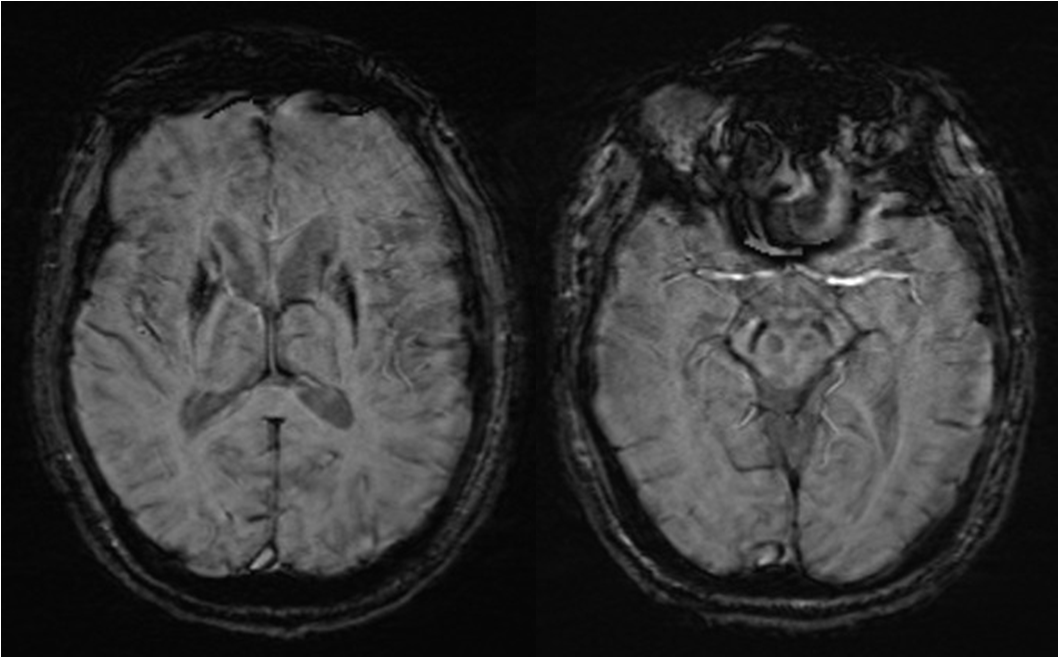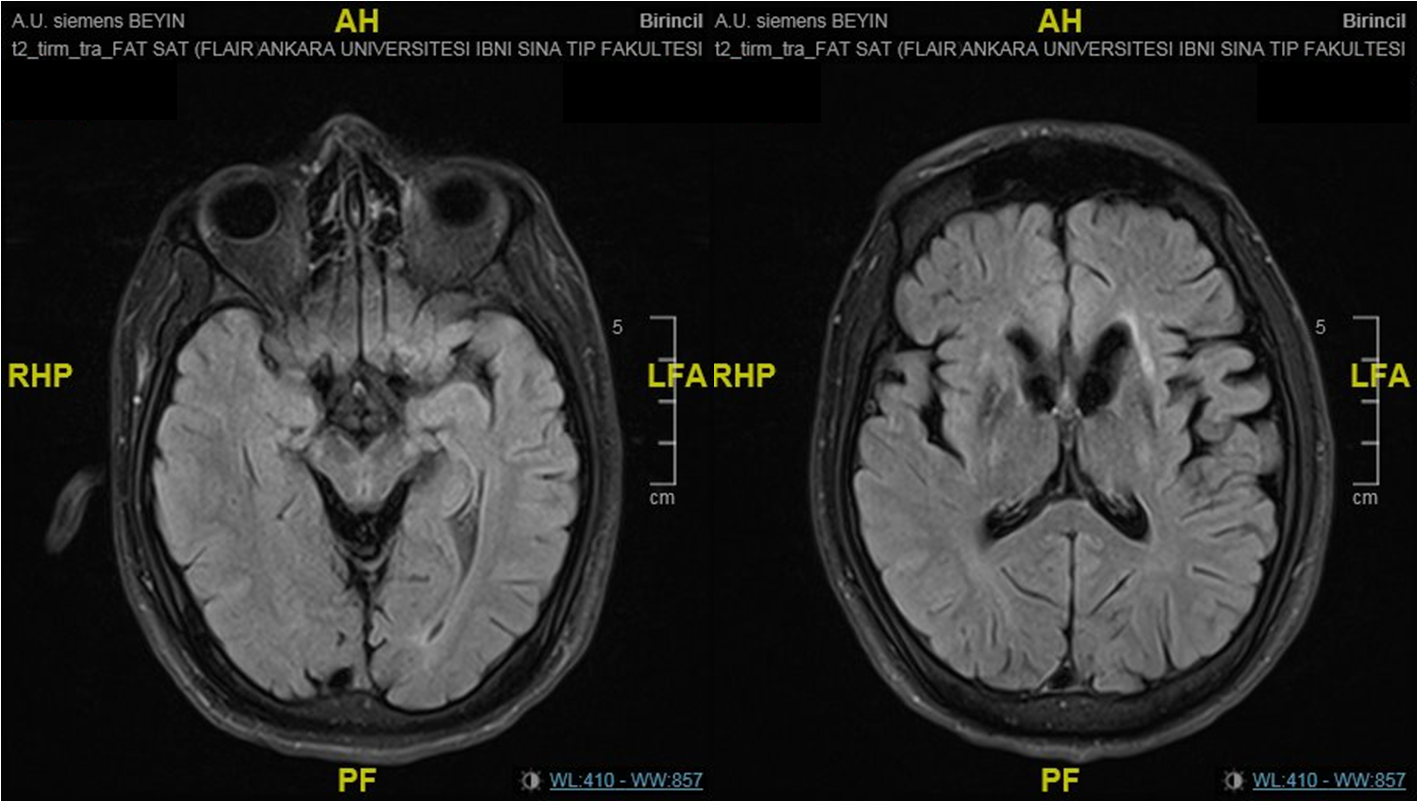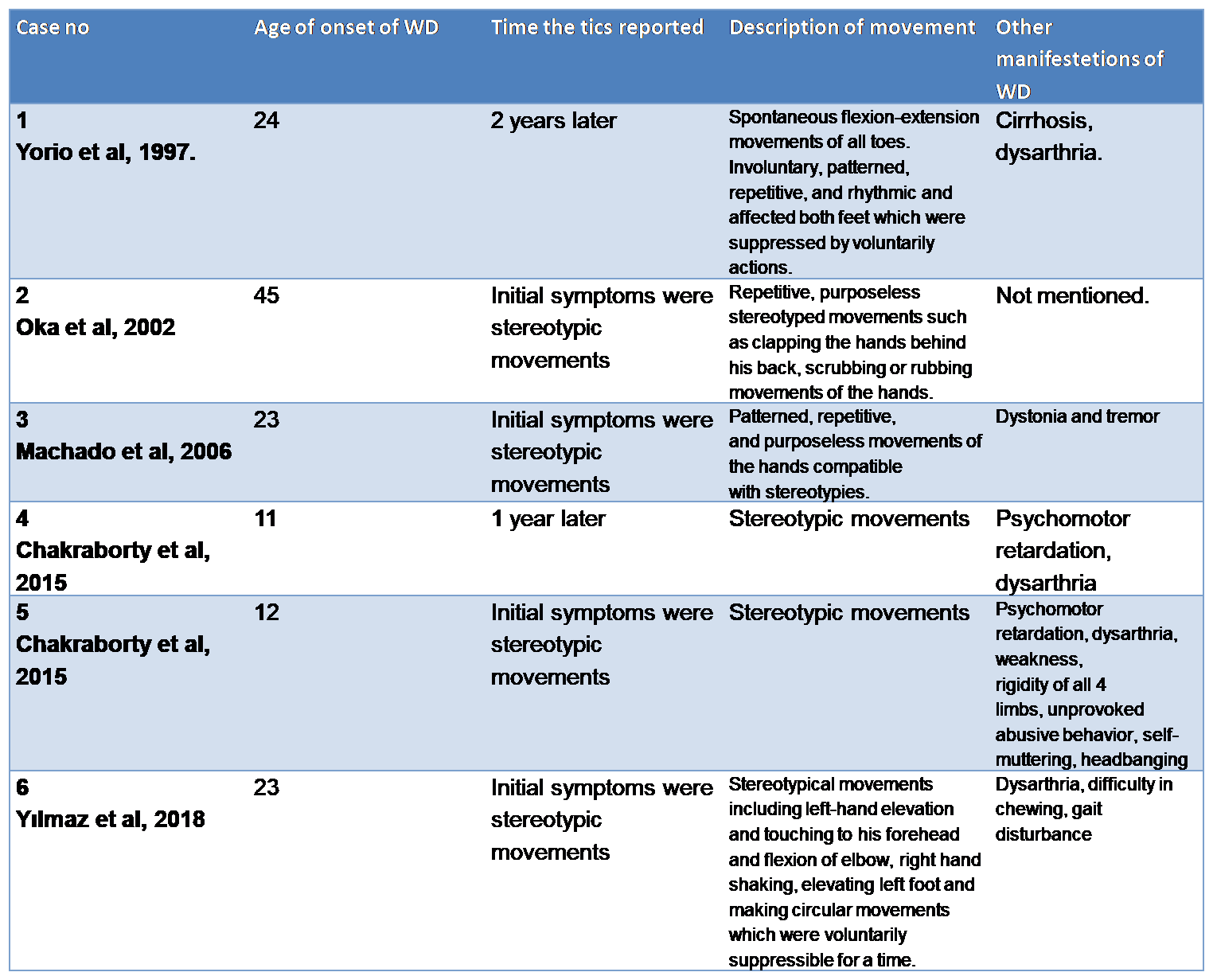 Conclusions: Tics are very rare in WD. There are five other cases with stereotypic movements and tics, in the literature summerized in Table. Table 1: Characteristics of the patients in the literature. [table 1]. Stereotypic movements and tics are very rare in WD, and awareness of this situation areimportantsince diagnose and initiating the treatment earlier can make the outcome better.
To cite this abstract in AMA style:
AY. Yılmaz, M. Kuzu Kumcu, MC. Akbostancı. Tics in Wilson's Disease and Review of the Literature [abstract].
Mov Disord.
2018; 33 (suppl 2). https://www.mdsabstracts.org/abstract/tics-in-wilsons-disease-and-review-of-the-literature/. Accessed December 2, 2023.
« Back to 2018 International Congress
MDS Abstracts - https://www.mdsabstracts.org/abstract/tics-in-wilsons-disease-and-review-of-the-literature/