Session Information
Session Time: 1:15pm-2:45pm
Location: Exhibit Hall C
Objective:
To determine the safety of single treatments of APL-130277 in patients with Parkinson's disease (PD).
Background:
Patients with Parkinson's disease (PD) frequently develop problematic OFF episodes despite optimization of therapies. APL-130277 (apomorphine) is administered sublingually and being studied for OFF episodes.
Methods:
The open-label dose titration phase (DTP) was conducted to determine the appropriate dose of APL-130277 for each patient in the double-blind, placebo-controlled maintenance treatment phase (MTP). All patients were pre-treated for 3 days with either trimethobenzamide or domperidone. Patients with PD who had well-defined early morning OFF episodes and total OFF time >2 hours/day were enrolled. Patients were evaluated in the OFF period the morning after the last dopaminergic dose taken no later than midnight. The titration sequence started with 10 mg and was increased as needed and tolerated, if patients did not achieve a full ON response within 45 minutes, every 3 days (+/- 2 d) to a maximum of 35 mg. Patients who responded moved on to the MTP. Safety assessments (adverse events (AE)) and vital signs (supine & standing blood pressure) were performed prior to dosing and at ~60 mins.
Results:
Preliminary safety data is available for the 96 patients. 19 patients were dosed but did not complete the DTP (9 patients reached the max dose [i.e., 35 mg] and did not turn fully ON; 5 discontinued due to an AE [2, nausea and 1 each for somnolence, headache, and pre-syncope symptoms]). There were 2 patients who withdrew consent. There was no evidence of local mucosal irritation following administration of APL-130277 at any dose. Nausea occurred in 16% of patients and was generally mild or moderate in severity [table1]. Vomiting occurred in 8% of patients and was mild or moderate in severity.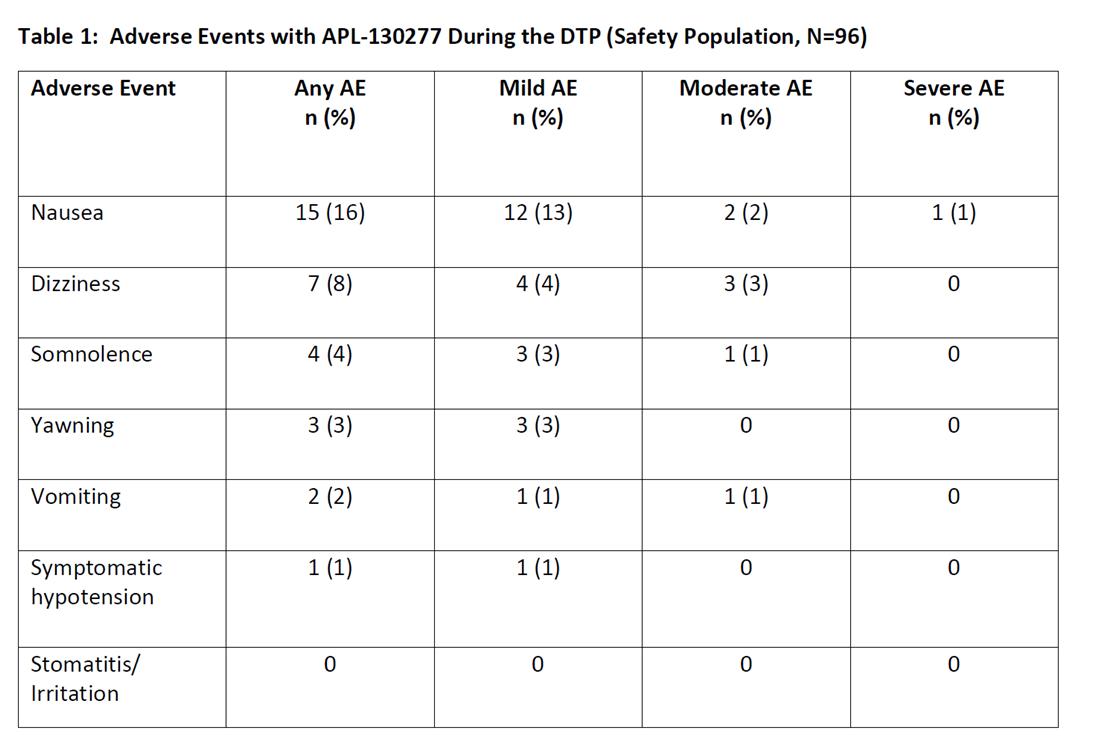 Conclusions: In this study, APL-130277 was well tolerated in patients with PD and OFF episodes. The most common AEs were associated with dopaminergic medications and/or apomorphine.
to be presented at: 1st Pan American Parkinson's Disease and Movement Disorders Congress (February 24-26, 2017; Miami, FL)
To cite this abstract in AMA style:
S. Isaacson, R. Hauser, A. Espay, R. Pahwa, D. Truong, E. Pappert, P. Gardzinksi, B. Dzyngel, A. Agro, H. Fernandez. Safety of sublingual apomorphine film (APL-130277) for the treatment of OFF episodes in patients with Parkinson's disease: Preliminary Results from a Phase III Study [abstract].
Mov Disord.
2017; 32 (suppl 2). http://www.mdsabstracts.org/abstract/safety-of-sublingual-apomorphine-film-apl-130277-for-the-treatment-of-off-episodes-in-patients-with-parkinsons-disease-preliminary-results-from-a-phase-iii-study/. Accessed February 18, 2018.
« Back to 21st International Congress
MDS Abstracts - http://www.mdsabstracts.org/abstract/safety-of-sublingual-apomorphine-film-apl-130277-for-the-treatment-of-off-episodes-in-patients-with-parkinsons-disease-preliminary-results-from-a-phase-iii-study/