Session Information
Session Time: 1:45pm-3:15pm
Location: Exhibit Hall C
Objective: This research focuses on the impact of extracellular α-synuclein preformed fibrils (α-syn PFFs) on oligodendrocytes (OLGs) as a potential contributor exacerbating the pathology of multiple system atrophy (MSA).
Background: The pathological finding in MSA is uniquely observed in OLGs, the myelin-forming cells of the central nervous system. The oligodendroglial α-syn aggregates, widely known as glial cytoplasmic inclusions (GCIs) are reportedly confirmed prior to neuronal loss in MSA brains (1). Another previous investigation detected myelin loss accompanied by preserved numbers of OLGs in MSA brains or transgenic MSA model mice brains, suggesting the existence of dysfunctional OLGs in association with α-syn accumulation (2).
Methods: Primary mixed glial cell culture was obtained from neonatal rats. OLGs culture was prepared through isolation of oligodendrocyte progenitor cells and induction of maturation. Bacterially expressed recombinant human α-syn was purified by ion exchange chromatography, followed by 3-7 days incubation with agitation at 37℃ for the use of α-syn PFFs. OLGs were incubated for twenty-four hours after α-syn PFFs application and subjected to immunoblot analysis as well as cell viability assays. Immunostaining was performed with confocal microscopy to evaluate the morphological change of OLGs as a result of α-syn PFFs application.
Results: Interestingly immunoblot analysis revealed unnegligible amount of endogenous α-syn in OLGs. While α-syn PFFs application did not significantly affect cell viability, the protein expression of myelin basic protein (MBP) was remarkably reduced in a concentration-dependent manner (figure 1 A, B). Immunostaining suggested that OLGs incubated with α-syn PFFs show morphological alteration characterized by fewer processes and decreased MBP expression compared with control OLGs (figure 1 C).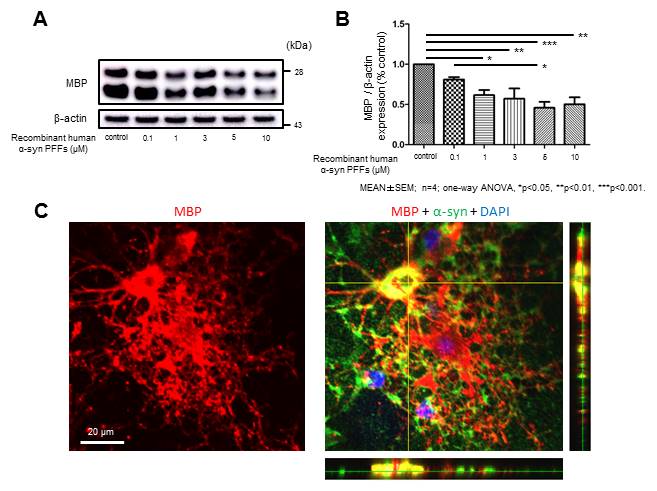 Conclusions: Our study indicated the possible contribution of extracellular α-syn PFFs to the production of MSA pathology in terms of OLGs dysfunction. Given that OLGs support neurons by forming myelin sheath, their dysfunction probably exacerbates neuronal activity, representing a critical pathological aspect of MSA.
References: 1. Wakabayashi K, Mori F, Nishie M, Oyama Y, Kurihara A, Yoshimoto M, et al. An autopsy case of early ("minimal change") olivopontocerebellar atrophy (multiple system atrophy-cerebellar). Acta neuropathologica. 2005 Aug;110(2):185-90. PubMed PMID: 15971057. Epub 2005/06/23. eng.
2. Ettle B, Kerman BE, Valera E, Gillmann C, Schlachetzki JC, Reiprich S, et al. alpha-Synuclein-induced myelination deficit defines a novel interventional target for multiple system atrophy. Acta neuropathologica. 2016 Jul;132(1):59-75. PubMed PMID: 27059609. Pubmed Central PMCID: PMC4912450. Epub 2016/04/10. eng.
To cite this abstract in AMA style:
S. Kaji, T. Maki, N. Uemura, R. Takahashi. α-Synuclein Preformed Fibrils Induce Disruption of Myelin Basic Protein Expression in Primary Oligodendrocyte Culture; Deciphering Glial Pathology in Multiple System Atrophy [abstract].
Mov Disord.
2017; 32 (suppl 2). https://www.mdsabstracts.org/abstract/%ce%b1-synuclein-preformed-fibrils-induce-disruption-of-myelin-basic-protein-expression-in-primary-oligodendrocyte-culture-deciphering-glial-pathology-in-multiple-system-atrophy/. Accessed December 1, 2023.
« Back to 2017 International Congress
MDS Abstracts - https://www.mdsabstracts.org/abstract/%ce%b1-synuclein-preformed-fibrils-induce-disruption-of-myelin-basic-protein-expression-in-primary-oligodendrocyte-culture-deciphering-glial-pathology-in-multiple-system-atrophy/