Objective: To prescribe LCAS to Parkinson's disease(PD) patients whose symptoms were not adequately controlled on tablet l-dopa and compare the UPDRS-(I,II,III,IV) ON & OFF on both treatments.
Background: In third world countries where DBS is unaffordable, options to treat advanced PD are limited. LCAS can be evaluated as a treatment option in such patients to measure improvement in motor symptoms since l-dopa is freely available in many government hospitals in North India. LCAS is believed to work better than l-dopa tablets in advanced PD owing to smoother l-dopa blood levels.
Method: LCAS was prescribed to 29 advanced PD patients[table1]. They were taught how to compound and dispense LCAS with a concentration of [1] (1ml water::1mg l-dopa::0.25mg carbidopa) and 2g Ascorbic acid or 2 lemons were added to stabilize the solution[figure1]. This was consumed according to a timetable made by a neurologist to optimize doses and space with meal timings. The UPDRS in ON and OFF period were recorded at 0,1,3,6,9&12 months and compared. Dyskinesia was measured on each follow up[2].
Results: From 29 patients, 4 left the therapy before 1 month mark; 25 continued the therapy. UPDRS(I,II,III,IV) on LCAS was compared to UPDRS on tablet and was found significant for months 1,3,6&9[table2]. Most common reason for discontinuation of therapy was patient being lost to follow up. Maximum fall in UPDRS was found to be around the 1 month mark after which a general trend of increase in UPDRS was noted in each patient which either plateaued or rose further. Dyskinesia were not exaggerated but became troublesome in 3 patients.
Conclusion: The study showed LCAS to be a cheap, underutilized treatment option for advanced PD providing relief in motor symptoms without significant dyskinesia, however the beneficial effect seemed to wear off or plateau in patients after sometime. The efficacy can be attributed to increased sustained dopamine levels as l-dopa absorption from LCAS is better and does not follow the crest and trough phenomenon in blood l-dopa levels seen with tablets. Possible hypothesis of loss of efficacy with time is likely due to downregulation of dopamine receptors owing to sustained exposure to high dopamine levels. Long term LCAS use would require frequent dose adjustment for consistent benefit.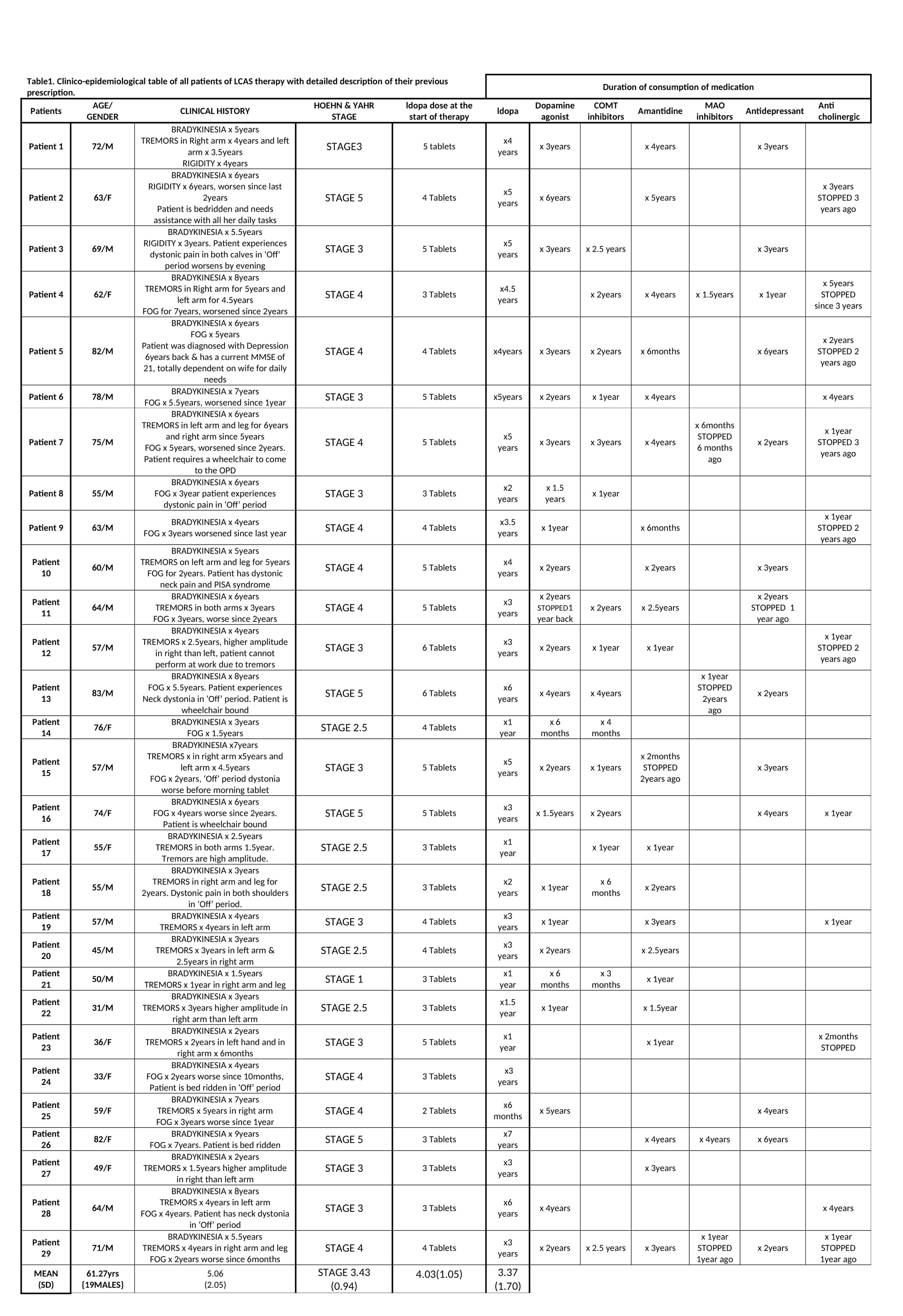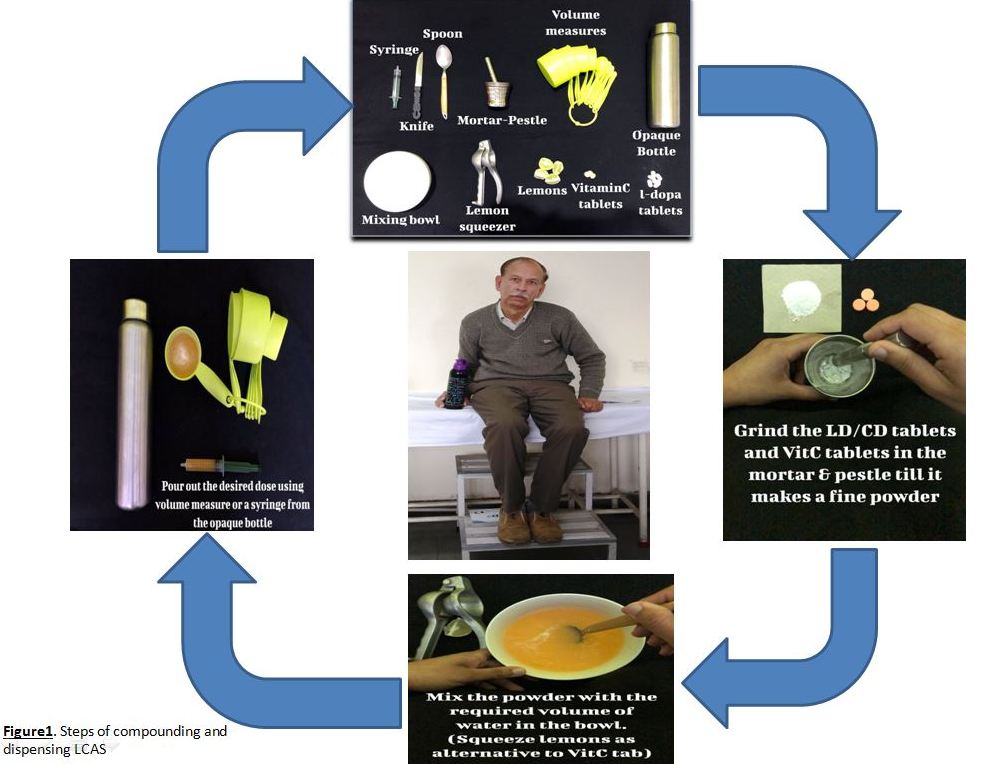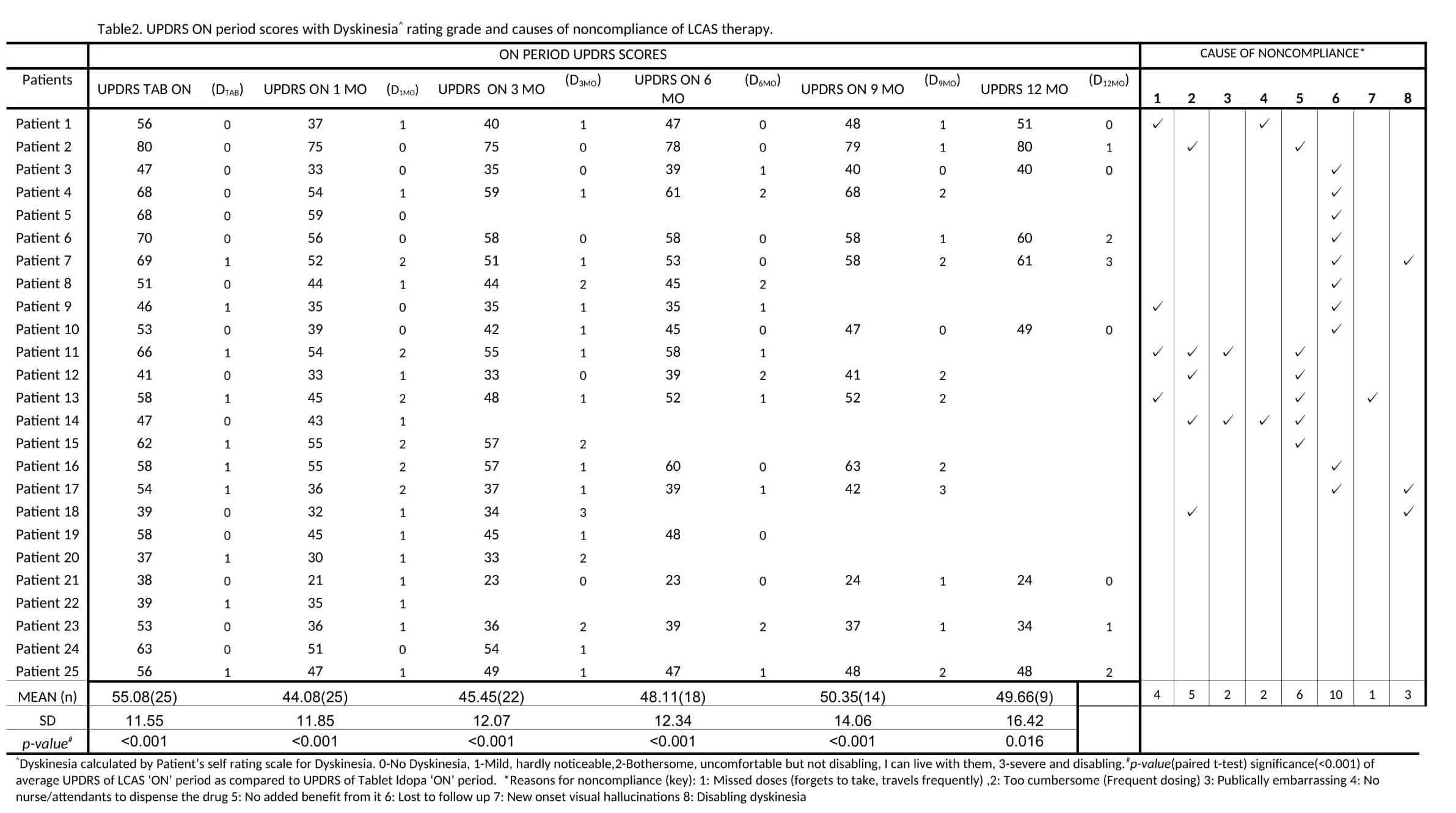 References: 1.Pappert EJ, Goetz CG, Niederman F, Ling ZD, Stebbins GT, Carvey PM. Liquid levodopa/carbidopa produces significant improvement in motor function without dyskinesia exacerbation. Neurology. 1996 Dec;47(6):1493-5. 2.Kurth, M.C. Using Liquid Levodopa in the Treatment of Parkinson's Disease. Drugs & Aging 10, 332–340 (1997).
To cite this abstract in AMA style:
K. Shukla, N. Sawal. 12-month therapeutic evaluation of l-dopa carbidopa ascorbic acid solution (LCAS) in a cohort of Advanced Parkinson's disease in a North-Indian tertiary care hospital [abstract].
Mov Disord.
2020; 35 (suppl 1). https://www.mdsabstracts.org/abstract/12-month-therapeutic-evaluation-of-l-dopa-carbidopa-ascorbic-acid-solution-lcas-in-a-cohort-of-advanced-parkinsons-disease-in-a-north-indian-tertiary-care-hospital/. Accessed September 25, 2023.
« Back to MDS Virtual Congress 2020
MDS Abstracts - https://www.mdsabstracts.org/abstract/12-month-therapeutic-evaluation-of-l-dopa-carbidopa-ascorbic-acid-solution-lcas-in-a-cohort-of-advanced-parkinsons-disease-in-a-north-indian-tertiary-care-hospital/