Objective: We report a family of Huntington's disease that exhibits genetic anticipation in its paternal inheritance.
Background: HD is an autosomal dominant disorder with triad of chorea, psychiatric symptoms and cognitive impairment. Juvenile onset HD patients are known to progress at a faster rate and approximately 10% of them presents akinetic rigidity or Parkinsonism (Westphal variant). HD is caused by the abnormal expansion of a CAG trinucleotide repeat in the gene located on the short arm of chromosome 4. In normal individuals, the average number of CAG repeats is about 19, while HD patients have 40 or more repeats. The number of CAG repeats is inversely proportional to age.
Method: Case report.
Results: A 18-year-old male presented with rapidly progressing dysarthria, dysphagia for five years. He fell down frequently and had gait disturbance. He had diff difficulty in communicating in daily life and needed help to keep up with high school education. Neurological examination showed rigidity, dystonia and parkinsonism in limbs. Language assessment showed delay in vocabulary development and articulation disorder. His brain magnetic resonance imaging showed bilateral striatal atrophy.
His father and grandmother, along with four other family members, also experienced abnormal movements with onset in their mid-40s. They underwent genetic testing for HTT gene and showed 48 CAG repeats. Considering autosomal dominant inheritance trait, he also underwent genetic test for HTT gene. His genetic test showed 67 CAG repeat number showing expansion and finally diagnosed as juvenile onset Huntington's disease.
In case of HD, it is known that as generations pass, especially through anticipation in paternal inheritance, the CAG repeat number increases, leading to earlier onset and more severe symptoms. The anticipation of paternal inheritance is thought to be due to continuous cycles of mitosis and meiosis that occur during spermatogenesis, which increases opportunities for errors and leads to the expansion of the CAG repeats. This results in the transmission of extended CAG repeats to the offspring upon fertilization.
Conclusion: In Huntington's disease, anticipation may occur due to genetic vulnerability of spermatogenesis process, leading to an increase in CAG repeats, ultimately resulting in earlier onset and increased severity of symptoms.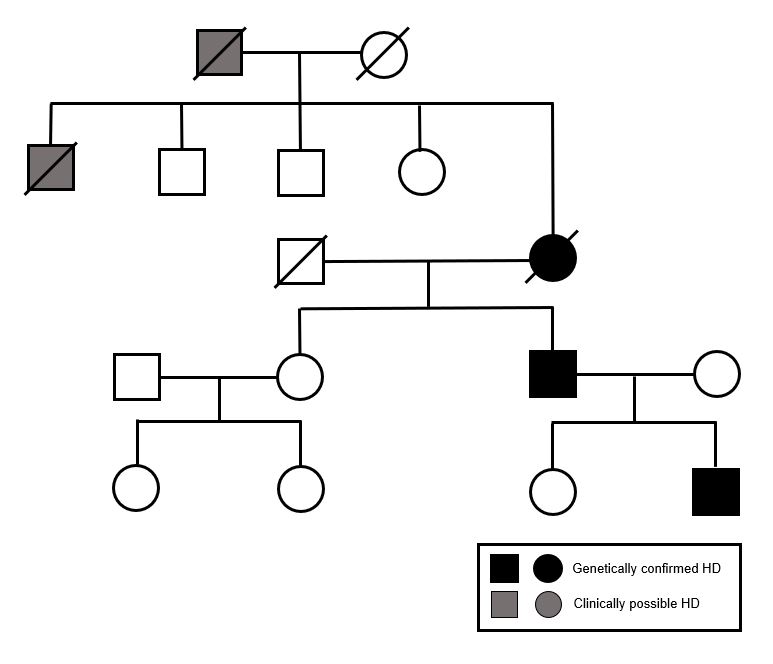 References: Lee, J. M., & Ramos, E. M. (2002). Impact of CAG repeat length on genetic anticipation in Huntington's disease. GeneReviews®
To cite this abstract in AMA style:
KY. Park, S. Jo, S. Lee, J. Lee, SJ. Chung. A family of Huntington's disease with genetic anticipation in its paternal inheritance [abstract].
Mov Disord.
2023; 38 (suppl 1). https://www.mdsabstracts.org/abstract/a-family-of-huntingtons-disease-with-genetic-anticipation-in-its-paternal-inheritance/. Accessed September 25, 2023.
« Back to 2023 International Congress
MDS Abstracts - https://www.mdsabstracts.org/abstract/a-family-of-huntingtons-disease-with-genetic-anticipation-in-its-paternal-inheritance/