Session Information
Session Time: 1:45pm-3:15pm
Location: Les Muses, Level 3
Objective: To report a case of Fragile X-associated tremor/ataxia syndrome (FXTAS) only with mild ataxia.
Background: FXTAS is a neurodegenerative disorder caused by the CGG trinucleotide repeat expansion (ranged from 55 to 200) of the FMR1 gene. Since Hagerman et al. introduced the first case series in 2001, there have been several studies performed in the cohorts of ataxia, tremor, and parkinsonism, but the highest prevalence of FXTAS was 5.1%. In Asia, the reports of FXTAS were rarer. To our knowledge, two Korean cases were reported so far. They had tremor for several years followed by ataxic gait. We recently experienced a FXTAS case only with mild ataxia.
Method: A 63-year-old man presented with 6-month history of speech and gait disturbance. He did not complain about cognitive impairment, urinary/defecatory problems, and impotence. There was no problem in conducting his job or maintaining daily activities of his life. He had no significant past medical history. There was no dysmetria in finger-to-nose tests but dysdiadochokinesia on both arms. He showed slightly wide-based gait. He mildly swayed in tandem gait. There was no tremor nor parkinsonism, and the other examinations were unremarkable. Brain MRI showed prominent white matter changes in both middle cerebellar peduncles (MCPs) and periventricular area. Video-oculography showed frequent square-wave jerks without vertical and gaze-evoked nystagmus. The gene tests for SCA1, 2, 3, 6, 7, and DRPLA were negative. The CGG repeat number of FMR1 gene was 89.
Results: The typical picture of FXTAS is that an aged (over 50 years) male who had intention tremor experiences progressive gait disturbance and cognitive impairment. The specific MCP sign in brain MRI indicates the probability of FXTAS, and then the diagnosis is genetically confirmed. Considering typical MRI lesions in FXTAS patients, it is not difficult to understand the reason why most patients have ataxia during the period of disease and most tremors appear under intention. In other words, the appearance of intention tremor in FXTAS may reflect the severity of cerebellar dysfunction.
Conclusion: Two previously-reported Korean cases showed long-standing tremors which were followed by ataxia, and their CGG repeat numbers were 136 and 100. Considering the neurotoxic effect of abundant FMR1 mRNA, low CGG repeat number, in this case, may explain mild ataxic manifestations without tremor, parkinsonism, and cognitive impairment.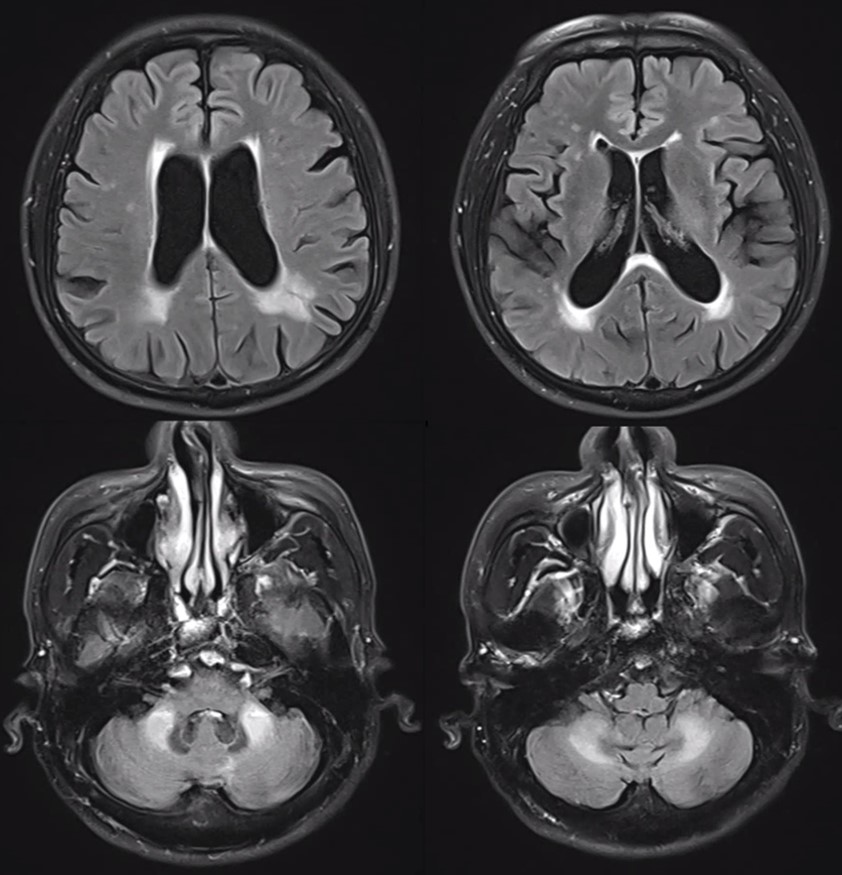 To cite this abstract in AMA style:
WW. Lee, BK. Kim, O. Kwon, JM. Park, JJ. Lee, K. Kang. A Korean case of Fragile X-associated mild ataxia without tremor [abstract].
Mov Disord.
2019; 34 (suppl 2). https://www.mdsabstracts.org/abstract/a-korean-case-of-fragile-x-associated-mild-ataxia-without-tremor/. Accessed December 11, 2023.
« Back to 2019 International Congress
MDS Abstracts - https://www.mdsabstracts.org/abstract/a-korean-case-of-fragile-x-associated-mild-ataxia-without-tremor/