Objective: To describe the clinical features of three affected siblings with NADGP
Background: Neurodegeneration with ataxia, dystonia and gaze palsy, childhood-onset (NADGP), is an autosomal recessive and progressive disorder caused by a bi-allelic pathogenic variants in the SQSTM1 gene.The common symptoms include progressive ataxia, dysarthria, cognitive decline, gaze palsy, dystonia, and chorea.There are 29 cases with NADGP reported worldwide, including one family of Mexican origin.
Method: A family,including three affected siblings, was followed at a neurogenetics clinic at a Peruvian tertiary specialized hospital.Clinical genome sequencing was pursued on two of the affected siblings and their clinically unaffected parents.cWGS testing was provided through the iHope program.
Results: Proband, 22-year-old female (Figure1,II-2): Initial presentation included progressive walking difficulties and recurrent falls beginning at six years of age. Learning difficulties at school. Since age 14,she presented with slurred speech and muscle cramps.Physical examination revealed dysarthria, gait ataxia, bilateral dysmetria,and upgoing plantar reflex. Vertical gaze was restricted with abnormal vertical saccades and multidirectional nystagmus.Episodic myoclonic jerks in upper and lower limbs and mild dystonic postures in both hands and fingers were noted. Brain MRI was normal.
Affected sibling,12-year-old male (Figure1,II-4):Initial presentation included progressive walking, writing and drawing difficulties since seven years of age. Since age 8, he has presented with jerking movements in the head and upper limbs and speech difficulties.He had moderate learning difficulties at school.Physical examination revealed dysarthria, gait ataxia, dysmetria,and hypotonia with pendular patellar reflex.Down-beat vertical gaze limitation and vertical nystagmus were noted. Myoclonic jerks of the upper limbs with mild athetosis movements in both hands were noted.
In both siblings who pursued testing, cWGS identified a likely pathogenic homozygous variant in the SQSTM1 gene, c.1A>G (p.Met1?), conferring a molecular diagnosis.The variant was detected in a heterozygous state in each unaffected parent.
Conclusion: We report a Peruvian family with NADGP becoming the second family of Latin American origin.We highlight the importance of whole genome sequencing in the diagnosis of rare neurodegenerative disorders.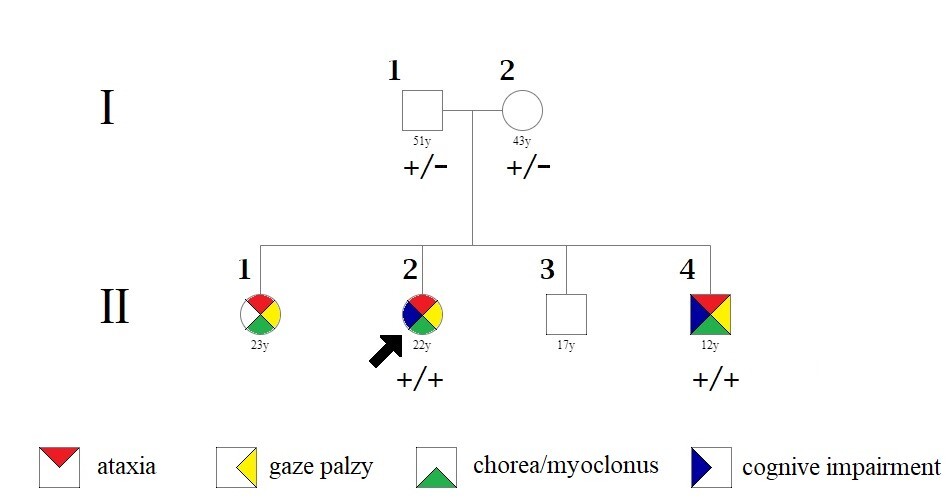 References: 1. Haack, T. B., Ignatius, E., Calvo-Garrido, J., Iuso, A., Isohanni, P., Maffezzini, C., Lonnqvist, T., Suomalainen, A., Gorza, M., Kremer, L. S., Graf, E., Hartig, M. and 21 others. Absence of the autophagy adaptor SQSTM1/p62 causes childhood-onset neurodegeneration with ataxia, dystonia, and gaze palsy. Am. J. Hum. Genet. 99: 735-743, 2016.
2. Zúñiga-Ramírez C, de Oliveira LM, Kramis-Hollands M, Algarni M, Soto-Escageda A, Sáenz-Farret M, González-Usigli HA, Fasano A. Beyond dystonia and ataxia: Expanding the phenotype of SQSTM1 mutations. Parkinsonism Relat Disord. 2019 May;62:192-195. doi: 10.1016/j.parkreldis.2018.12.031. Epub 2019 Jan 2. PMID: 30638816.
3. Akkari M, Kraoua I, Klaa H, Benrhouma H, Ben Younes T, Rouissi A, Chaabouni M, Ben Youssef-Turki I. SQSTM1 mutation: Description of the first Tunisian case and literature review. Mol Genet Genomic Med. 2020 Dec;8(12):e1543
To cite this abstract in AMA style:
E. Sarapura-Castro, C. Chacaltana-Viñas, P. Ramirez-Pajares, A. Manrique-Palomino, A. Clause, A. Chawla, A. Rivera-Valdivia, J. Bazalar-Montoya, K. Milla-Neyra, E. Thorpe, M. Cornejo-Olivas. A Peruvian family with neurodegeneration with ataxia, dystonia and gaze palsy, childhood-onset (NADGP): A case report [abstract].
Mov Disord.
2023; 38 (suppl 1). https://www.mdsabstracts.org/abstract/a-peruvian-family-with-neurodegeneration-with-ataxia-dystonia-and-gaze-palsy-childhood-onset-nadgp-a-case-report/. Accessed September 28, 2023.
« Back to 2023 International Congress
MDS Abstracts - https://www.mdsabstracts.org/abstract/a-peruvian-family-with-neurodegeneration-with-ataxia-dystonia-and-gaze-palsy-childhood-onset-nadgp-a-case-report/