Objective: Despite the high prevalence, devastating impact to patient quality of life and substantial cost burden on society, dystonia is still poorly understood. The lack of understanding in disease pathophysiology and the absence of objective diagnostic criteria work to create an environment of unmet clinical need. We aim to create a simple and widely available metric based on behavioural, nonmotor abnormalities in dystonia.
Background: While the motor aspect of dystonia is most salient, emerging research suggests additional psychological and neurocognitive abnormalities in dystonia patients. Additionally, these nonmotor abnormalities have been identified in certain relatives of dystonia patients [1]. Given the incomplete penetrance genetic heritability, the nonmotor components may in fact represent an early premotor aspect.
Method: Previous research has shown temporal discrimination threshold (TDT) to be abnormal in dystonia [1]. The TDT is the minimum time interval required to distinguish two stimuli presented at different times. The current gold standard is visual TDT measurements using a tabletop device [2] that can be rather cumbersome [Figure 1]. This necessitates a central testing location and limits the subject pool. We developed a new TDT task using Python as a platform. This allowed us to test both visual and auditory TDT, making our approach multi-sensory, widely available and providing the capability for remote runs with limited setup, high fidelity and precision in stimuli delivery and recording of participant results [Figure 2].
Results: The pilot data included laboratory members and family. 12 female, and 16 male subjects, ages ranging from 18-65 (mean = 35, standard deviation = 16). Visual and auditory TDT values where calculated. Visual TDT mean 19.72ms SD = 7.75; auditory TDT mean 35.37ms SD = 23.38 [Figure 3].
Conclusion: We received positive feedback on the experiment, and subsequent efforts focused on translating the code from a computer to a mobile phone-based environment to increase mobility and ease of use. Further piloting and validation will be required to optimize stimuli characteristics, but as the experimental framework is in place and adequately tested, such minor changes are easy to implement. We aim to establish early, objective measures for Cervical Dystonia and may address unmet clinical needs in this population.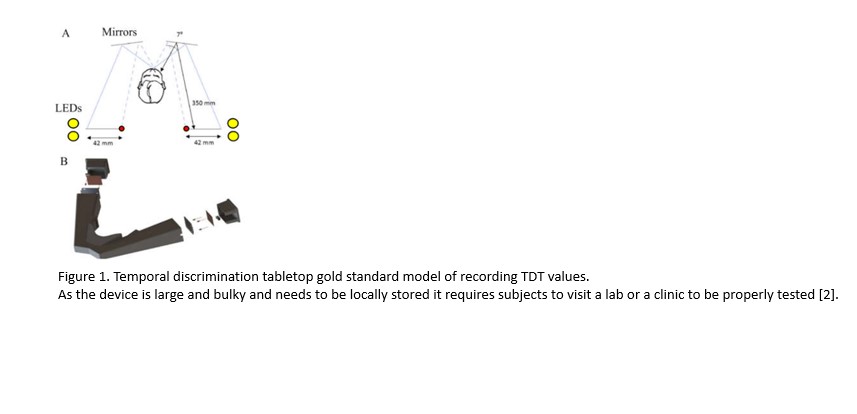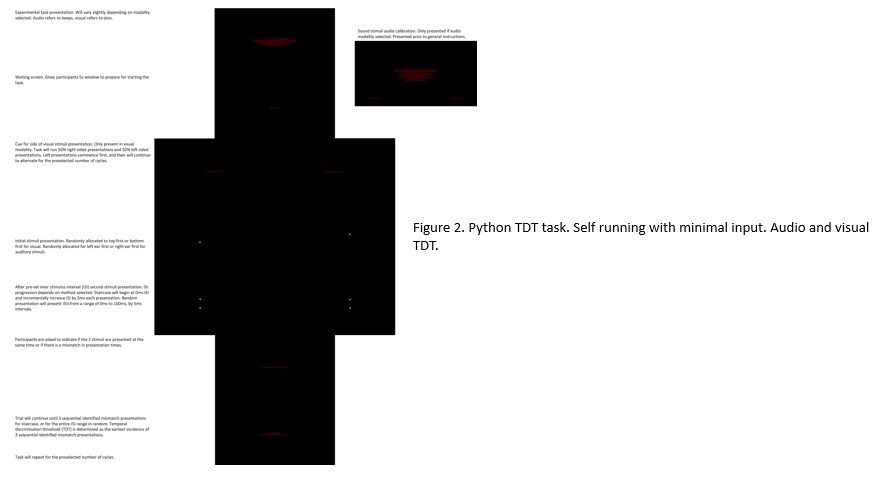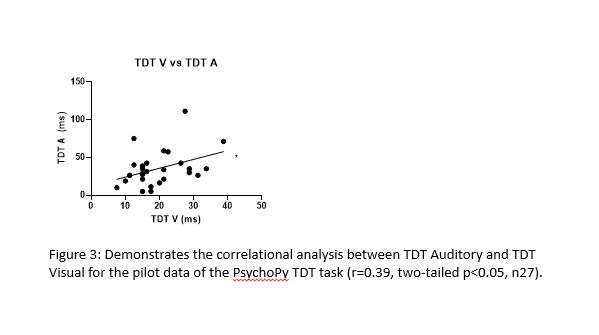 References: 1. Kimmich O, Molloy A, Whelan R, Williams L, Bradley D, Balsters J, Molloy F, Lynch T, Healy DG, Walsh C, O'Riordan S, Reilly RB, Hutchinson M. Temporal discrimination, a cervical dystonia endophenotype: penetrance and functional correlates. Mov Disord. 2014 May;29(6):804-11. doi: 10.1002/mds.25822. Epub 2014 Jan 30. PMID: 24482092.
2. Beck RB, McGovern EM, Butler JS, Birsanu D, Quinlivan B, Beiser I, Narasimham S, O'Riordan S, Hutchinson M, Reilly RB. Measurement & Analysis of the Temporal Discrimination Threshold Applied to Cervical Dystonia. J Vis Exp. 2018 Jan 27;(131):56310. doi: 10.3791/56310. PMID: 29443021; PMCID: PMC5908707.
To cite this abstract in AMA style:
SR. Bostan, C. Fearon, M. Hutchinson, R. Reilly. A portable and distributable measure of temporal discrimination: an objective means for diagnosis of cervical dystonia. [abstract].
Mov Disord.
2023; 38 (suppl 1). https://www.mdsabstracts.org/abstract/a-portable-and-distributable-measure-of-temporal-discrimination-an-objective-means-for-diagnosis-of-cervical-dystonia/. Accessed September 25, 2023.
« Back to 2023 International Congress
MDS Abstracts - https://www.mdsabstracts.org/abstract/a-portable-and-distributable-measure-of-temporal-discrimination-an-objective-means-for-diagnosis-of-cervical-dystonia/