Objective: To describe an interesting and rare case of cervical dystonia associated with PDE10A mutation.
Background: Dystonia is the third most prevalent movement disorder in United states and is comprised of complex hyperkinetic movements with sustained or intermittent muscle contractions causing abnormal postures. Although monogenic causes are overall rare, mutations in greater than >200 genes are known to cause either an isolated movement disorder or a syndromic form of movement disorders. We report one such case where PDE10A autosomal dominant mutation is associated with cervical dystonia. There are documented cases of PDE10 A gene associated childhood onset chorea in the past but there are no documented cases of dystonia in the literature.
Method: We have done retrospective chart review of a 20-year-old woman who presented to our Botulinum toxin clinic for treatment of her cervical dystonia. One year before her current presentation she developed sub-acute onset stiffness in her neck and over the next few months her head has attained an abnormal fixed posture associated with some shooting pain down the arms. She had relief of these symptoms while lying flat. Her past medical history was significant for Mild intellectual disability and hirsutism and negative for any similar history in family members. She was initially worked up with CT neck and MRI spine imaging, was given a trial of muscle relaxants and corticosteroids without any relief. She was subsequently diagnosed with Cervical dystonia and was sent for Botulinum toxin injections.
Results: Upon further evaluation and clinical examination we found right laterocollis and retrocollis with geste antagoniste. Because of intellectual disability and early onset of cervical dystonia we have performed a dystonia genetic panel followed by Whole exome analysis which was consistent with heterozygous variant of PDE10-A gene. Her MRI head was also consistent with subtle bilateral posterior putaminal hyperintensities concerning for striatal degeneration. She currently has new onset risus sardonicus during her recent visit.
Conclusion: This is a rare case of de-novo genetic mutation of PDE10A associated dystonia and will be a great addition to growing body of literature in genetic movement disorders. Also, early onset dystonia before the age of 30 should raise suspicion for genetic etiology and clinicians should pursue further testing.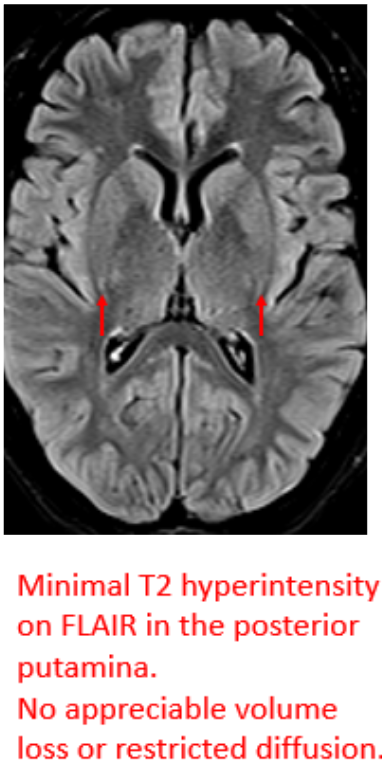 References: Mencacci, N. E., Kamsteeg, E. J., Nakashima, K., R'Bibo, L., Lynch, D. S., Balint, B., Willemsen, M. A., Adams, M. E., Wiethoff, S., Suzuki, K., Davies, C. H., Ng, J., Meyer, E., Veneziano, L., Giunti, P., Hughes, D., Raymond, F. L., Carecchio, M., Zorzi, G., Nardocci, N., … Bhatia, K. P. (2016). De Novo Mutations in PDE10A Cause Childhood-Onset Chorea with Bilateral Striatal Lesions. American journal of human genetics, 98(4), 763–771. https://doi.org/10.1016/j.ajhg.2016.02.015
To cite this abstract in AMA style:
R. Vasireddy, T. Ali, Y. Zarate, Z. Guduru. A rare case of PDE10A associated dystonia with bilateral striatal lesions [abstract].
Mov Disord.
2023; 38 (suppl 1). https://www.mdsabstracts.org/abstract/a-rare-case-of-pde10a-associated-dystonia-with-bilateral-striatal-lesions/. Accessed September 27, 2023.
« Back to 2023 International Congress
MDS Abstracts - https://www.mdsabstracts.org/abstract/a-rare-case-of-pde10a-associated-dystonia-with-bilateral-striatal-lesions/