Objective: The current study set out to compare existing electronic devices (EDs) for tracking medication adherence (MA) and to provide a framework for device selection within three common applications: self-management (SM), clinical care (CC), and clinical trials (CT).
Background: Advanced technologies used to capture health-related outcomes out of the clinic have provided new opportunities to track symptoms and disease progression. Essential to understanding symptom fluctuation in PD is information about medication timing and adherence [1]. MA is commonly assessed via self-report. EDs however, can objectively and continuously track MA, and also provide a way for people to self-manage their medication intake to improve MA and treatment efficacy. The challenge is that several ED types exist, with significant variation in features and capabilities, making it difficult to identify the optimal device for a given purpose.
Method: The current study was comprised of a literature and product review, followed by a device comparison and use case example to illustrate the utility of the framework. Inclusion criteria were that devices: 1) were designed with the main purpose of tracking MA and 2) could be used at any time without forced scheduling. Devices were classified by application (CT, CC, and/or SM) and coded for key features including interactivity, usability, data collection, and validation.
Results: A total of 23 devices were included in the comparison. Six had applications for SM, 19 for CC, and 16 for CT [table1]. Device features vary depending on the application [table2]. Alerts and adherence data for users and caregivers are provided for all SM devices and only 3 of the other devices. In contrast, a higher proportion of CC (10/19) and CT (8/16) devices record dosage information in addition to the date and time, compared to those for SM (2/6). Peer-reviewed studies to test device functionality were not found for any of the SM devices, whereas at least one study was identified for most (15/17) of the CC and CT devices.
Conclusion: Device selection is challenging due to variability in design and a lack of standardized evaluations to support device functionality. There is a need to consider the desired features in addition to the intended use case when selecting a device. This work provides a device selection guide for users, caregivers, and researchers, and a framework to evaluate the utility of new devices as they emerge.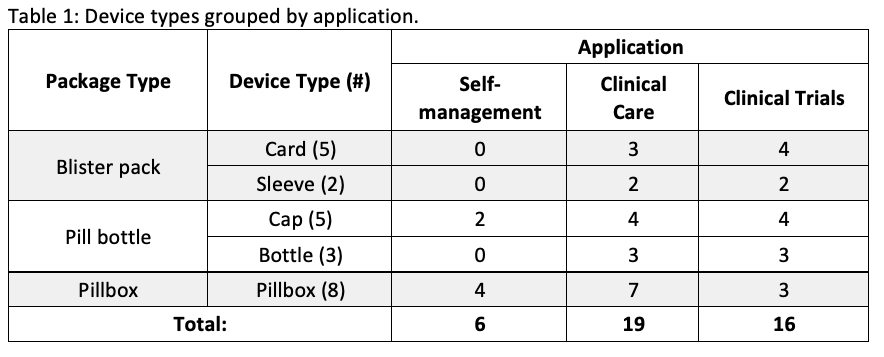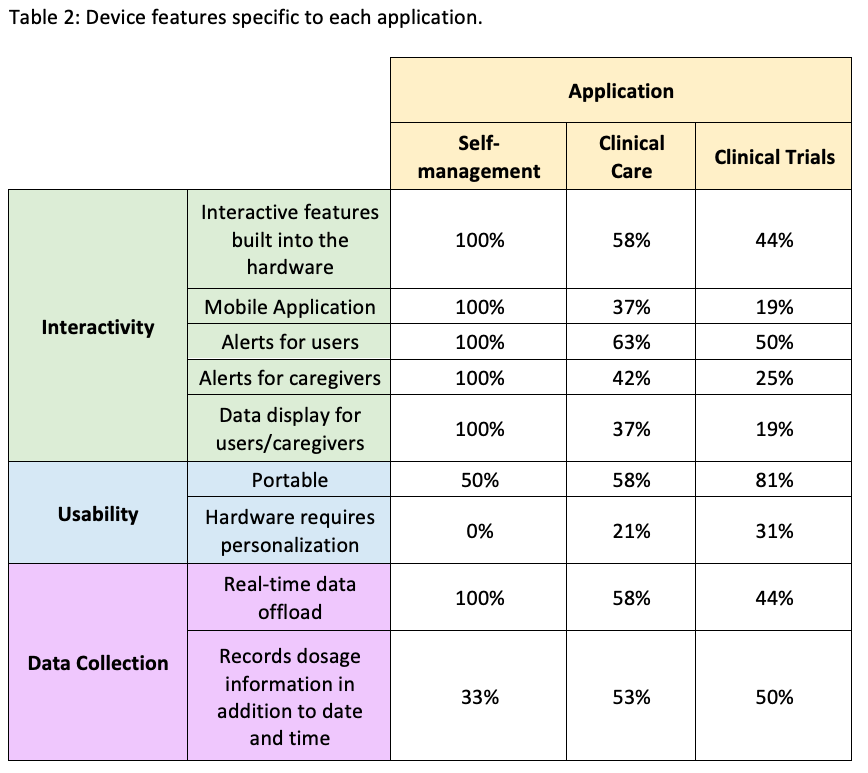 References: [1] Straka I, Minár M, Škorvánek M, et al. (2019) Adherence to Pharmacotherapy in Patients With Parkinson's Disease Taking Three and More Daily Doses of Medication. Front Neurol. 10:799 1-8. doi: 10.3389/fneur.2019.00799.
To cite this abstract in AMA style:
H. Bernstein, FE. Godkin, W. Mcilroy, K. van Ooteghem. A Review of Electronic Devices to Track Medication Adherence in Parkinson's Disease [abstract].
Mov Disord.
2021; 36 (suppl 1). https://www.mdsabstracts.org/abstract/a-review-of-electronic-devices-to-track-medication-adherence-in-parkinsons-disease/. Accessed December 10, 2023.
« Back to MDS Virtual Congress 2021
MDS Abstracts - https://www.mdsabstracts.org/abstract/a-review-of-electronic-devices-to-track-medication-adherence-in-parkinsons-disease/