Session Information
Session Time: 1:15pm-2:45pm
Location: Hall 3FG
Objective: The current research work encircles the main perspective of screening patients for PD with LRRK-2 mutations in patients pertaining to regions in and around Coimbatore area using cellular mechanism of phosphate tagging groups.
Background: PD is a type of neurodegenerative disorder in which several regions of the brain are affected mainly, the cerebral cortex, peripheral nervous system, pigmented nuclei of midbrain and brainstem. The major characteristic feature of the disease is prominent degeneration of dopaminergic neurons seen in the midbrain region: Substantia Nigra. The DNA of PD patients located in the leucine rich repeat kinase 2 regions (LRRK-2) represent the most common genetic cause of PD. Ultimately focusing on the causes of PD, LRRK-2 has been a key focus to study various perspectives of understanding the progression of PD in many laboratories. LRRK2 is a protein that belongs to the family of kinase enzymes, its main function in the cells is to tag molecules with chemicals called phosphate groups. This process is termed as phosphorylation and it regulates basic nerve cell function and health. When proteins are tagged, it signals the brain to change its cell manufacturing process. However, when mutated LRRK-2 tags proteins, it results in over-manufacturing certain products in a cellular process. Mutated LRRK-2 performs its tagging function by attaching phosphate groups causing increased proteins through its action on a part of the cell called ribosomal s15. The removal of phosphate groups that tag ribosomal s15 actually prevents degeneration of cells in the brain.
Methods: The study includes 21 subjects of PD patients belonging to late onset PD. All of these subjects were screened for the presence of G2019S mutation occuring in LRRK2 gene. The positive subjects are then studied for the phosphate tagging group of ribosomal s15 presence using biochemical analysis.
Results: In the present study the mutational analysis show positive results for majority of cohorts belonging to that particular region and have been also studied for the phosphate tagging group of ribosomal s15 presence.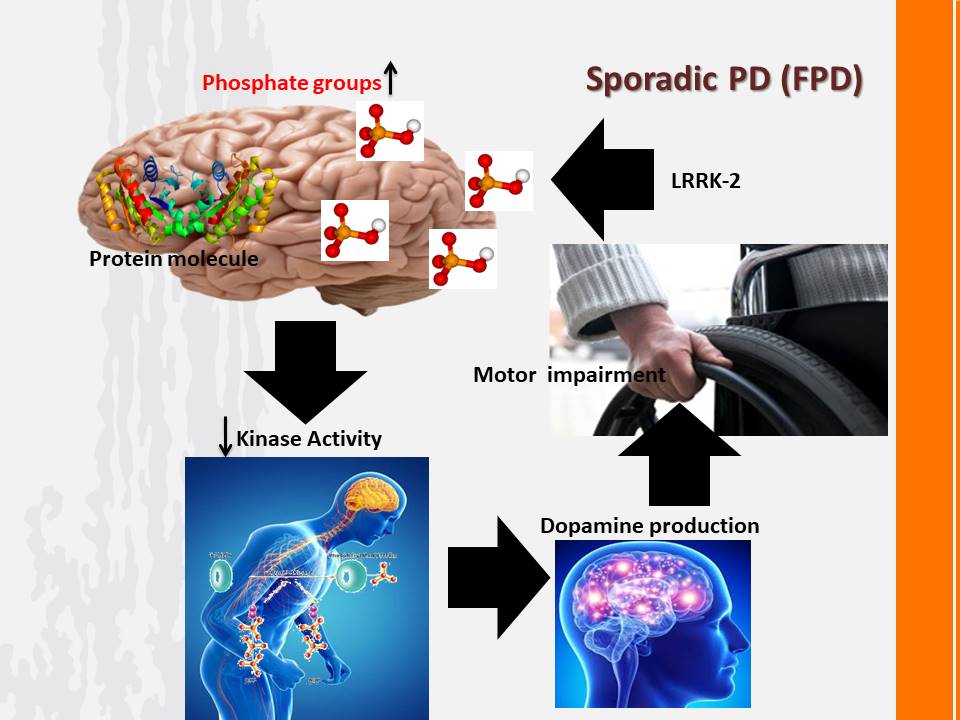 Conclusions: Previous studies suggest that the disease-causing mutations, like the G2019S mutation, increase the rate at which LRRK2 tags molecules. Identifying the molecules that LRRK2 tags provides clues as to how nerve cells may die during PD. Though these findings are exciting, it has not been still implemented on humans. Since, there are several genes and susceptibility factors that have been reported to be the causative for the progression of PD in the past decades.
To cite this abstract in AMA style:
P. Basavaraju, P. Moorthi. A Theranostic Approach to Intervene the Link Between Parkinson's Disease (PD) and LRRK – 2 Mutation [abstract].
Mov Disord.
2018; 33 (suppl 2). https://www.mdsabstracts.org/abstract/a-theranostic-approach-to-intervene-the-link-between-parkinsons-disease-pd-and-lrrk-2-mutation/. Accessed December 1, 2023.
« Back to 2018 International Congress
MDS Abstracts - https://www.mdsabstracts.org/abstract/a-theranostic-approach-to-intervene-the-link-between-parkinsons-disease-pd-and-lrrk-2-mutation/