Session Information
Session Time: 1:15pm-2:45pm
Location: Hall 3FG
Objective: The primary aim of this study was to investigate whether the ability to interpret positive, negative, or neutral emotion from a pair of photographed eyes was affected in patients with Parkinson's Disease (PD) (either Young-Onset PD, YOPD or Middle-Onset PD, MOPD patients); if so, affective Theory of mind (ToM) for which specific emotional valences were affected and which remained intact. Moreover, if deficits in the affective ToM existed, the study intended to determine whether any correlation exists between the impaired affective ToM and Parkinson-related clinical variables (motor and non-motor symptoms) in MOPD patients.
Background: Emerging amount of evidence supported that non-motor symptoms (e.g, cognitive dysfunction, loss of smell, constipation) not only influence the disease progression but also the quality of life (Pfeiffer, 2016). Social cognition broadly refers to the processing of social information in the brain that underlies abilities such as the detection of others' emotions and responding appropriately to these emotions. The abilities to interact effectively in a social situation and to infer other's emotions correctly are fundamental skills for successful communication (Frith & Frith, 1999). The neuropathology of PD involves the frontal-subcortical circuit, an area responsible for processing affective ToM, patients with PD are expected to experience deficits in the affective ToM.
Methods: A total of 107 MOPD, 30 YOPD, and 30 healthy participants as NCs were recruited. For the primary study purpose, 60 patients with PD (30 YOPD and 30 MOPD) and 30 NCs were included for the purpose of matching for sex, education level, mental state, disease severity, and levodopa equivalent daily dose. The affective ToM, global mental abilities, and clinical symptoms were assessed. All the participants provided written informed consent prior to enrollment, in accordance with the ethical standards laid down in the 1964 Declaration of Helsinki. The study was approved by the Ethical Research Committee.
Results: The MOPD patients exhibited deficits in affective ToM to the negative (p = 0.001) and neutral valences (p = 0.005), when compared to the participants in the NCs and YOPD groups. Correlation analysis revealed that impairment of affective ToM in MOPD patients was significantly associated with the presence of motor and non-motor symptoms. The MOPD patients suffered from deficits in affective ToM, particularly in decoding negative- and neutral- emotions.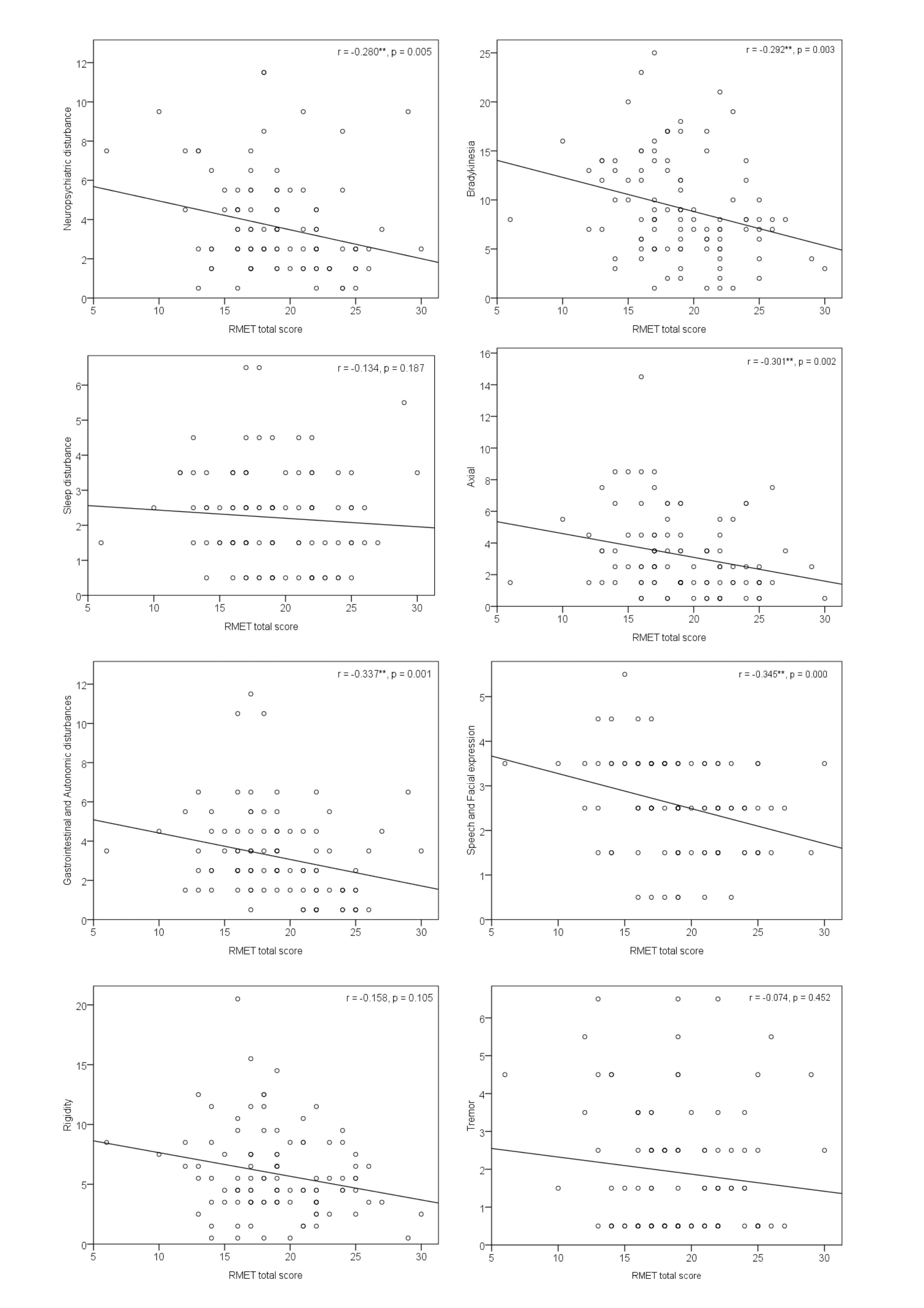 Conclusions: Our findings revealed that PD may manifest as motor and non-motor symptoms, and this understanding may lead to more comprehensive and complete patient care.
References: 1. Frith, C. D., & Frith, U. (1999). Interacting minds–a biological basis. Science, 286(5445), 1692-1695. 2. Pfeiffer, R. F. (2016). Non-motor symptoms in Parkinson's disease. Parkinsonism Relat Disord, 22 Suppl 1, S119-122. doi: 10.1016/j.parkreldis.2015.09.004.
To cite this abstract in AMA style:
C.H. Tan, S.C. Tu, R.L. Yu. Affective Theory of Mind Impaired in Parkinson's Disease: Negative- and Neutral- specific impairments of Emotion State Decoding [abstract].
Mov Disord.
2018; 33 (suppl 2). https://www.mdsabstracts.org/abstract/affective-theory-of-mind-impaired-in-parkinsons-disease-negative-and-neutral-specific-impairments-of-emotion-state-decoding/. Accessed December 9, 2023.
« Back to 2018 International Congress
MDS Abstracts - https://www.mdsabstracts.org/abstract/affective-theory-of-mind-impaired-in-parkinsons-disease-negative-and-neutral-specific-impairments-of-emotion-state-decoding/