Objective: To explore the symptoms of females with young onset Parkinson's Disease (YOPD), specifically alopecia, in comparison to females with traditional onset Parkinson's Disease (TOPD).
Background: Females with YOPD (age of diagnosis 21-50 years) display unique physio-psychosocial consequences compared to females with TOPD (age of diagnosis older than 50 years). YOPD progresses at a slower rate and is associated with more levodopa-related motor complications [1]. Alopecia, or a loss of hair, is a rare symptom associated with Parkinson's Disease (PD) reported more often in females [2]. While genetic studies have linked PD and alopecia [3], several case studies implicate PD medications as a proposed cause in TOPD females [4-6]. Alopecia can lead to anxiety and depression and searching for solutions increases stress [7]. Despite anecdotal evidence, few studies exist that investigate alopecia in YOPD females. Therefore, the purpose of this study is to examine symptoms in YOPD females, with a specific focus on alopecia, compared to females with TOPD.
Method: Following IRB approval, a custom, online survey investigating PD history, symptoms, and comorbidities was sent to a convenience sample of females with PD. Subjects were recruited from a YOPD female support group, Rock Steady Boxing classes, and the Riland Health Clinic at the New York Institute of Technology.
Results: Surveys were sent to 59 subjects; 33 responded (55.9% response rate) (mean age 52.2y, SD 6.37, 78.8% White) [table1]. Twenty-six identified as YOPD. The mean age of YOPD diagnosis was 41.9 years. The most common presenting motor symptoms of YOPD females were tremor, poor handwriting, and stiffness [figure1]. Nine of 26 YOPD females experienced alopecia (34.6%) compared to two of seven (28.6%) TOPD. Two of nine YOPD females (22.2%) stated that they experienced alopecia symptoms prior to PD diagnosis. Eight of nine YOPD females (88.9%) were taking PD medications when alopecia presented, most commonly levodopa (75.0%) [table2]. Both TOPD subjects were taking levodopa when they experienced alopecia symptoms.
Conclusion: YOPD and TOPD females reported alopecia. YOPD females reported alopecia at a higher rate. Increased awareness of this condition among all females with PD may help guide clinicians during diagnosis and lead to earlier treatment and referral to mental health professionals. Limitations include a homogenous cohort and a small sample size of TOPD females.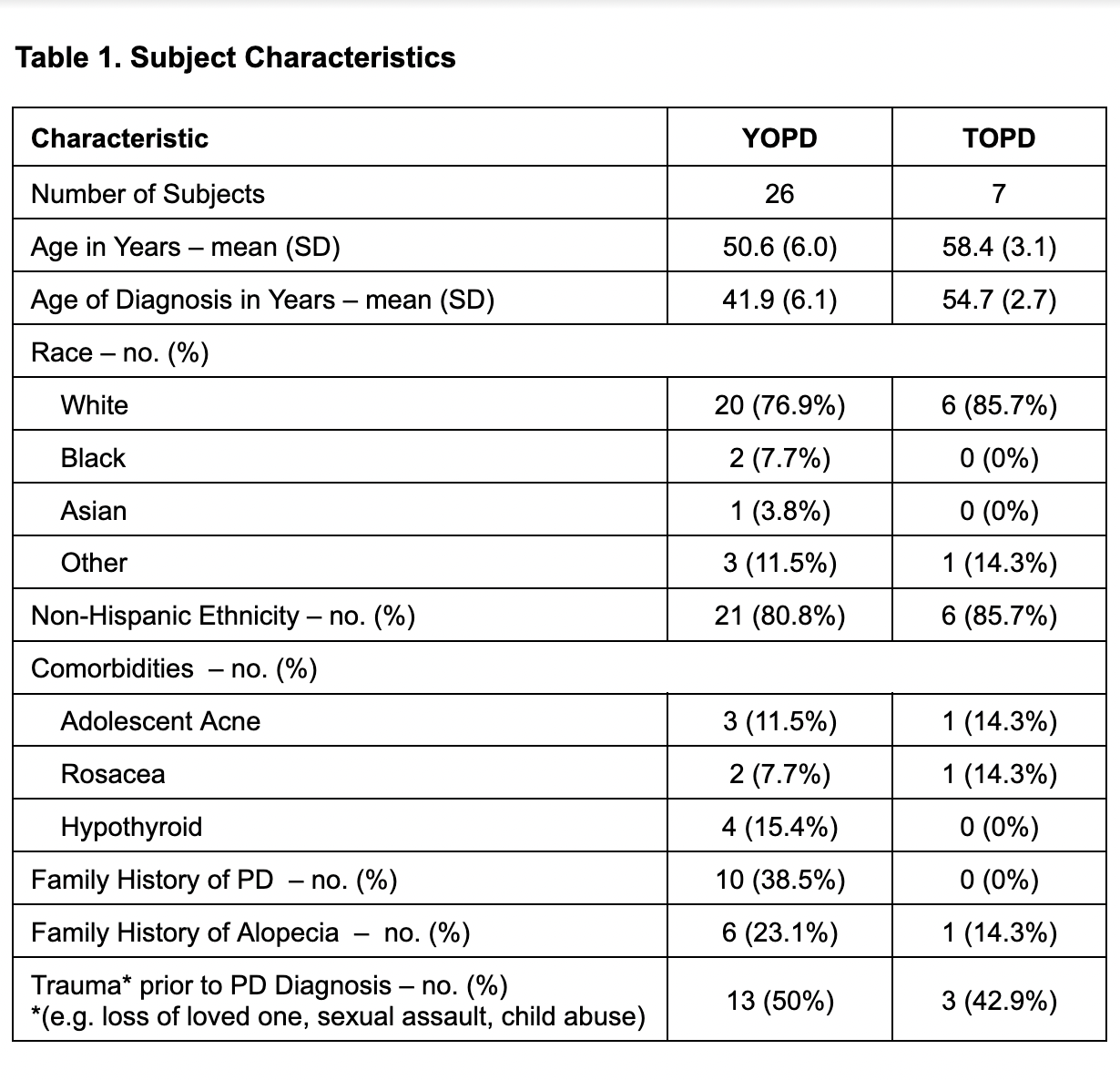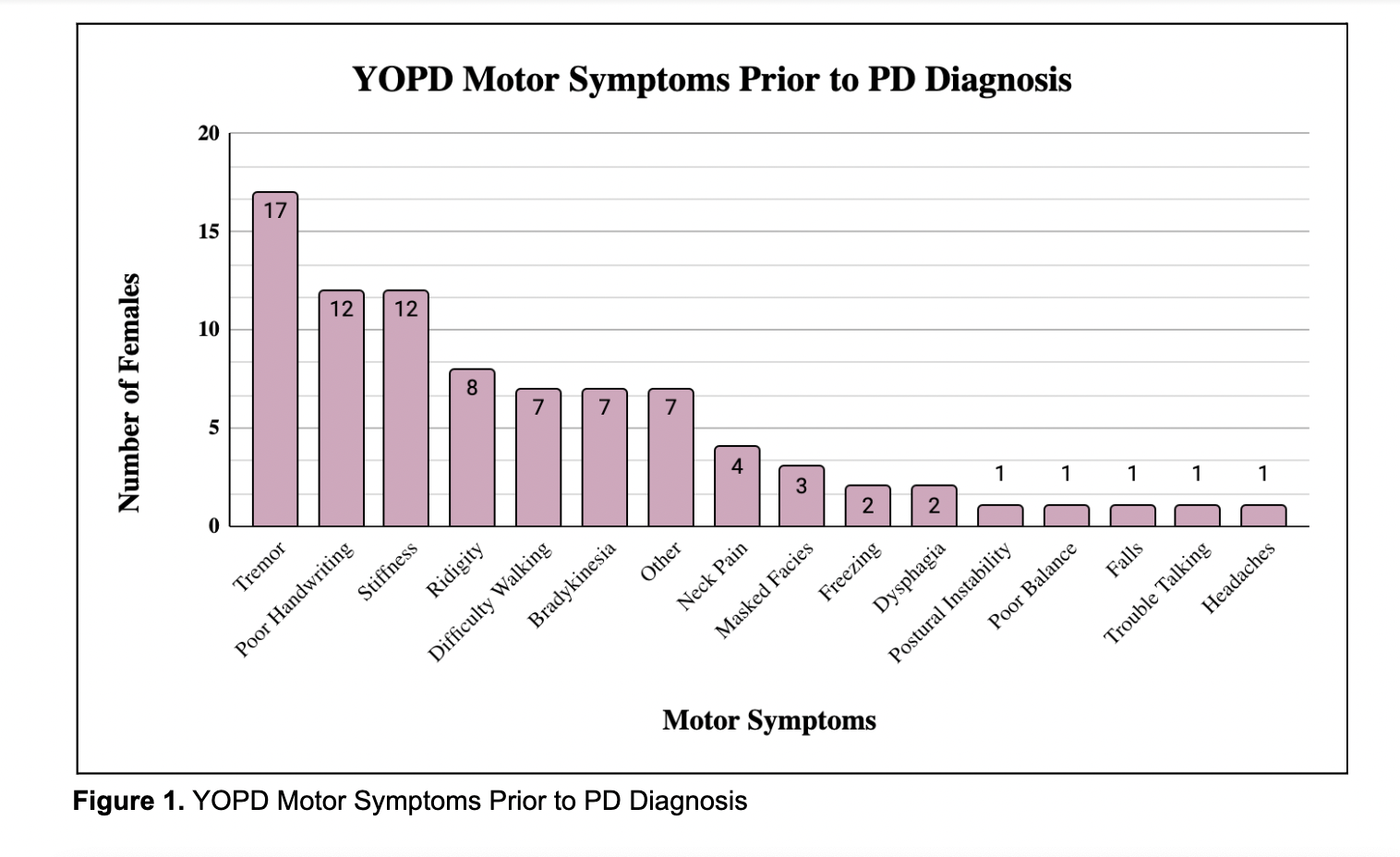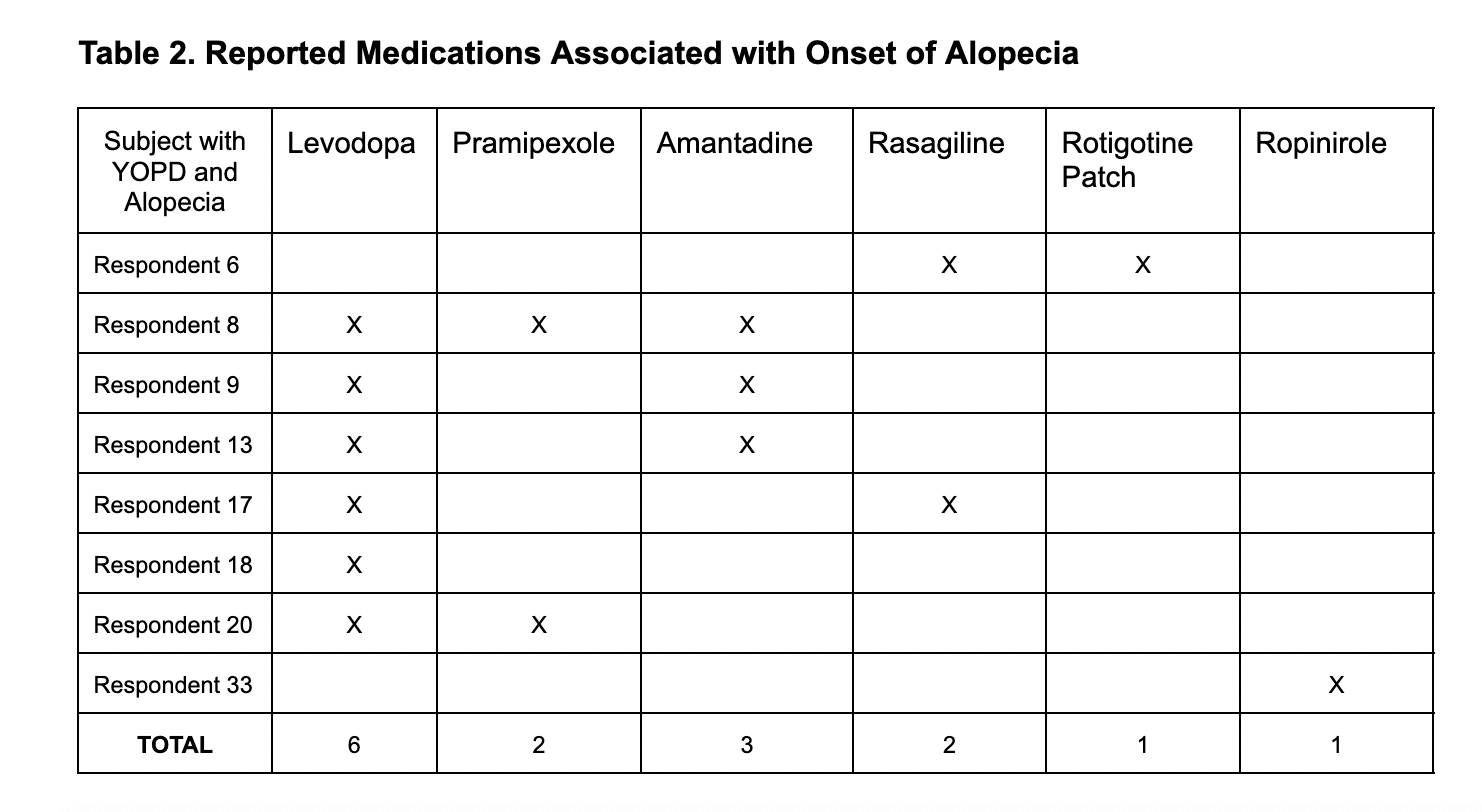 References: [1] Mehanna, R., & Jankovic, J. (2019). Young-onset Parkinson's disease: Its unique features and their impact on quality of life. Parkinsonism & Related Disorders, 65, 39-48.
[2] Garcia Alvarado, N., Lopez Ariztegui, N., Morales Casado, M. I., Segundo Rodriguez, J. C., Schoendorff Ortega, C., Almansa Castillo, R., … & Marsal Alonso, C. (2019, October). Sudden alopecia secondary to levodopa treatment. In MOVEMENT DISORDERS (Vol. 34, pp. S136-S137). 111 RIVER ST, HOBOKEN 07030-5774, NJ USA: WILEY.
[3] Li, R., Brockschmidt, F. F., Kiefer, A. K., Stefansson, H., Nyholt, D. R., Song, K., … & Richards, J. B. (2012). Six novel susceptibility Loci for early-onset androgenetic alopecia and their unexpected association with common diseases. PLoS genetics, 8(5), e1002746.
[4] Miwa, H., & Kondo, T. (2003). Hair loss induced by dopamine agonist: case report and review of the literature. Parkinsonism & Related Disorders, 10(1), 51-52.
[5] Marshall, A., & Williams, M. J. (1971). Alopecia and levodopa. British Medical Journal, 2(5752), 47.
[6] Katz, K. A., Cotsarelis, G., Gupta, R., & Seykora, J. T. (2006). Telogen effluvium associated with the dopamine agonist pramipexole in a 55-year-old woman with Parkinson's disease. Journal of the American Academy of Dermatology, 55(5), S103-S104.
[7] Hunt, N., & McHale, S. (2005). The psychological impact of alopecia. Bmj, 331(7522), 951-953.
To cite this abstract in AMA style:
K. Fisher, E. Clifford, N. Piniella, A. Leder, R. Gallagher. Alopecia in females with young onset Parkinson's Disease: an exploratory survey [abstract].
Mov Disord.
2023; 38 (suppl 1). https://www.mdsabstracts.org/abstract/alopecia-in-females-with-young-onset-parkinsons-disease-an-exploratory-survey/. Accessed September 22, 2023.
« Back to 2023 International Congress
MDS Abstracts - https://www.mdsabstracts.org/abstract/alopecia-in-females-with-young-onset-parkinsons-disease-an-exploratory-survey/