Objective: To assess implicit hand maps in patients with focal hand dystonia (FHD).
Background: In FHD, changes in the perception of tactile stimuli are suggested to reflect alterations in the cortical organization of primary somatosensory areas (1). However, it remains unclear whether these lower level deficits translate to perceptual changes of body representation, and whether such changes are specific to an affected body part.
Method: We used a previously established task of implicit body representation to examine perceptual distortions of the hands in patients with isolated FHD (right hand affected, n=16, age 56.8±15y) and healthy controls (n=17, 56.1±10.8y) (2). Participants placed their hand under an occluding board and pointed to 10 predetermined landmarks, knuckles and fingertips of each finger, of their occluded hand with 16 repetitions over 4 blocks (160 randomized trials in total). Perceptual maps of participants' hands (finger length and knuckle width) were then compared to the real physical dimensions of the respective hand by calculation of (judged size – actual size)/ actual size.
Results: In order to examine whether the judged finger length differed between the two groups, we conducted repeated measures ANOVA with 'finger' as 5-level within-subject factor and 'group' as between-subject factor. For the right hand, there was a significant effect of 'finger' (F(4,28)=9.992, p<0.0001) and a significant effect of group (F(1,31)=4.365, p=0.045). For the left hand, there was also a significant effect of 'finger' (F(4,28)=8.904, p<0.0001), the difference between groups was not significant (F(1,31)=3.247, p=0.081) [fig.1]. Independent t-tests were used to compare the judged hand width (i.e. index knuckle to little knuckle) between groups. For both hands, there were no significant differences (right: t(31)=1.296, p=0.204, left: t(31)=1.138, p=0.264) [fig.1].
Conclusion: Isolated FHD is characterized by higher order changes of perceptual hand maps respective to finger length on the affected side. Although the same effect was also observed on the unaffected hand, it did not reach statistical significance. Representation of hand width remained unaffected. These results link alterations in body representation with the manifestation of dystonic postures. Future research may further elucidate whether this is a causal association, and whether body representation is malleable to the effects of therapeutic interventions in FHD.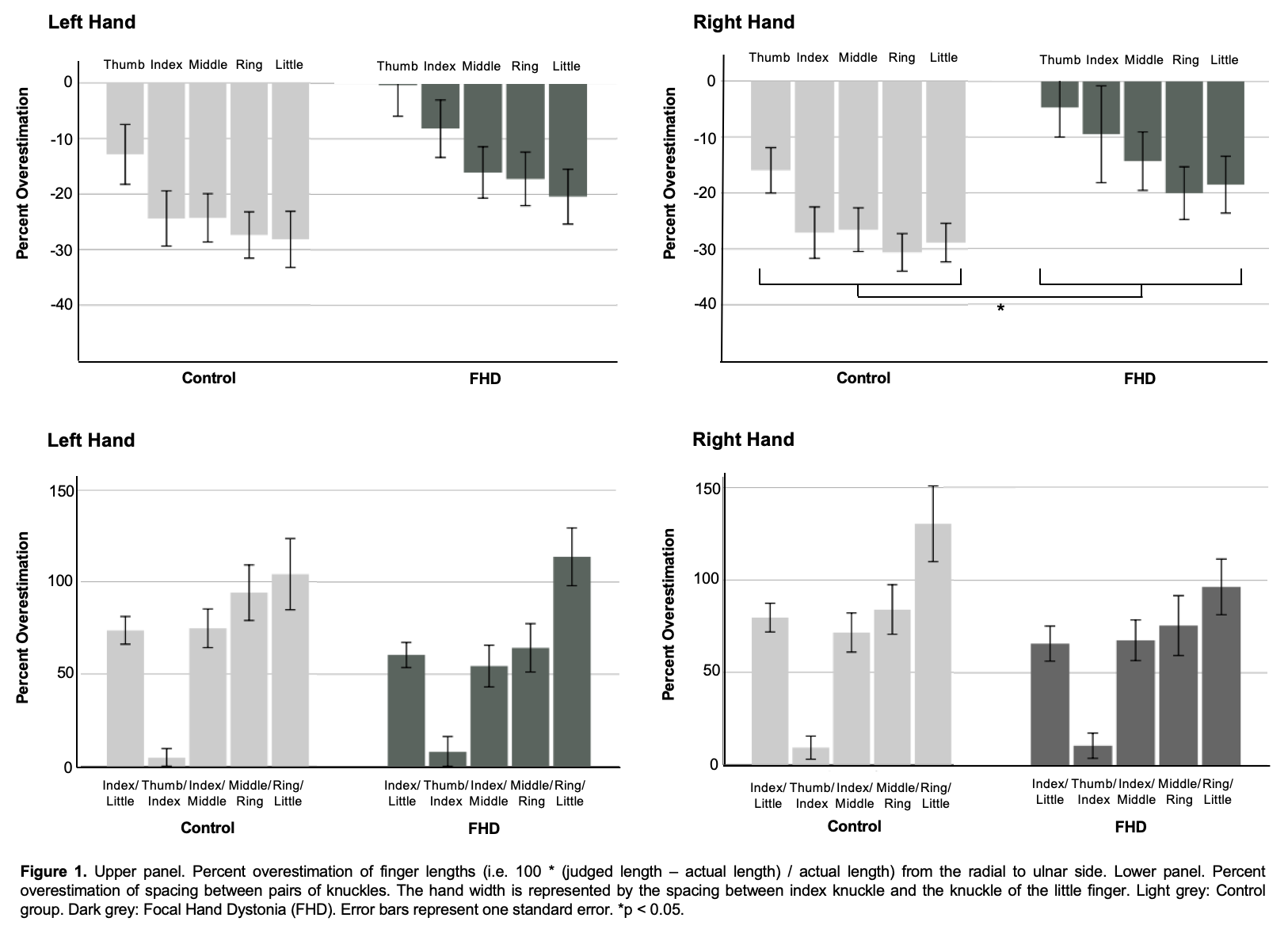 References: 1. Hinkley LBN, Webster RL, Byl NN, Nagarajan SS. Neuroimaging characteristics of patients with focal hand dystonia. J Hand Ther. 2009 Jun;22(2):125–34; quiz 135. 2. Longo MR, Haggard P. An implicit body representation underlying human position sense. Proc Natl Acad Sci USA. 2010 Jun 29;107(26):11727–32.
To cite this abstract in AMA style:
T. Mainka, B. Ossmann, K. Zeuner, A. Baumann, T. Bäumer, A. Kühn, E. Azanon Gracia, S. Zittel, M. Longo, C. Ganos. Altered perceptual hand maps in focal hand dystonia [abstract].
Mov Disord.
2020; 35 (suppl 1). https://www.mdsabstracts.org/abstract/altered-perceptual-hand-maps-in-focal-hand-dystonia/. Accessed December 11, 2023.
« Back to MDS Virtual Congress 2020
MDS Abstracts - https://www.mdsabstracts.org/abstract/altered-perceptual-hand-maps-in-focal-hand-dystonia/