Session Information
Session Time: 1:15pm-2:45pm
Location: Les Muses Terrace, Level 3
Objective: The aim of the present study is to understand the prevalence of dysautonomic symptoms in a cohort of Italian glucocerebrosidase (GBA) mutated patients with either Parkinson's disease or Dementia with Lewy Bodies.
Background: Heterozygote mutations in glucocerebrosidase (GBA) gene are a well-known risk factor for the development of a-synucleinopathies. Different reports suggest that GBA-PD patients are likely to develop a more severe disease course in terms of motor and cognitive symptoms [1], but less is known about the impact of mutation on dysautonomic symptoms.
Method: In this retrospective study, all patients with a clinical diagnosis of PD or DLB, evaluated between January 2012 and January 2019 at the Movement Disorders Outpatient Clinic of the Ospedale Maggiore Policlinico, Milan, Italy, and carrying a mutation of the GBA gene, screened and confirmed in our genetic laboratory, were enrolled. Overall 31 patients were recruited, of which 18 late-onset PD, 5 early-onset PD and 8 DLB. Clinical-demographic data were collected from all available clinical records and updated to the last neurological assessment.
Results: Among our patients, the most common mutations were E326K, L444P and N370S (see Table1), already known to be the most frequent mutations in Italian GBA-PD patients.  Clinical-demographic characteristics of our cohort are visible in Table 2. Constipation was the most common dysautonomic symptom (70.8%), while 49.9% of patients described urinary disturbs (either urge or incontinence). Symptomatic OH was present in 46.1% of the total cohort. Supine hypertension was another common manifestation (57.1%), requiring a double or triple antihypertensive therapy in 56.3% of cases.
Conclusion: Our analysis indicates a moderate impact of GBA mutation on the development of dysautonomic symptoms in patients suffering from a-synucleinopathies.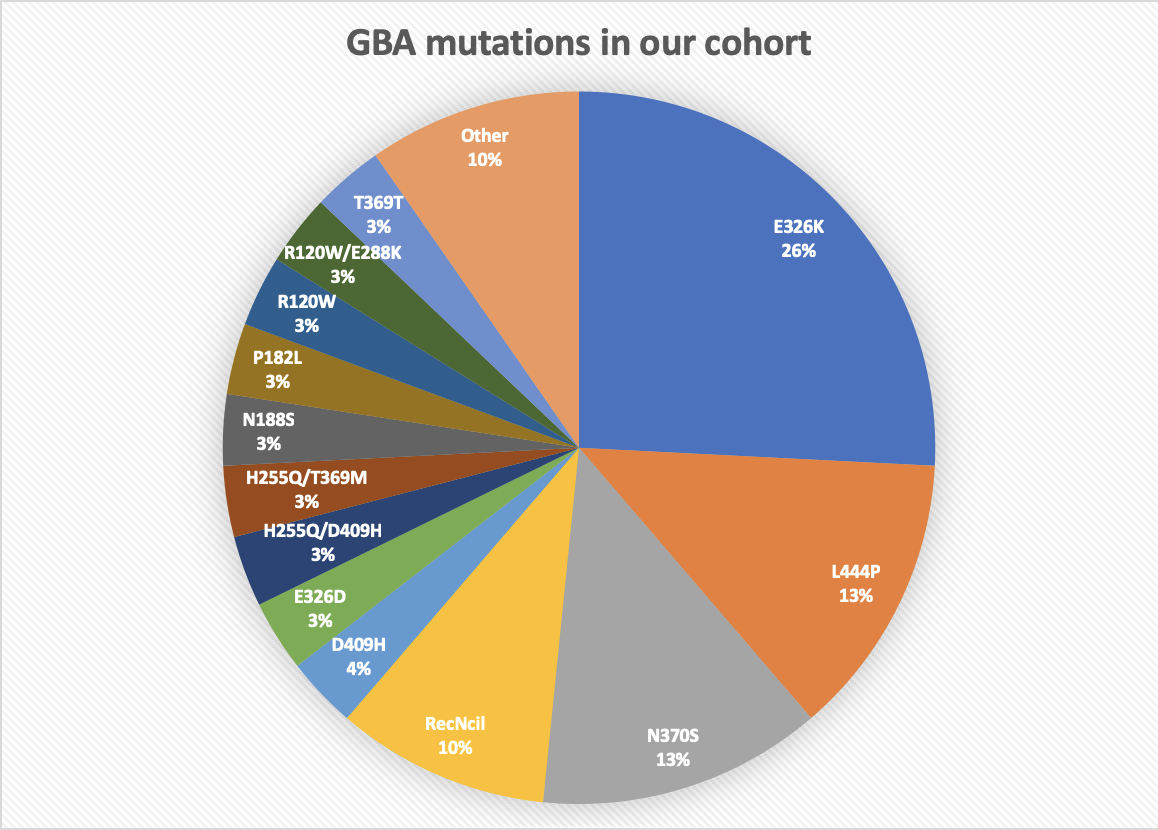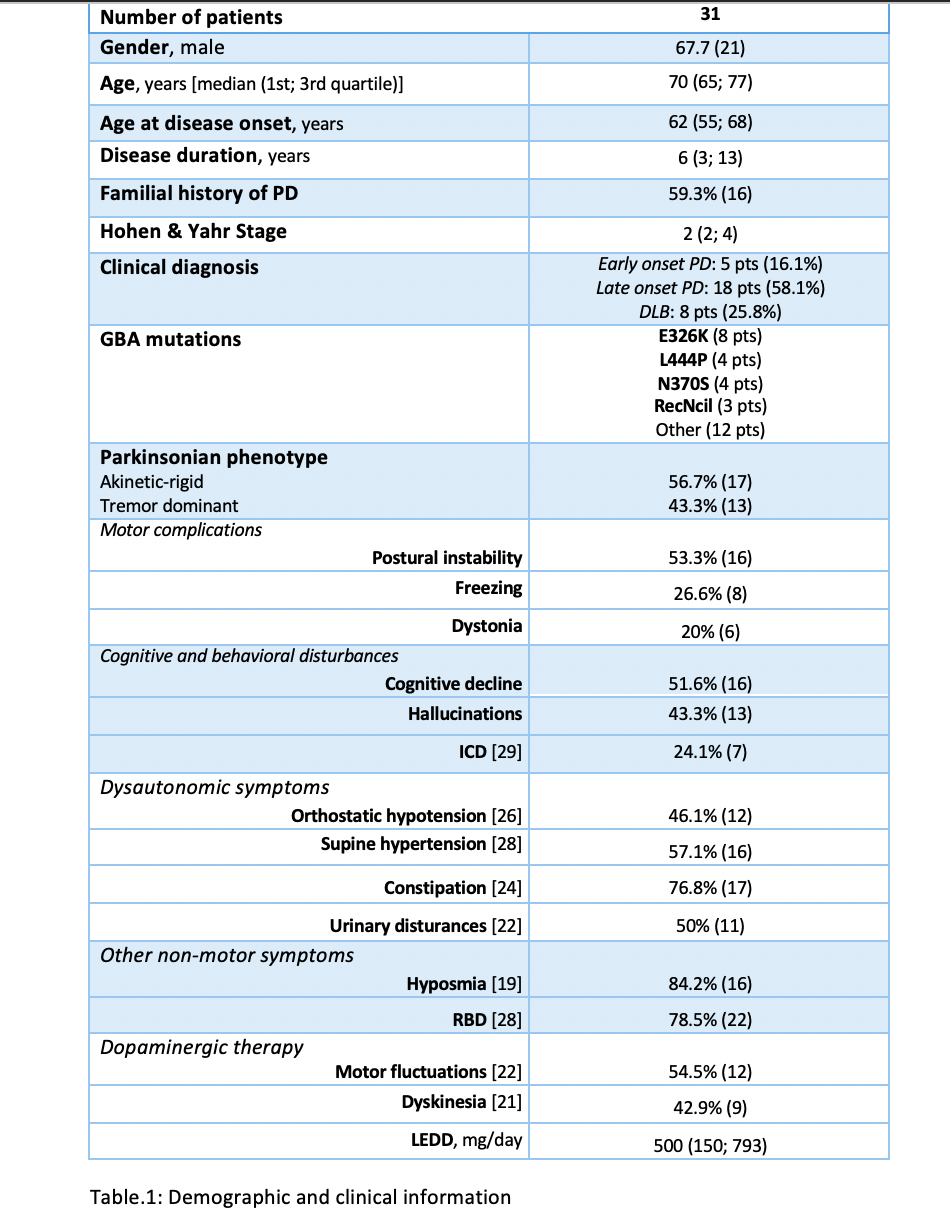 References: [1] "Parkinson's disease phenotype is influenced by the severity of the mutations in the GBA gene" Thaler, Avner et al., Parkinsonism & Related Disorders , Volume 55 , 45 – 49
To cite this abstract in AMA style:
G. Lazzeri, E. Monfrini, I. Trezzi, M. Vizziello, M. Percetti, G. Franco, L. Borellini, A. Arighi, A. Di Fonzo. Are we underestimating the dysautonomic burden in GBA related a-synucleinopathies? [abstract].
Mov Disord.
2019; 34 (suppl 2). https://www.mdsabstracts.org/abstract/are-we-underestimating-the-dysautonomic-burden-in-gba-related-a-synucleinopathies/. Accessed December 11, 2023.
« Back to 2019 International Congress
MDS Abstracts - https://www.mdsabstracts.org/abstract/are-we-underestimating-the-dysautonomic-burden-in-gba-related-a-synucleinopathies/