Objective: To report a family with autosomal dominant Parkinson's disease (PD) with SNCA p.E46K variant.
Background: Alpha–synuclein, encoded by SNCA, is a part of Lewy bodies [1,2]. Accumulation of Lewy bodies in substantia nigra is a prominent feature of PD [3]. Several point mutations associated with PD have been previously described, including (p.A30P, p.A30G, p.E46K, p.G51D, p.A53T, p.A53E and p.A53V) [4,5]. However, SNCA p.E46K was reported only in two families (Basque and Bolivian with Spanish ancestry) with PD [6,7].
Method: In the current study, we performed targeted sequencing of SNCA using molecular inversion probes in 497 PD patients and 401 controls from Pavlov First State Medical university and Institute of Human Brain. Our cohort included 34 patients with early onset of PD (<50 years). We performed an analysis of known pathogenic variants within SNCA. We then confirmed the detected pathogenic variant using sanger sequencing. Total alpha-synuclein level in peripheral blood mononuclear cells (PBMCs) was estimated by western blot.
Results: We detected a singular pathogenic heterozygous SNCA p.E46K variant in a 45-year-old PD patient with early PD onset at 20 years [III-1,figure 1]. The patient had a slow progression of motor symptoms with a good response to Levo-dopa and a variety of non-motor symptoms, including depression, delusions, cognitive deficiency, rapid-eye-movement sleep behavior disorder and a decreased sense. The patient developed early motor fluctuations and dyskinesia and received bilateral subthalamic nucleus (STN) deep brain stimulation (DBS) after 11 years of disease progression. There was a clear autosomal dominant inheritance [figure 1]. The mother of the patient developed PD symptoms when she was 37 years old, and she died at the age of 39. The cause of death is not known for certain. The patient's grandmother also had early symptoms of PD (precise age-at-onset is not known) and died at the age of 63. The father of the patient was the wild type to SNCA p.E46K. Total alpha-synuclein level was markedly elevated in PD patient with SNCA p.E46K compared to sporadic PD and controls (p<0.01).
Conclusion: Here, we present a family of Russian ancestry with autosomal dominant PD and early onset due to SNCA p.E46K mutation. To our best knowledge, it is the third family reported worldwide and the first family of non-Spanish ancestry.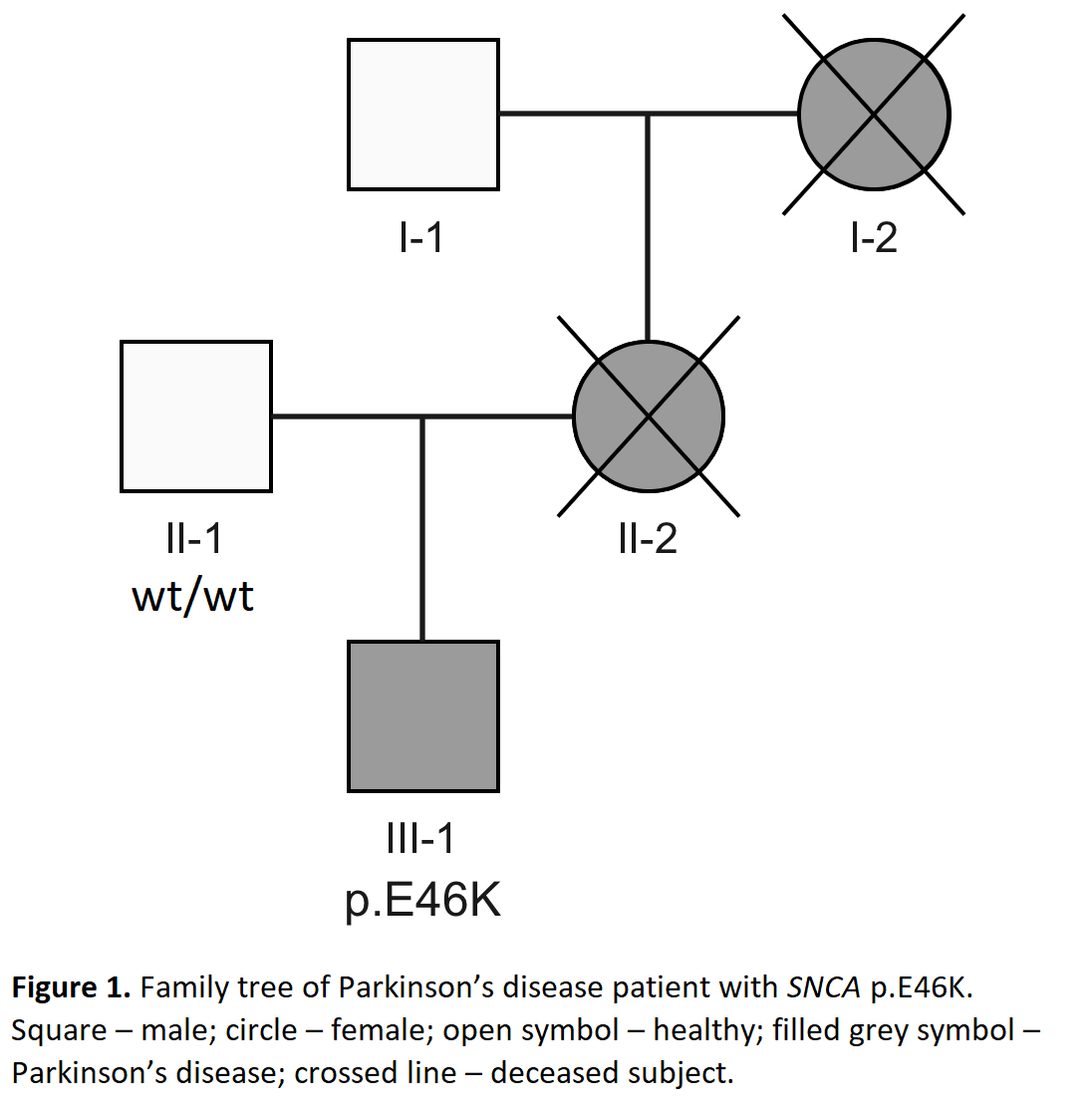 References: 1. Spillantini MG, Schmidt ML, Lee VMY, Trojanowski JQ, Jakes R, Goedert M. α-Synuclein in Lewy bodies. Nature 1997;388(6645):839-840.
2. Polymeropoulos MH, Lavedan C, Leroy E, et al. Mutation in the alpha-synuclein gene identified in families with Parkinson's disease. Science 1997;276(5321):2045-2047.
3. Wakabayashi K, Tanji K, Odagiri S, Miki Y, Mori F, Takahashi H. The Lewy Body in Parkinson's Disease and Related Neurodegenerative Disorders. Molecular Neurobiology 2013;47(2):495-508.
4. Stefanis L. α-Synuclein in Parkinson's disease. Cold Spring Harb Perspect Med 2012;2(2):a009399.
5. Brás J, Gibbons E, Guerreiro R. Genetics of synucleins in neurodegenerative diseases. Acta Neuropathologica 2021;141(4):471-490.
6. Zarranz JJ, Alegre J, Gómez‐Esteban JC, et al. The new mutation, E46K, of α‐synuclein causes parkinson and Lewy body dementia. Annals of Neurology: Official Journal of the American Neurological Association and the Child Neurology Society 2004;55(2):164-173.
7. Pimentel MM, Rodrigues FC, Leite MAA, et al. Parkinson disease: α-synuclein mutational screening and new clinical insight into the p. E46K mutation. Parkinsonism & Related Disorders 2015;21(6):586-589.
To cite this abstract in AMA style:
K. Senkevich, I. Miliukhina, A. Zhuravlev, M. Shumilova, M. Beletskaia, A. Tyurin, M. Grunina, A. Rybakov, J. Ahmad, F. Asayesh, A. Timofeeva, Z. Gan-Or, A. Emelyanov, S. Pchelina. Autosomal dominant Parkinson's disease caused by SNCA p.E46K variant in family with Russian ancestry: A case report [abstract].
Mov Disord.
2023; 38 (suppl 1). https://www.mdsabstracts.org/abstract/autosomal-dominant-parkinsons-disease-caused-by-snca-p-e46k-variant-in-family-with-russian-ancestry-a-case-report/. Accessed September 27, 2023.
« Back to 2023 International Congress
MDS Abstracts - https://www.mdsabstracts.org/abstract/autosomal-dominant-parkinsons-disease-caused-by-snca-p-e46k-variant-in-family-with-russian-ancestry-a-case-report/