Objective: We present a series of 3 cases with Awake Bruxism (AB) and frontal dysfunction.
Background: AB is an infrequent, daytime form of bruxism, described in different neurological pathologies, usually with an aggressive course and major clinical implications (dental fracture, dysphagia)
It has been related to alterations involving brain neurotransmitters at the basal ganglia and frontal lobes
Method: 1.-A 56-year-old patient, with a personal history of right MCA stroke, suffered a left MCA stroke, with bilateral fronto-parieto-temporal lesions. 5 days later, he presented severe daytime bruxism, requiring nasogastric tube for feeding. Rotigotine 4mg was started, showed improvement
2.-A 62-year-old patient, with history of HIV and MCA ischemic stroke, is diagnosed with probable vasculitis secondary to HIV after the detection of bilateral ACA stenosis. He developed severe daytime bruxism (breaking multiple mouth guards and teeth). After botulinum toxin infiltrations of masseter muscles, he showed significant improvement.
Cerebral SPECT showed bilateral frontal hypoperfusion
3.-A 79-year-old patient diagnosed of PSP with predominant Parkinsonism, progressively developed severe dysexecutive frontal syndrome. After 2 years, he presented daytime bruxism, with good response after botulinum toxin infiltrations
Results: AB is an infrequent symptom, although probably underrecognized. Some authors considered it a form of oromandibular dystonia, and has been related to stroke, dementia (FTD), and various treatments (selective serotonin receptor inhibitors, neuroleptics)
Its pathophysiology is unknown, with few studies in this regard, a possible relationship with frontal dysfunction has been postulated, having been described secondary to various lesions in this location (being a frequent finding in Hartnup Disease and Rett syndrome)
In the reported series, all the patients presented AB in the context of frontal dysfunction, demonstrated through neuroimaging, neuropsychological or functional studies. It stands out the latency from the onset of neurological pathology and debut of AB, and usually a good response to botulinum toxin (and rotigotine in 1 case)
Conclusion: The possibility of AB must be considered in the different areas of neurology, as it is a possible manifestation of multiple pathologies, especially in those with frontal dysfunction.
More reports are needed to understand the pathophysiology of this disorder and optimize its therapeutic management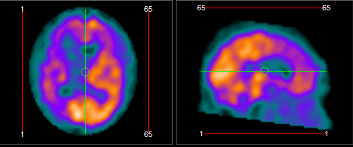 To cite this abstract in AMA style:
I. Trigo, B. Solano Vila, D. Domínguez. Awake Bruxism, a case series of an underrecognized disorder [abstract].
Mov Disord.
2022; 37 (suppl 2). https://www.mdsabstracts.org/abstract/awake-bruxism-a-case-series-of-an-underrecognized-disorder/. Accessed September 25, 2023.
« Back to 2022 International Congress
MDS Abstracts - https://www.mdsabstracts.org/abstract/awake-bruxism-a-case-series-of-an-underrecognized-disorder/