Objective: We sought to determine whether structural integrity of cholinergic Basal Forebrain (BF) was associated with subjective cognitive deficits experienced during medication "off" time Parkinson's disease (PD).
Background: Non-motor symptoms (NMS) in PD often fluctuate with medication status (1). While the role of striatal dopamine is obvious, contribution of other pathways and neurotransmitters to NMS fluctuations remains unclear. Given the well-established role of the cholinergic BF in cognition, we hypothesized that the BF may compensate for dopamine deficit in frontal regions through cholinergic tone. Therefore, cognitive fluctuations are more likely to occur in the setting of both frontal striatal dopaminergic and basal forebrain degeneration, while individuals with preserved BF microstructure may be less likely to have cognitive fluctuations.
Method: This study was a retrospective chart review of 18 PD patients undergoing evaluation for Deep Brain Stimulaiton. Cognitive symptoms during medication "off" time were assessed with the Non-Motor Fluctuations Scale (NoMoFA). Brain MRIs were acquired through the course of clinical care. Mean Diffusivity (MD) and Mean Kurtosis (MK) from Diffusion Kurtosis Imaging (DKI) were used to measure microstructural integrity of the BF and striatum.
Results: Cognitive symptoms during medication "off" time positively correlated with MD (r=.630, p=0.005) and negatively correlated with MK (r=-.543, p=0.020) in the right BF but not with the striatum microstructure (see figure). "Off" cognitive symptoms score and microstructure within the BF did not correlate with the performance on a cognitive screen (DRS-2) administered in the medication "on" state.
Conclusion: Our study suggests that disturbed structural integrity of the BF is associated subjective cognitive deficits during "off" medication time, but not overall cognitive functioning as measured during the ON-state. This supports our hypothesis that BF integrity provides resilience to dopamine-related cognitive fluctuations and suggests further investigation into cholinergic interventions.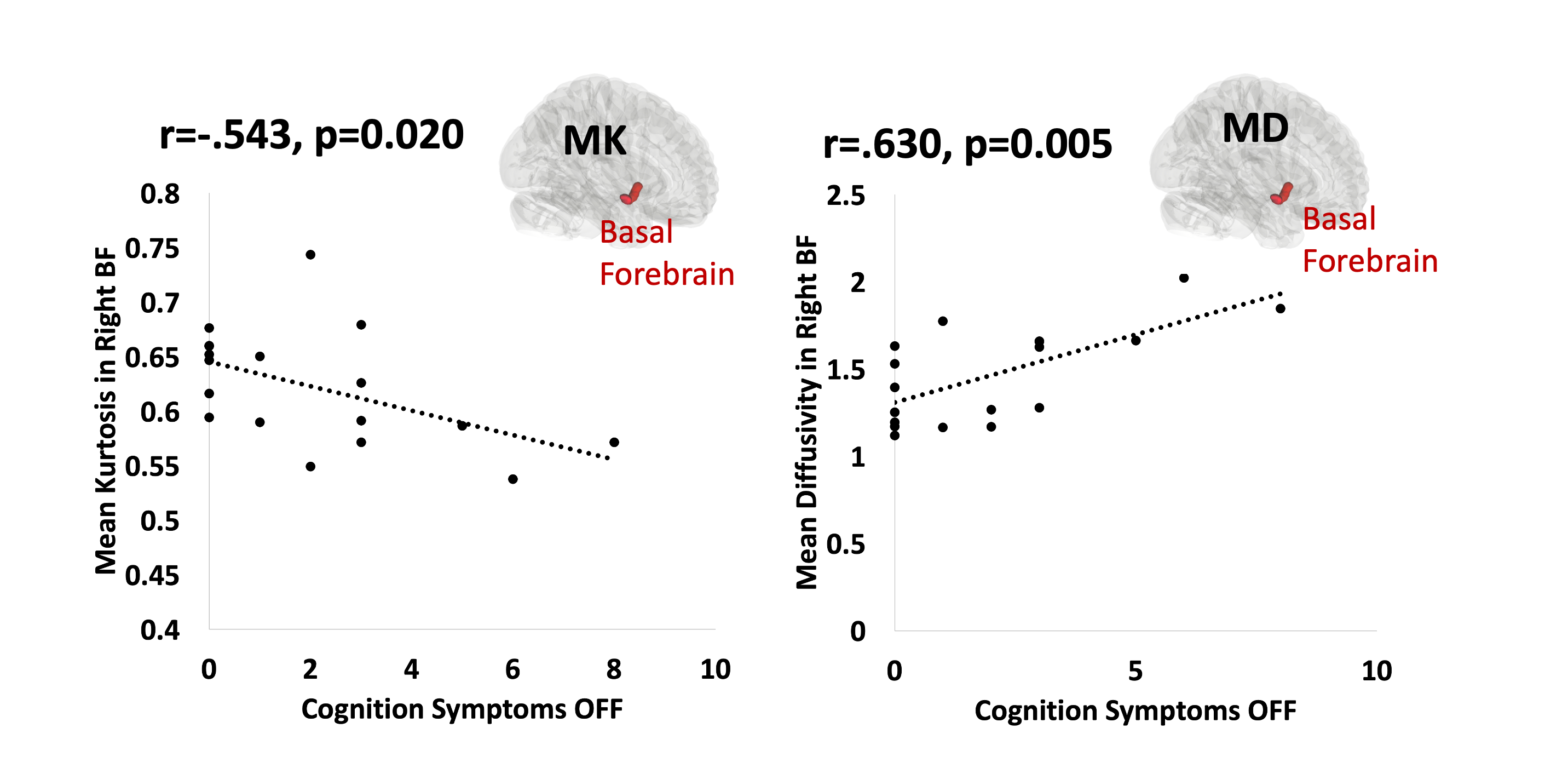 References: 1. Kleiner G, Fernandez HH, Chou KL, Fasano A, Duque KR, Hengartner D, Law A, Margolius A, Poon YY, Saenz Farret M, Saleh P, Vizcarra JA, Stebbins GT, Espay AJ, Group PSGNS. Non-Motor Fluctuations in Parkinson's Disease: Validation of the Non-Motor Fluctuation Assessment Questionnaire. Mov Disord. 2021;36(6):1392-400. Epub 2021/02/17. doi: 10.1002/mds.28507. PubMed PMID: 33590555.
To cite this abstract in AMA style:
D. Lench, T. Turner, E. Woolbright, F. Rodriguez-Porcel, G. Revuelta. Basal forebrain contribution to cognitive deficits during medication "off" state in Parkinson's disease [abstract].
Mov Disord.
2022; 37 (suppl 2). https://www.mdsabstracts.org/abstract/basal-forebrain-contribution-to-cognitive-deficits-during-medication-off-state-in-parkinsons-disease/. Accessed September 23, 2023.
« Back to 2022 International Congress
MDS Abstracts - https://www.mdsabstracts.org/abstract/basal-forebrain-contribution-to-cognitive-deficits-during-medication-off-state-in-parkinsons-disease/