Session Information
Session Time: 1:45pm-3:15pm
Location: Agora 3 West, Level 3
Objective: We describe and demonstrate a patient with PSP who had bilateral internuclear ophthalmoplegia (BINO) with intact convergence on exam.
Background: A thorough eye movement exam is prudent in the clinical diagnosis of PSP. In the initial stages, there is an impairment in the vertical eye movements, particularly downgaze and slowing of vertical saccades. In the later stages, complete ophthalmoplegia can be seen. Frequently, BINO is associated with exotropia in the primary gaze which gives an appearance as if the eyes are looking sideways called as wall-eyed bilateral INO (WEBINO). This is the second case of BINO without exotropia and intact convergence seen with PSP.
Method: Case Report
Results: A 79-year-old right-handed man presented with a 5-year history of symptoms suggestive of parkinsonism. His initial symptoms included slowness in daily tasks, difficulty turning while walking, small handwriting, a decrease in the volume of voice, and dysphagia which required the placement of a PEG tube. His other symptoms included constipation, urinary urgency, and drooling. The dose of carbidopa/levodopa was increased gradually to 1000 mg a day which did not lead to any improvement. Recently, he complained of double vision especially when reading and was using prism glasses. The visual acuity with correction was 20/200 in the right eye (improving with a pinhole to 20/60-2) and 20/50 in the left eye (no improvement with pinhole). His color vision was normal. Pupils were equal and reactive to light with no RAPD and eyelid blinking rate was severely reduced. His eye movement testing showed slowed adduction saccades bilaterally with bilateral abducting nystagmus, but exotropia in primary position was not seen. The conjugate up gaze was severely impaired, square-wave jerks were present, and convergence was intact. MRI brain with contrast did not show any parenchymal lesion but showed reduced midbrain to pons ratio of 0.50 (image 1).
Conclusion: We report an unusual case of BINO with intact convergence in PSP. In our case, the likely localization of BINO is caudal midbrain or pons because exotropia was not seen in the primary position and convergence was intact. The involvement of bilateral MLF is the most likely explanation for BINO. The defects in ocular motility seen with PSP can occur because of nuclear or supranuclear pathways.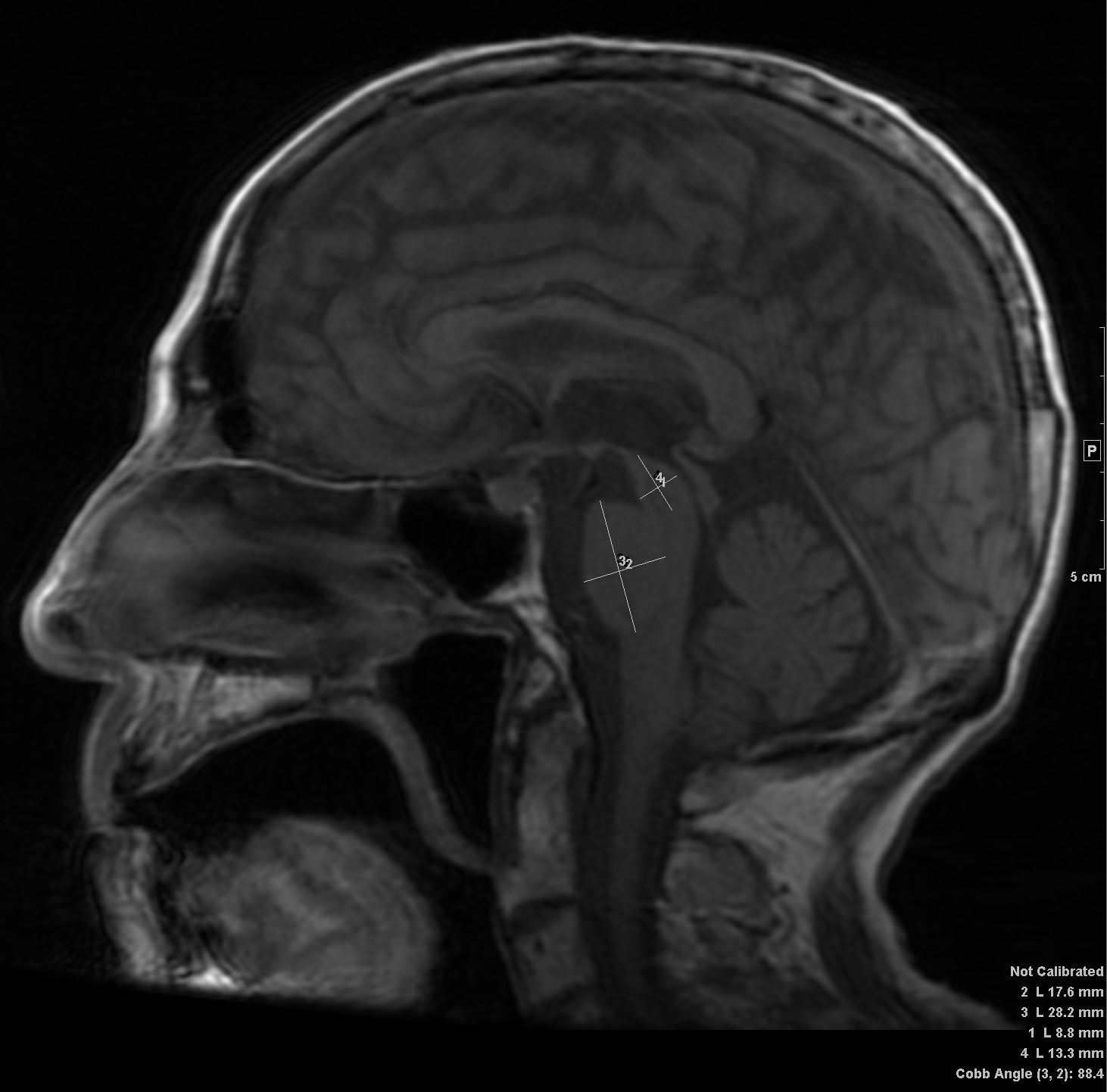 References: Ushio M, Iwasaki S, Chihara Y, Murofushi T. Wall-eyed bilateral internuclear ophthalmoplegia in a patient with progressive supranuclear palsy. J Neuroophthalmol. 2008 Jun;28(2):93-96. Matsumoto H, Ohminami S, Goto J, Tsuji S. Progressive supranuclear palsy with wall-eyed bilateral internuclear ophthalmoplegia syndrome. Arch Neurol. 2008 Jun;65(6):827-829. Flint AC, Williams O. Bilateral internuclear ophthalmoplegia in progressive supranuclear palsy with an overriding oculocephalic maneuver. Mov Disord. 2005 Aug;20(8):1069-1071.
To cite this abstract in AMA style:
H. Gupta. Bilateral INO in PSP [abstract].
Mov Disord.
2019; 34 (suppl 2). https://www.mdsabstracts.org/abstract/bilateral-ino-in-psp/. Accessed December 7, 2023.
« Back to 2019 International Congress
MDS Abstracts - https://www.mdsabstracts.org/abstract/bilateral-ino-in-psp/