Session Information
Session Time: 12:00pm-1:30pm
Location: Exhibit Hall located in Hall B, Level 2
Objective: The purpose of this work was to study the effectiveness of different therapy approaches with Botulinum toxin type A (BTX-A) in Cerebral Palsy (CP) children with gait disorder.
Background: Spasticity is a prevalent disabling clinical symptom for children with CP. Stuffiness or/and contractures of joints complicate the development of gait in children with CP. BTX-A provides a focal, controlled muscle weakness with reduction in spasticity for several months.
Methods: There were 2 study groups: in the first one was used BTX-A and 1 month plastering of legs joints after 3-5 days after injection and functional therapies after plaster removal; in the second group were BTX-A injection and functional therapies right after it. Patients were examined at 1, 3 and 6 months after injection. The functional status of the patients was determined by using the Gross Motor Function Classification System (GMFCS). The dose of BTX-A (Dysport®) was 20-30 Units/kg (not more than 1000 Units for patient at all).
Results: We studied 25 children with CP (15 children in the 1st group and 10 children in the 2nd one), without surgical intervention and BTX-A injection in anamnesis, ranging in age from 2 to 12 (main age 6,24); 14 (56%) children with diplegia, 9 (36%) children with hemiplegia, 2 (8%) children with tetraplegia. Before treatment 12 (48%) patients were level II, 8 (32%) patients were level III, 3 (12%) patients were level IV and 2 (8%) patients were level V according to the GMFCS. After 1 month spasticity was clinically decreased in all cases. In the study, 21 (84%) patients had functional improvement according to the GMFCS after 3 moths. Spasticity increased after 6 months in all cases but not to the baseline. There were different results in the groups: patients in the 1st (with plastering) showed worse efficacy after 1 month due to joint fixation but better and longer effect to the 6th month after injection.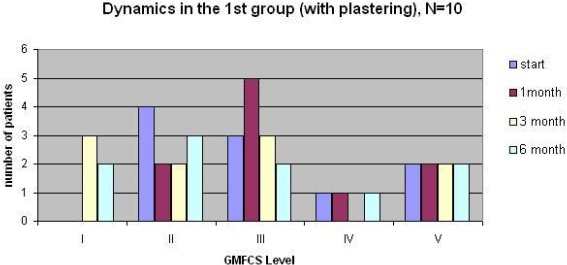 In the 2nd group (without plastering) children evaluated better results after 1 months because of functional therapies, however spasticity back faster and functional status became worse to the 6th month.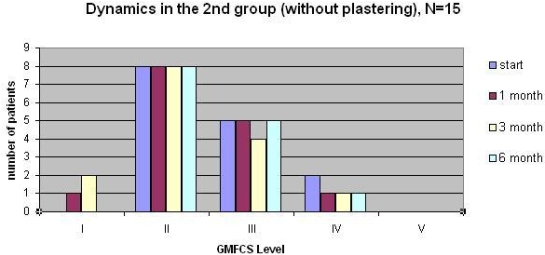 Conclusions: BTX-A treatment is effective in CP children with gait disorder. Longtime improvement was better in patients who had plastering after BTX-A injection.
To cite this abstract in AMA style:
G.S. Pilina. Botulinum toxin in cerebral palsy children with gait disorder: Different therapy approaches [abstract].
Mov Disord.
2016; 31 (suppl 2). https://www.mdsabstracts.org/abstract/botulinum-toxin-in-cerebral-palsy-children-with-gait-disorder-different-therapy-approaches/. Accessed December 7, 2023.
« Back to 2016 International Congress
MDS Abstracts - https://www.mdsabstracts.org/abstract/botulinum-toxin-in-cerebral-palsy-children-with-gait-disorder-different-therapy-approaches/