Session Information
Session Time: 1:45pm-3:15pm
Location: Hall 3FG
Objective: The objective of this research was to identify available data on burden of progressive supranuclear palsy (PSP), a 4-repeat tauopathy. Research questions focused on incidence, prevalence and survival rates, symptoms and disease progression, impact of PSP on health-related quality of life, health care resource utilization, work productivity, caregiver and family burden. Where available, PSP Richardson syndrome (PSP-RS) and variants of PSP were evaluated. Also included were disease models and economic evaluation methods for PSP.
Background: Possible or probable PSP is typically diagnosed by presence of slowing of vertical saccades or supranuclear gaze palsy plus postural instability or falls within 1 year of disease. Several variants of PSP have been described based on various symptoms with a common underlying tau neuropathology (1,2). At present, no approved medical treatment options are available for PSP; however, several drugs that directly or indirectly target tau are in development.
Methods: A systematic literature review was conducted in 9 databases, including PubMed and Scopus. Search hits underwent title and abstract screening against prespecified eligibility criteria; records passing the screening were read in full text and re-assessed for inclusion. Relevant data from the included publications were captured in data collection forms. All work was performed by two independent researchers.
Results: The searches identified 4758 records, of which 213 studies were included (Figure). Symptoms of PSP and PSP-RS include gaze abnormalities, postural instability, bradykinesia, dysphagia, speech problems, cognitive impairment and/or frontal symptoms. As a result, patients with PSP or PSP-RS experience frequent falls and become wheelchair bound; patients may also require urinary catheterization, and/or residential care within a few years from symptom onset. Severe dysphagia perhaps may develop and tube feeding can be required in 9-32% of patients. Mean survival of PSP-RS patients ranged between 6.3 and 7.3 years. Independent risk factors for death include: older age at onset, disease severity, and the presence of dementia at time of diagnosis. Health utility values for patients with PSP and PSP-RS are indicate a severely diminished quality of life, with mean values ranging from 0.2 to 0.4; significant functional limitations in daily activities are noted. Most patients received informal caregiving from their spouse.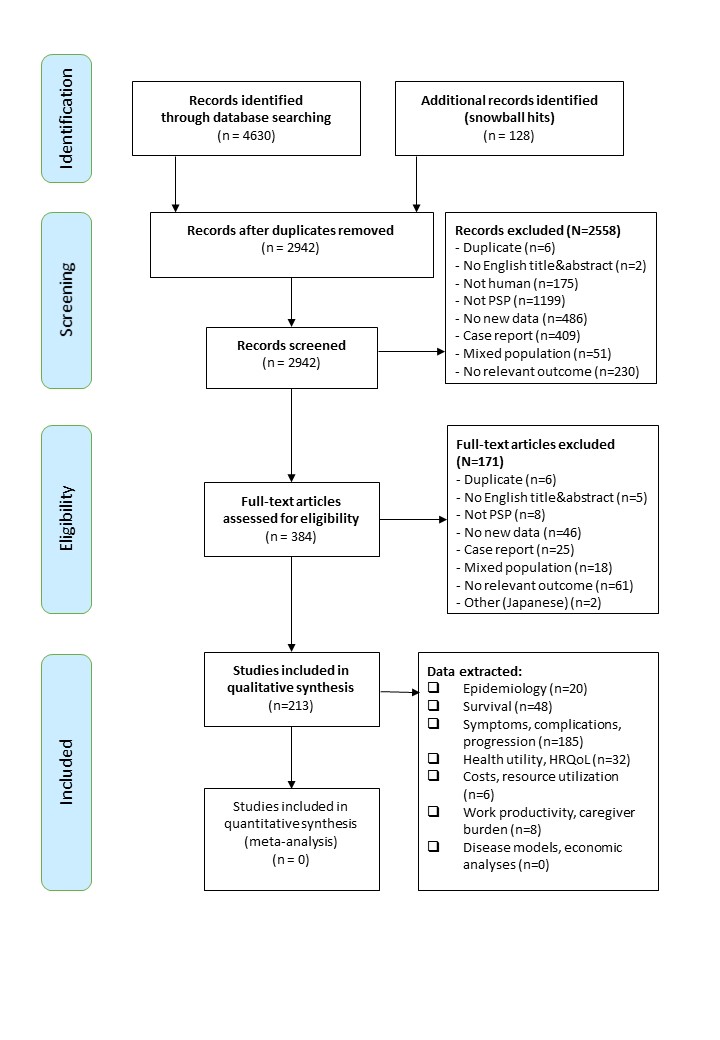 Conclusions: Our systematic literature review identified a range of data sources to increase the collective understanding of burden of PSP, which is associated with a significant burden to patients, health care systems and care givers due to the nature of the symptoms and aggressive progression.
References: 1. Respondek G, Stamelou M, Kurz C, Ferguson LW, Rajput A, Chiu WZ, van Swieten JC, Troakes C, al Sarraj S, Gelpi E, Gaig C, Tolosa E, et al. The phenotypic spectrum of progressive supranuclear palsy: A retrospective multicenter study of 100 definite cases. Movement Disorders 2014; 29:1758-66. 2. Hoglinger GU, Respondek G, Stamelou M, Kurz C, Josephs KA, Lang AE, Mollenhauer B, Muller U, Nilsson C, Whitwell JL, Arzberger T, Englund E, et al. Clinical diagnosis of progressive supranuclear palsy: The movement disorder society criteria. Movement disorders 2017; 32:853-64.
To cite this abstract in AMA style:
S. Chen, I. Jakab, T. Zelei, L. Szilberhorn, R. Bendes, B. Elezbawy, Z. Kaló, M. Mann, M. Potashman, J. Pitter. Burden of progressive supranuclear palsy: A systematic literature review [abstract].
Mov Disord.
2018; 33 (suppl 2). https://www.mdsabstracts.org/abstract/burden-of-progressive-supranuclear-palsy-a-systematic-literature-review/. Accessed December 10, 2023.
« Back to 2018 International Congress
MDS Abstracts - https://www.mdsabstracts.org/abstract/burden-of-progressive-supranuclear-palsy-a-systematic-literature-review/