Objective: To study the association extracellularly added wildtype-WT and A30P/A53T mutant α-synuclein aggregates with the astrocytic membrane and to evaluate the effect of these peptides on astroglial biology particularly membrane associated organelles (endoplasmic reticulum-ER).
Background: The presence of α-synuclein has been established in the CNS microenvironment during PD disease progression, thereby not limiting its presence in DA neurons (1,2). Niche cells like the astrocytes may be affected prior, thus inducing the neurodegeneration (3,4). Aggregated and/or mutated forms of α-synuclein are known to show increased association with the cell membrane thereby compromising the normal functioning of membrane associated organelles like the ER.
Method: WT and A53T/A30P mutant aggregated α-synuclein were added extracellularly to primary astrocytes culture. Association of peptides with astrocytes were examined by co-localization with caveolin and by membrane anisotropy. Further, ER stress was evaluated using electron microscopy and ER calcium dynamics with reference to calcium release activated calcium channel (CRAC).
Results: Increased membrane association of the aggregates were observed (Fig.1A.) with increased membrane anisotropy (Fig.1B.), making the membrane very rigid. ER stress was indicated by higher fragmentation of ER in the aggregated treated cells (Fig2). Increased ER stress was augmented by the increased store operated calcium entry through CRAC (Fig.3.A-D).
Conclusion: To conclude, α-synuclein aggregates bind to the plasma membrane and cause damage or ramifications to membrane proteins and thus organelles directly associated with the membrane (ER). Other proteinopathic effects may be downstream to this ER stress. One major example is the unfolded protein response switching to proapoptotic signal during ER stress. Therefore distress in the astrocytes are observed that may lead to detrimental effects of the neurons. This study stresses the need to consider these niche cells as potential targets for therapeutic strategies.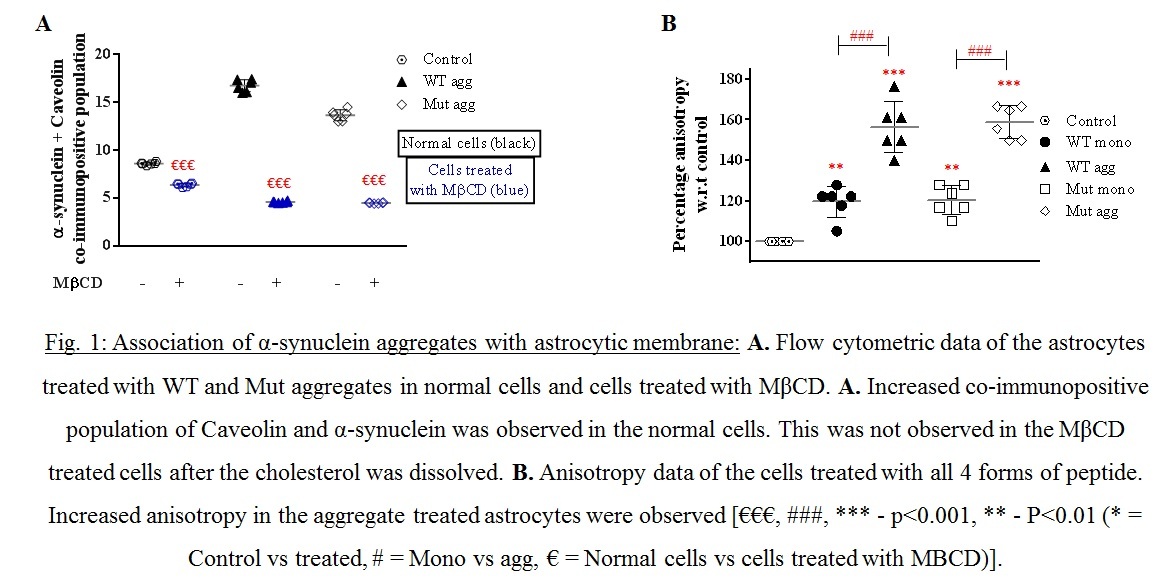 References: 1.Braak, H., Sastre, M., & Del Tredici, K. (2007). Development of α-synuclein immunoreactive astrocytes in the forebrain parallels stages of intraneuronal pathology in sporadic Parkinson's disease. Acta Neuropathologica, 114, 231–241. https://doi.org/10.1007/s00401-007-0244-3
2.Wakabayashi, K., Hayashi, S., Yoshimoto, M., Kudo, H., & Takahashi, H. (2000). NACP/α-synuclein-positive filamentous inclusions in astrocytes and oligodendrocytes of Parkinson's disease brains. Acta Neuropathologica, 99(1), 14–20. https://doi.org/10.1007/PL00007400
3.Halliday, G. M., & Stevens, C. H. (2011). Glia: Initiators and progressors of pathology in Parkinson's disease. Movement Disorders, 26(1), 6–17. https://doi.org/10.1002/mds.23455
4.Klingelhoefer, L., & Reichmann, H. (2015). Pathogenesis of Parkinson disease – The gut-brain axis and environmental factors. Nature Reviews Neurology, 11, 625–636. https://doi.org/10.1038/nrneurol.2015.197
To cite this abstract in AMA style:
A. Raj, I. Datta, R. Banerjee. Can membrane association of α-synuclein aggregates lead to stress in the astrocytic endoplasmic reticulum? [abstract].
Mov Disord.
2022; 37 (suppl 2). https://www.mdsabstracts.org/abstract/can-membrane-association-of-%ce%b1-synuclein-aggregates-lead-to-stress-in-the-astrocytic-endoplasmic-reticulum/. Accessed September 21, 2023.
« Back to 2022 International Congress
MDS Abstracts - https://www.mdsabstracts.org/abstract/can-membrane-association-of-%ce%b1-synuclein-aggregates-lead-to-stress-in-the-astrocytic-endoplasmic-reticulum/