Objective: To understand people with Parkinson's (PwP) experience with their advancing disease and identify factors for PwP to initiate and continue on LDP/CDP as treatment for their aPD.
Background: LDP/CDP is a 24-h/day CSCI via an external portable device. PwP perspectives on treatment have not been elicited.
Method: PwP in the United States on LDP/CDP for at least 6 months were recruited from the Phase 3 open-label extension trial (NCT04750226) through convenience sampling. Data was collected through semi-structured interviews and evaluated using content and thematic qualitative analysis.
Results: Sixteen PwP were included in the analysis with an average (SD) age of 63.8 (11.2) years, PD diagnosis of 9.2 (3.5) years and on LDP/CDP treatment for 14.5 (2.3) months. Prior to LDP/CDP, PwP noted many impacts of PD on their life (e.g. difficulty with activities of daily living, mobility, social functioning, sleeping) due to uncontrolled or reduced duration and reliability of motor functioning using their current therapies (e.g., oral medications). PwPs described various reasons for switching to LDP/CDP including a need for reliable symptom control (e.g. tremors, rigidity, dystonia, mobility, balance issues), to stop/slow disease progression, or following treatment discussions with their clinician. In transitioning to LDP/CDP, PwP expressed satisfaction with the treatment driven by improvements in their symptoms (e.g., less periods of OFF time, being functional, able to wake up at night or in the morning without being impeded by OFF symptoms), and more freedom to do activities (e.g., return to normality, do hobbies, not be tied to a pill taking schedule). PwP received sufficient support from their healthcare team (e.g. repeated practice with device set-up in front of staff, communicative staff) and developed their own routines to integrate the LDP/CDP treatment into their lives (e.g. calendars/phone reminders, how to carry the device during activities).
Conclusion: PwP on oral PD medications described a need for more reliable symptom control. PwP initiated on LDP/CDP reported improved symptoms and quality of life, and good treatment satisfaction. Understanding PwP's expectations for management of their PD are important factors in selection of treatments.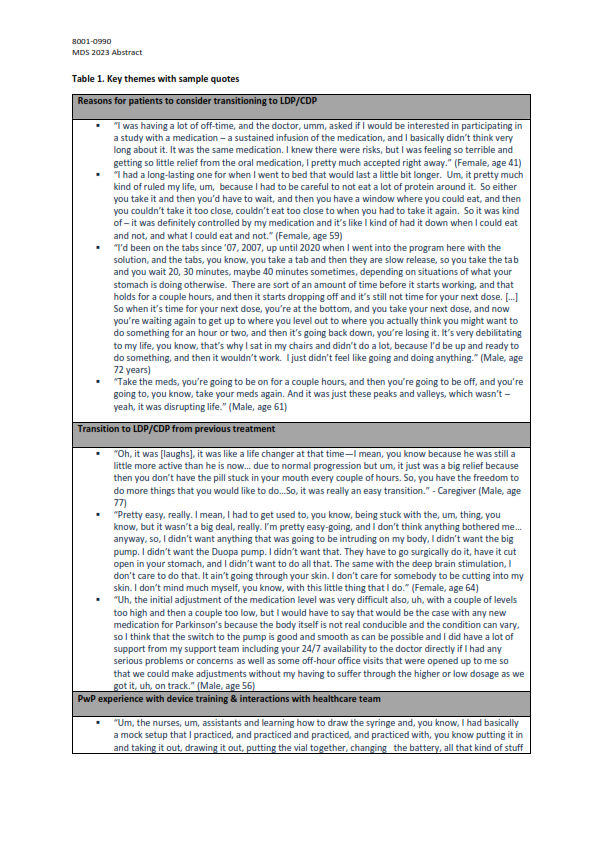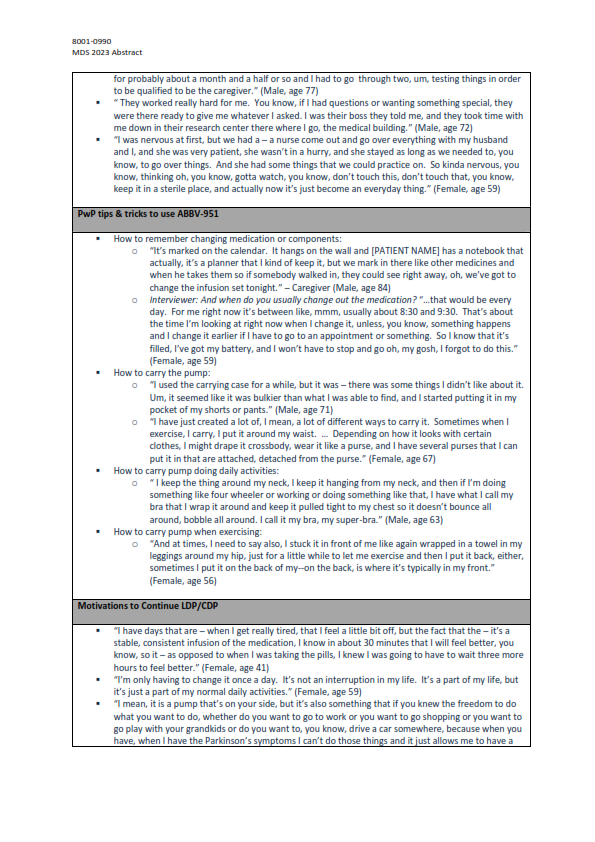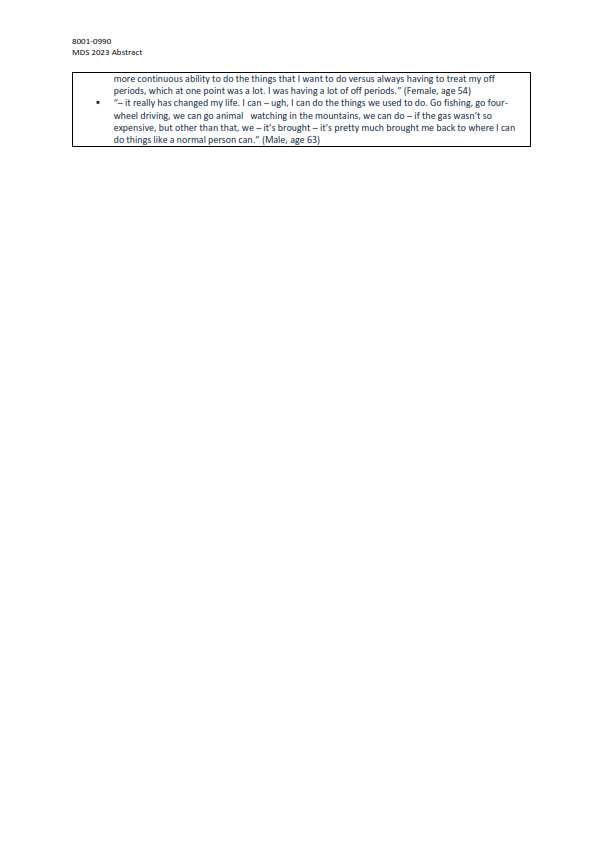 To cite this abstract in AMA style:
J. Aldred, M. Soileau, C. Yan, T. Brion, A. Bellenger, J. Suh, C. O'Donnell, P. Kukreja, M. Facheris, A. Shewale, R. Kumar. Challenges with oral anti-parkinsonian medications and opportunities with continuous subcutaneous infusion (CSCI) of foslevodopa/foscarbidopa (LDP/CDP) for treatment of advanced Parkinson's Disease (aPD) [abstract].
Mov Disord.
2023; 38 (suppl 1). https://www.mdsabstracts.org/abstract/challenges-with-oral-anti-parkinsonian-medications-and-opportunities-with-continuous-subcutaneous-infusion-csci-of-foslevodopa-foscarbidopa-ldp-cdp-for-treatment-of-advanced-parkinsons-di/. Accessed September 25, 2023.
« Back to 2023 International Congress
MDS Abstracts - https://www.mdsabstracts.org/abstract/challenges-with-oral-anti-parkinsonian-medications-and-opportunities-with-continuous-subcutaneous-infusion-csci-of-foslevodopa-foscarbidopa-ldp-cdp-for-treatment-of-advanced-parkinsons-di/