Objective: To characterise craniofacial manifestations in patients with MSA and explore the relationship between OMD and other related symptoms and treatment.
Background: According to the second consensus criteria, Oromandibular dystonia (OMD) is considered a supportive feature in the diagnosis of Multiple System Atrophy (MSA). However, its clinical characteristics in MSA subtypes and the association with other symptoms have never been explored.
Method: Video clips of patients with MSA were reviewed by two movement disorders experts. Craniofacial manifestations as well as dystonia in other body parts, parkinsonism and cerebellar signs were characterized and diagnosed according to their diagnostic criteria.
Results: 24 patients with clinical diagnosis of MSA (14 MSA-P, 10 MSA-C) were recruited with clinical demographics as shown in Table 1. OMD was identified in 7/24 patients of MSA (6 MSA-P, 1 MSA-C), characterised by pulling at the side of the mouth resembling 'risus sardonicus' where the onset of OMD was preceded by levodopa initiation in 6 of 7 cases.Parkinsonism was the present symptom in all MSA patients with OMD, compared to 53% of MSA patients without OMD (p=0.026). Patients with OMD were more likely to have upper facial dystonia (43% vs 0%, p=0.004) and dysphagia (29% vs 0%, p=0.021). However, there was no statistically significant difference on the presence of non-cranial dystonia between the two groups.
Conclusion: Our study showed that OMD was common, affecting approximately one-third of MSA patients. The onset is usually preceded by levodopa treatment in MSA patients who have predominant parkinsonism and upper facial dystonia.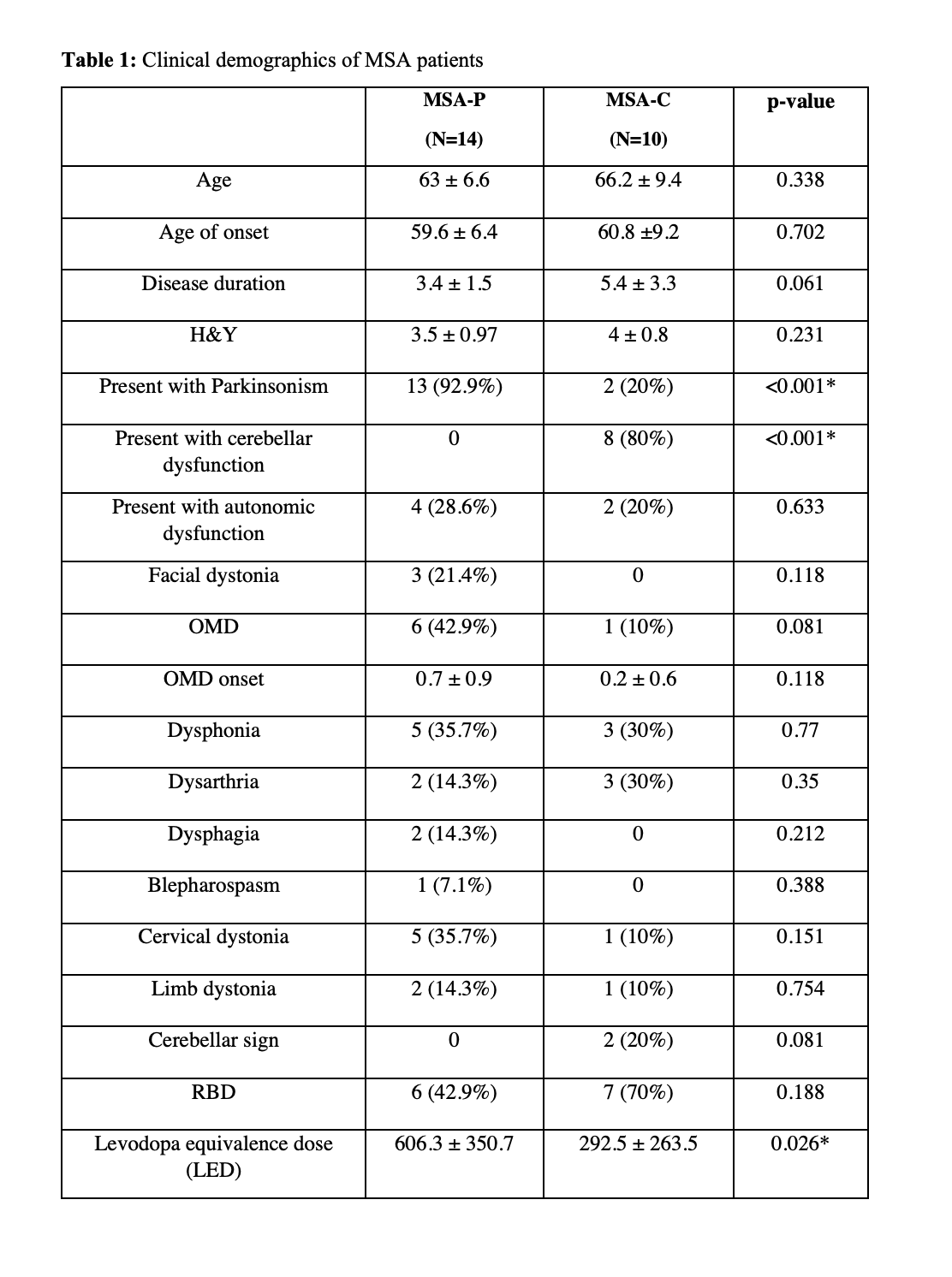 References: Marsili L et.al. Dystonia in atypical parkinsonian disorders. PRD. 2019;66:25-33. Wenning GK et.al. Multiple system atrophy: an update. Mov Disord. 2003;18 Suppl 6:S34-42. Boesch SM.et.al. Dystonia in multiple system atrophy. Journal of neurology, neurosurgery, and psychiatry. 2002;72(3):300-3.
To cite this abstract in AMA style:
Y. Thongchuam, P. Panyakaew, R. Bhidayasiri. Characterising Oromandibular Dystonia in Multiple System Atrophy: A video analysis [abstract].
Mov Disord.
2020; 35 (suppl 1). https://www.mdsabstracts.org/abstract/characterising-oromandibular-dystonia-in-multiple-system-atrophy-a-video-analysis/. Accessed December 5, 2023.
« Back to MDS Virtual Congress 2020
MDS Abstracts - https://www.mdsabstracts.org/abstract/characterising-oromandibular-dystonia-in-multiple-system-atrophy-a-video-analysis/