Objective: To present the case of a childhood-onset hemidystonia carrying a homozygous SLC6A3 missense mutation.
Background: Dystonia is a movement disorder characterized by sustained or intermittent muscle contractions causing abnormal repetitive movements, postures, or both. SLC6A3 codifies for a Na/Cl-dependent dopamine transporter. SLC6A3-related dopamine transporter deficiency syndrome (DTDS), also known as infantile parkinsonism-dystonia, is a complex movement disorder with a continuum that ranges from classic early-onset DTDS (<6 months) to atypical late-onset DTDS (childhood, adolescence, or adulthood).
Method: A 17-year-old female patient presented at age 10 with twisting movements of the left leg and sustained flexion of the fingers of the left hand. Over the time, she progressed to an abnormal and painful adduction of left arm and leg with flexion of the toe [Image1]. She used her right hand to extend the contralateral fingers as a sensory trick [Image2]. She developed orolingual movements. Movements did not interfere with swallowing nor speech. Motor impersistence was absent. Consanguinity between parents was reported. Family history was negative for any neurological or psychiatric diseases. An extensive genetic panel or dystonia was performed to investigate the possibility of a genetic etiology. A homozygous missense mutation of SLC6A3 gene was found. Levodopa response test was negative.
Results: We identified a missense mutation of SLC6A3 gene. This dopamine transporter (DAT) is a member of the solute carrier family 6 (SLC6). It is one of the major classes of monoamine transporters responsible for controlling dopamine overflow within the synaptic cleft and dopamine reuptake to the presynaptic neurons. Some mutations in the SLC6A3 cause abolished protein expression and subsequently result in impaired dopamine reuptake. This affects principally neurons in the substantia nigra pars compacta.
Conclusion: We report a case of an atypical SLC6A3- related DTDS, characterized by a childhood-onset hemidystonia. At the moment of case report, pure dystonia was present. Progression to other manifestations over time, such as parkinsonism cannot be ruled out. It is not yet clear whether genotype-phenotype correlations exist for SLC6A3-related DTDS. A higher residual transporter activity in late-onset atypical phenotype may be responsible for clinical heterogeneity.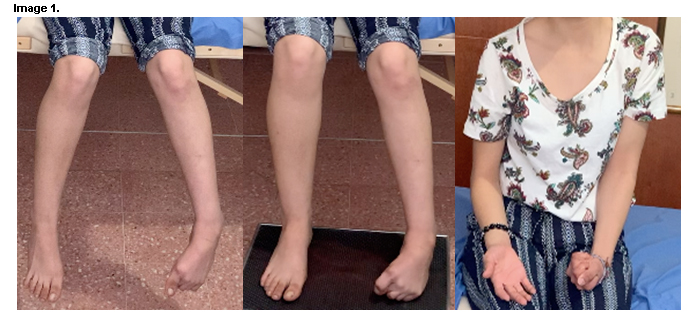 To cite this abstract in AMA style:
G. Prado-Miranda, K. Salinas-Barboza, JM. Altamirano, AA. Alvarado-Bolaños. Childhood-Onset Hemidystonia: A Transportophaty related to SLC6A3 missense mutation [abstract].
Mov Disord.
2021; 36 (suppl 1). https://www.mdsabstracts.org/abstract/childhood-onset-hemidystonia-a-transportophaty-related-to-slc6a3-missense-mutation/. Accessed December 5, 2023.
« Back to MDS Virtual Congress 2021
MDS Abstracts - https://www.mdsabstracts.org/abstract/childhood-onset-hemidystonia-a-transportophaty-related-to-slc6a3-missense-mutation/