Objective: To report the frequency of self-reported PD and the diagnostic evaluation performed by clinical neurologists in a population-based cohort from south Brazil.
Background: It is known that self-reporting having PD is less accurate for diagnosis than the clinical assessment performed by a clinical movement disorder neurologist [1]. Assessing inconsistencies between self-report and clinical examination has implications for the formulation of individual treatment regimens and, consequently, for patients' quality of life.
Method: This cross-sectional study is part of a population-based prospective cohort study for developing parkinsonism cases (NCT05677529). A single question about having PD was asked of 2713 participants (≥ 60 years old) in Veranópolis, Rio Grande do Sul, Brazil. Data on antiparkinsonian drug use and other clinical information were also requested. Participants who responded positively were called in for a face-to-face diagnostic assessment performed by two neurologist experts in movement disorders. Diagnostic confirmation was based on the MDS diagnostic criteria, clinical impression, and MDS-UPDRS. Data were expressed as frequency, mean and standard deviation. Analyzes were performed using SSPS version 24.
Results: 60 participants self-reported having PD, of which 29 were evaluated in person. The mean age was 78.23±5.55 years, and education level was 5.45±3.56 years. Antiparkinsonian drugs use was reported by 96.6% (n = 28) of the participants. Neurological consultation diagnosed 13.8% (n = 04) clinically established PD and 17.2% (n = 05) clinically probable PD of the reported cases, 31.1% were diagnosed as other types of parkinsonism, and 37,3% were classified as different conditions (Figure 1).
[Figure1]
Conclusion: During clinical assessment by a movement disorder neurologist, many patients who self-reported PD were found to have other conditions. These preliminary data raise important questions about the possible causes of the discrepancies, which may be related to the patient's understanding of the diagnosis or lack of diagnostic standardization in local primary care.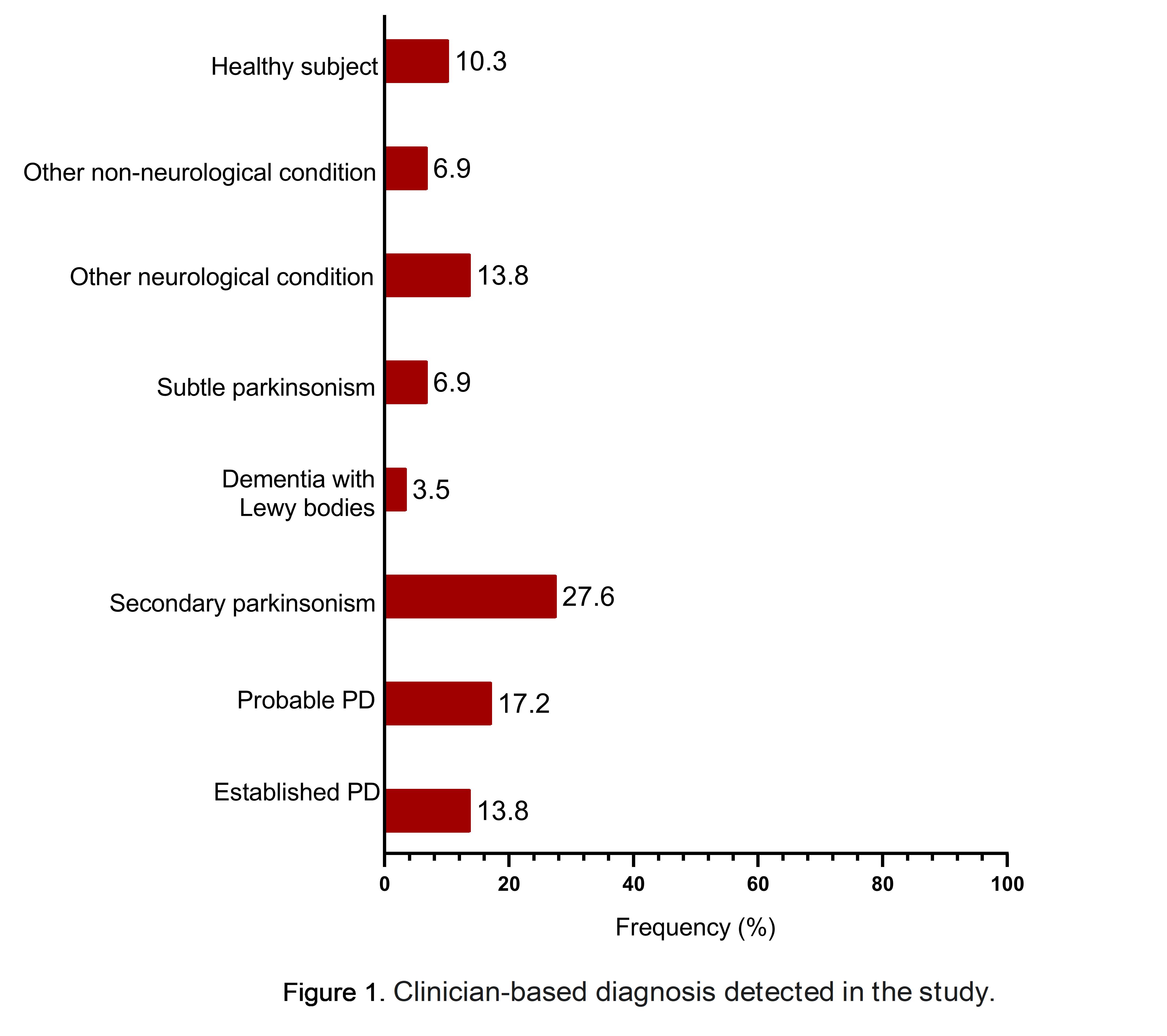 References: [1] Meara J, Bhowmick BK, Hobson P: Accuracy of diagnosis in patients with presumed Parkinson's disease. Age Ageing. 1999, 28: 99-102. 10.1093/ageing/28.2.99.
To cite this abstract in AMA style:
G. Pereira, N. Soares, G. Marconi, C. Sangali, I. Pasuch, C. Bertocchi, N. Bruscato, J. Senger, A. Schumacher-Schuh, C. Rieder. Clinical-based diagnosis and self-reported Parkinson's disease in a population-based sample in southern Brazil [abstract].
Mov Disord.
2023; 38 (suppl 1). https://www.mdsabstracts.org/abstract/clinical-based-diagnosis-and-self-reported-parkinsons-disease-in-a-population-based-sample-in-southern-brazil/. Accessed September 22, 2023.
« Back to 2023 International Congress
MDS Abstracts - https://www.mdsabstracts.org/abstract/clinical-based-diagnosis-and-self-reported-parkinsons-disease-in-a-population-based-sample-in-southern-brazil/