Objective: To study the clinical, radiological and genetic profile of patients with genetically proven PLA2G6-Associated Neurodegeneration (PLAN).
Background: PLAN is a clinically heterogenous genetic disorder manifesting in infancy and childhood as infantile neuroaxonal dystrophy (INAD) or atypical neuroaxonal dystrophy (aNAD) and in adolescent and early adulthood as dystonia-parkinsonism or complex hereditary spastic paraparesis (cHSP)[1-3].
Method: We describe clinical, radiological and genetic profile of patients with genetically proven PLAN evaluated at a tertiary care centre from India.
Results: Fifteen patients (13 families, 9 males) with a median age at presentation of 24 yrs (1.9-34 yrs), age at onset of 15 yrs (0.5-28yrs) and duration of illness of 3 yrs (0.5-17yrs) were included. Three had INAD, 2 had aNAD, 9 had parkinsonism (7 with dystonia) and one had cHSP presentation. Developmental delay/regression (3/5) was the most common initial symptom among INAD/aNAD group whereas slowness (4/10) was the most common among the rest. Overall parkinsonism was noted in 9, dystonia in 8 and cerebellar signs in 7 patients. Other neurological signs were strabismus (1), upgaze restriction (4), hypotonia (4: all INAD/aNAD), spasticity (2: one each aNAD and cHSP), extensor plantar (6), and myoclonus (5). MRI brain [figure1] showed cerebellar atrophy (13/14), globus pallidi and substantia nigra mineralization (7/14, 4 had additional caudate and putamen mineralization), periventricular white matter hyperintensity (8/14) and claval hypertrophy (5/14). One patient with parkinsonism had normal MRI but had abnormal DaTscan. Biallelic potentially pathogenic variants were noted in all (homozygous in 12). Thirteen unique variants (8 were novel) were noted in total of which, 11 were missense, and 2 were truncating variants. Six patients (4 families) carried NM_003560.4;c.2222G<A variant, a common variant in our region [1]. Among them, 5 had dystonia-parkinsonism (4 with myoclonus) and one had aNAD. At least 33% improvement was noted with levodopa in all 9 patients with parkinsonism and 8 developed dyskinesia.
Conclusion: PLAN can have wide clinical and radiological spectrum. c.2222G>A variant usually present later with dystonia-parkinsonsim or cHSP. Response to levodopa with dyskinesia is almost universal in patients with parkinsonism.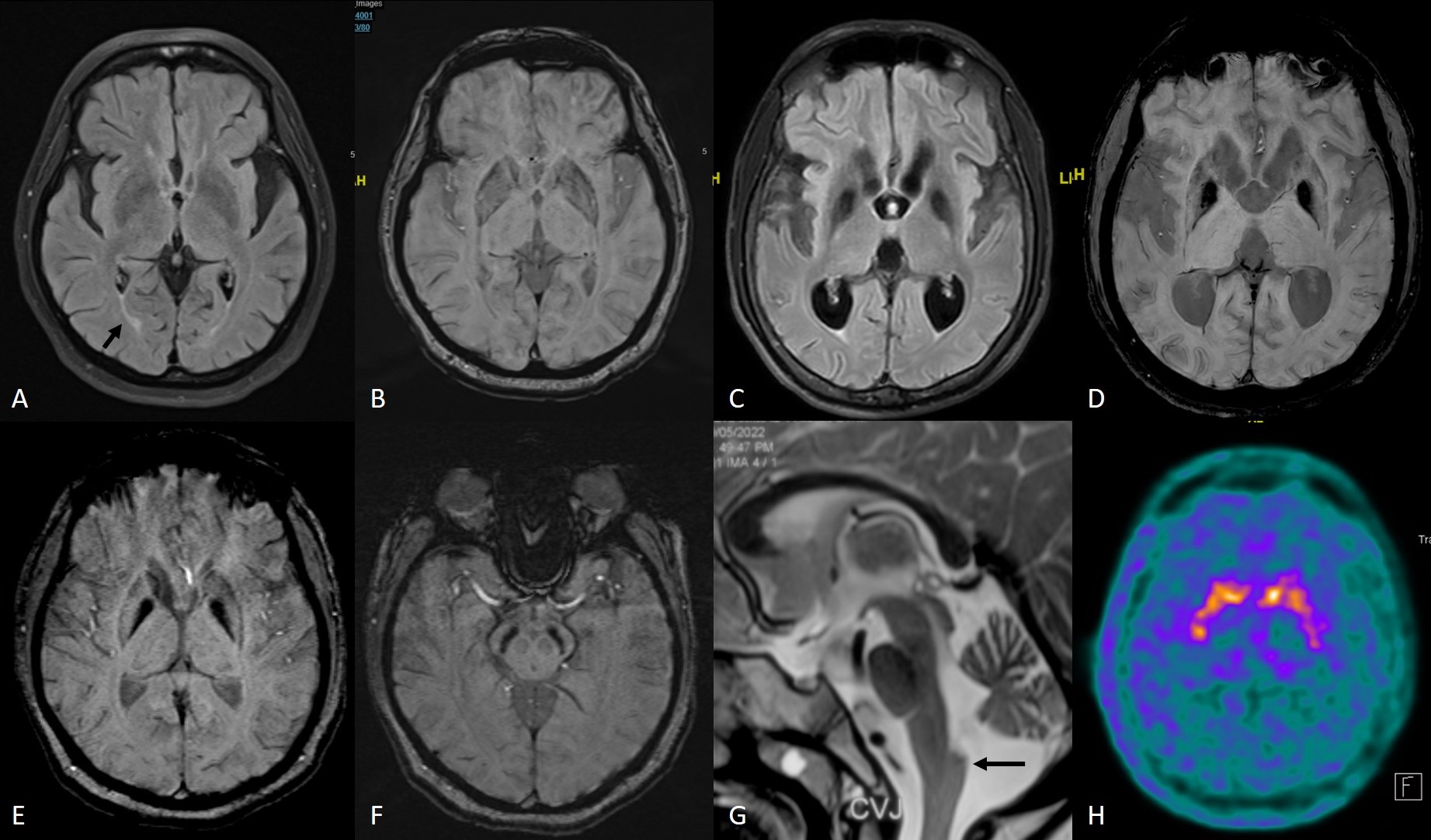 References: [1] Magrinelli F, Mehta S, Di Lazzaro G, Latorre A, Edwards MJ, Balint B, Basu P, Kobylecki C, Groppa S, Hegde A, Mulroy E, Estevez-Fraga C, Arora A, Kumar H, Schneider SA, Lewis PA, Jaunmuktane Z, Revesz T, Gandhi S, Wood NW, Hardy JA, Tinazzi M, Lal V, Houlden H, Bhatia KP. Dissecting the Phenotype and Genotype of PLA2G6-Related Parkinsonism. Mov Disord. 2022 Jan;37(1):148-161.
[2] Guo YP, Tang BS, Guo JF. PLA2G6-Associated Neurodegeneration (PLAN): Review of Clinical Phenotypes and Genotypes. Front Neurol. 2018 Dec 18;9:1100.
[3] Hanna Al-Shaikh R, Milanowski LM, Holla VV, Kurihara K, Yadav R, Kamble N, Muthusamy B, Bellad A, Koziorowski D, Szlufik S, Hoffman-Zacharska D, Fujioka S, Tsuboi Y, Ross OA, Wierenga K, Uitti RJ, Wszolek Z, Pal PK. PLA2G6-associated neurodegeneration in four different populations-case series and literature review. Parkinsonism Relat Disord. 2022 Aug;101:66-74.
To cite this abstract in AMA style:
P. Pal, V. Holla, N. Sriram, R. Kumari, P. Phulpagar, S. Kamath, S. Prasad, N. Kamble, J. Saini, R. Mahale, M. Netravathi, H. Padmanabha, V. Gowda, R. Battu, A. Pandey, R. Yadav, B. Muthusamy. Clinical, radiological and genetic spectrum of fifteen cases of PLA2G6-Associated Neurodegeneration – A Single Centre Cohort from India [abstract].
Mov Disord.
2023; 38 (suppl 1). https://www.mdsabstracts.org/abstract/clinical-radiological-and-genetic-spectrum-of-fifteen-cases-of-pla2g6-associated-neurodegeneration-a-single-centre-cohort-from-india/. Accessed September 27, 2023.
« Back to 2023 International Congress
MDS Abstracts - https://www.mdsabstracts.org/abstract/clinical-radiological-and-genetic-spectrum-of-fifteen-cases-of-pla2g6-associated-neurodegeneration-a-single-centre-cohort-from-india/