Session Information
Session Time: 1:45pm-3:15pm
Location: Exhibit Hall C
Objective: To characterize the progression of cognitive decline and compare the neuropsychological 15-month profile across PSP, MSA and PD.
Background: Cognitive impairments are frequently reported in these parkinsonian disorders. However rate of cognitive decline is still unclear.
Methods: Longitudinal study consisting of 40 patients (10 MSA, 10 PSP and 20 age, education and disease duration matched-PD) who underwent an extensive neuropsychological and clinical assessment.
It was investigated daily functioning (ADL/IADL), global cognitive status (MMSE and MoCA) and performance in five cognitive domains (executive, memory, attention, visuospatial and language abilities). Each patient was re-tested at a mean of 15-month follow-up. Non-parametric tests were used.
Results: Table 1 shows a summary of demographic and clinical variables at baseline. [table 1] At 15-month follow-up both MSA and PSP patients showed increased motor severity (MDS-UPDRS, z=-2.380; p=0.017 for both) and reduced ADL (z=-2.032, p=0.042; and z=-2.207, p=0.027 respectively) and IADL scores (z=-2.530; p=0.011; and z=-2.043; p=0.041 respectively). From a cognitive perspective, PSP patients had a decline in the TMT-A (z=-2. 073; p=0.038) and delayed story recall (z=-2.207; p=0.027); MSA group's performance worsens at the MMSE (z=-2.271; p=0.023), TMT-B (z=-2. 197; p=0.028), semantic fluencies (z=-2.041; p=0.041) and incomplete letter recognition tasks (z=-2.203; p=0.028). Finally, PD patients showed reduced ADL (z=-2.264, p=0.024), and a poorer performance in the copy of a complex figure (z=-2.087; p=0.037) and TMT-A (z=-2.254; p=0.024).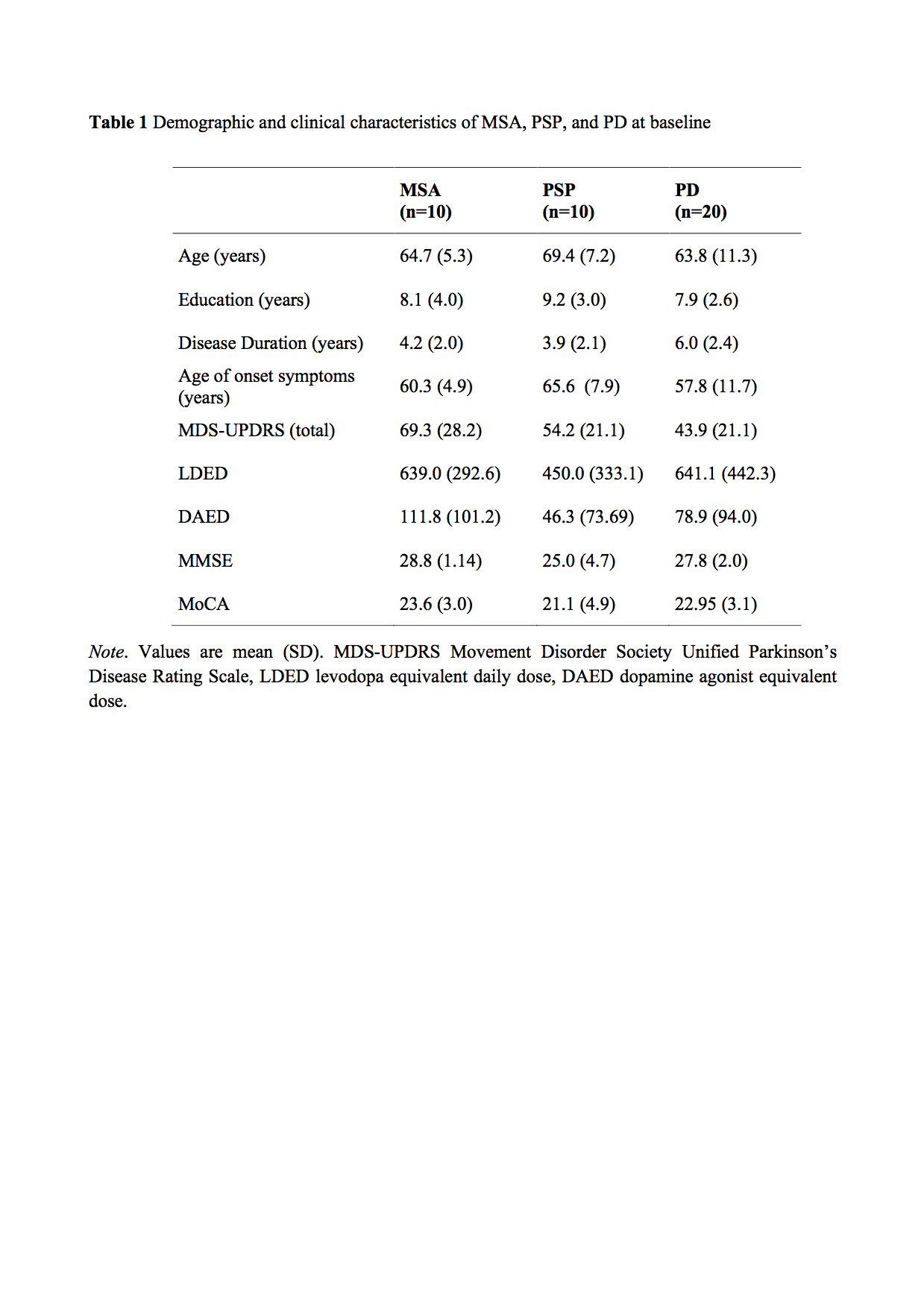 Conclusions: PSP and MSA patients showed consistent motor and functioning decline at 15-month follow-up. Overall we observed specific patterns of cognitive decline across groups. Namely, PSP showed attentive and memory deficits and MSA and PD patients cognitively declined in attention/executive and visuospatial tasks. Noteworthy, at baseline MoCA total score was significantly lower than MMSE for each group. Moreover, in the MSA group, MMSE score decreased significantly at the follow-up compared to MoCA. These findings confirm MoCA as better cognitive screening scale vs. MMSE (Fiorenzato et al., 2016) and may support the concept of MMSE as a more sensitive scale to identify rate of cognitive decline (Biundo et al., 2016).
References: Biundo R, Weis L, Bostantjopoulou S, et al. MMSE and MoCA in Parkinson's disease and dementia with Lewy bodies: a multicenter 1-year follow-up study. J Neural Transm (Vienna) 2016;123(4):431-438.
Fiorenzato E, Weis L, Falup-Pecurariu C, et al. Montreal Cognitive Assessment (MoCA) and Mini-Mental State Examination (MMSE) performance in progressive supranuclear palsy and multiple system atrophy. J Neural Transm (Vienna) 2016; 123(12):1435-1442.
To cite this abstract in AMA style:
E. Fiorenzato, L. Weis, A. Antonini, R. Biundo. Cognitive profiling in patients with Parkinson's disease, multiple system atrophy and progressive supranuclear palsy: a 15-month longitudinal study [abstract].
Mov Disord.
2017; 32 (suppl 2). https://www.mdsabstracts.org/abstract/cognitive-profiling-in-patients-with-parkinsons-disease-multiple-system-atrophy-and-progressive-supranuclear-palsy-a-15-month-longitudinal-study/. Accessed December 5, 2023.
« Back to 2017 International Congress
MDS Abstracts - https://www.mdsabstracts.org/abstract/cognitive-profiling-in-patients-with-parkinsons-disease-multiple-system-atrophy-and-progressive-supranuclear-palsy-a-15-month-longitudinal-study/