Objective: (1) To explore the proportion and personal characteristics of patients who do not disclose their diagnosis of Parkinson's disease (PD) to their family, and (2) To compare health and quality of life (QoL) outcomes in non-disclosing and disclosing patients.
Background: To minimize the impact of stigmatization, people with chronic disease often conceal their diagnosis from family members, friends, or co-workers, which can lead to stress due to the risk of being discovered. Disclosure of chronic diseases has been studied in various chronic diseases, however, in PD, although the experience of stigma is widely described and associated with reduced QoL, the issue of disclosing the disease is mostly discussed in patient forums.
Method: A preliminary analysis of 120 people with PD who participated in a cross-sectional study about self-management was conducted. Socio-demographic information was collected, including one question regarding the disclosure of their disease ("Does your nuclear or extended family know that you have PD?"). In addition, participants were assessed using standard questionnaires for knowledge about PD (KPDQ), Activities of Daily Living (UPDRS part 2), cognitive status (MMSE), quality of life (PDQ-39), social support (MSPSS), patient activation (PAM-13©), and physical activity (IPAQ). Differences in socio-demographic variables between disclosing and non-disclosing participants were assessed using chi-square tests. Mann–Whitney U tests were used to explore differences in health and QoL variables.
Results: Most of the sample participants shared their diagnosis of PD with their families. Disclosing and non-disclosing patients did not differ in age, education, cognitive function, daily function, or knowledge about PD. Participants in the non-disclosing group, however, included more women and more observant participants [Figure 1a,1b]. Participants in the non-disclosing group also reported significantly lower quality of life and significantly less social support, in particular from friends, were less engaged in physical activity, and tend to have lower patient activation compared to the disclosing group [Figure 2a-c].
Conclusion: Healthcare professionals should be aware of the consequences of non-disclosing. Such patients may require further emotional support, and may benefit from learning strategies for enhancing activation and encouragement to engage in health behaviors such as exercise.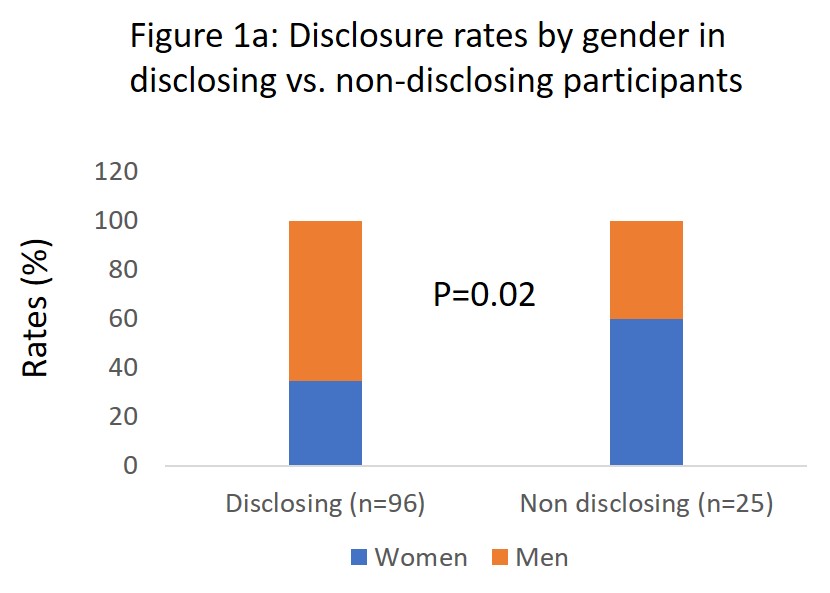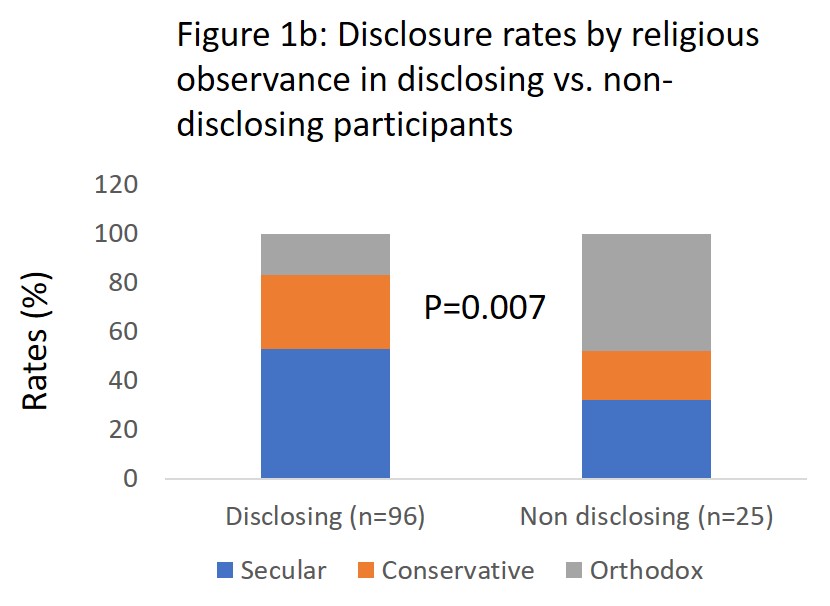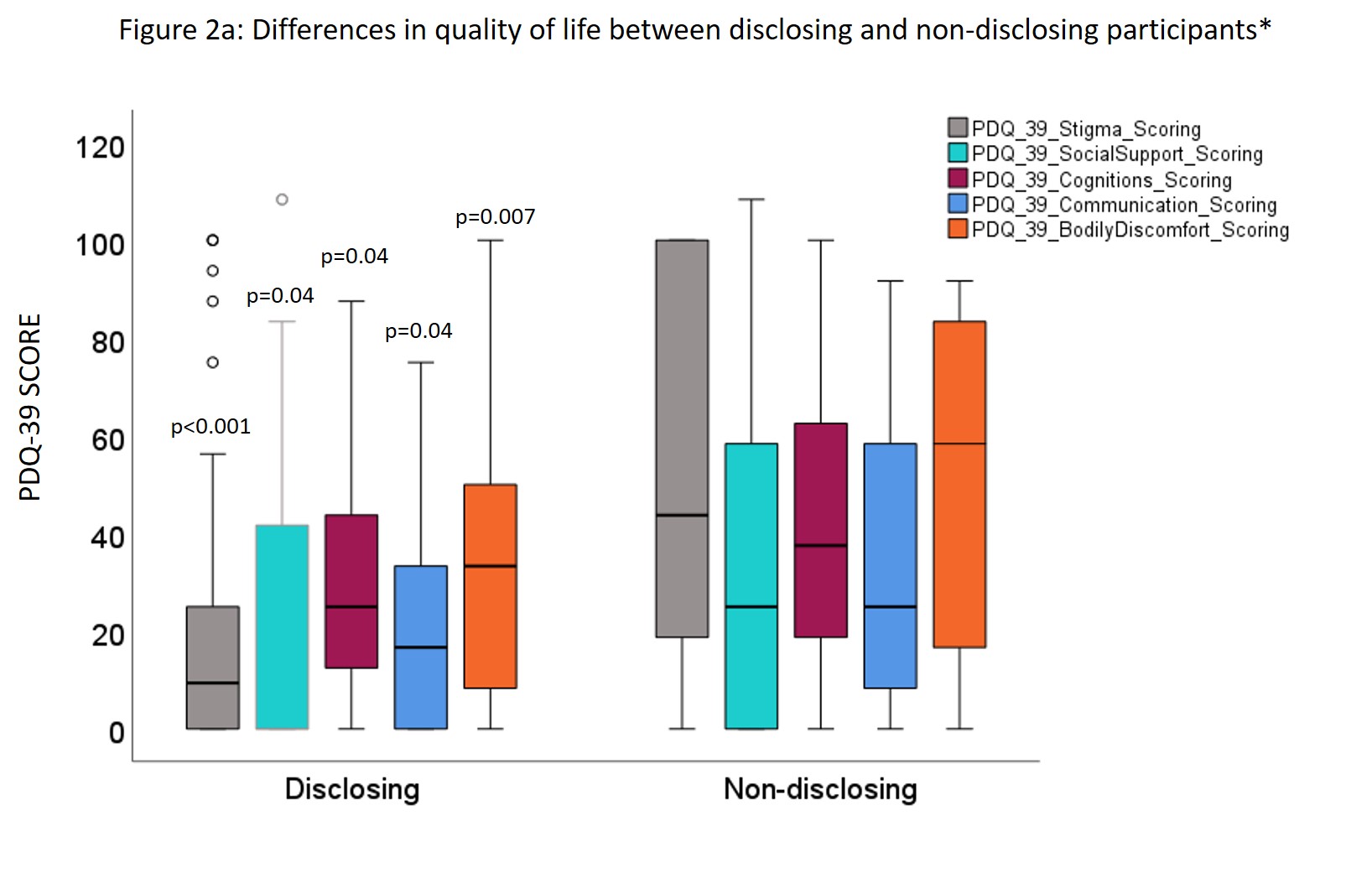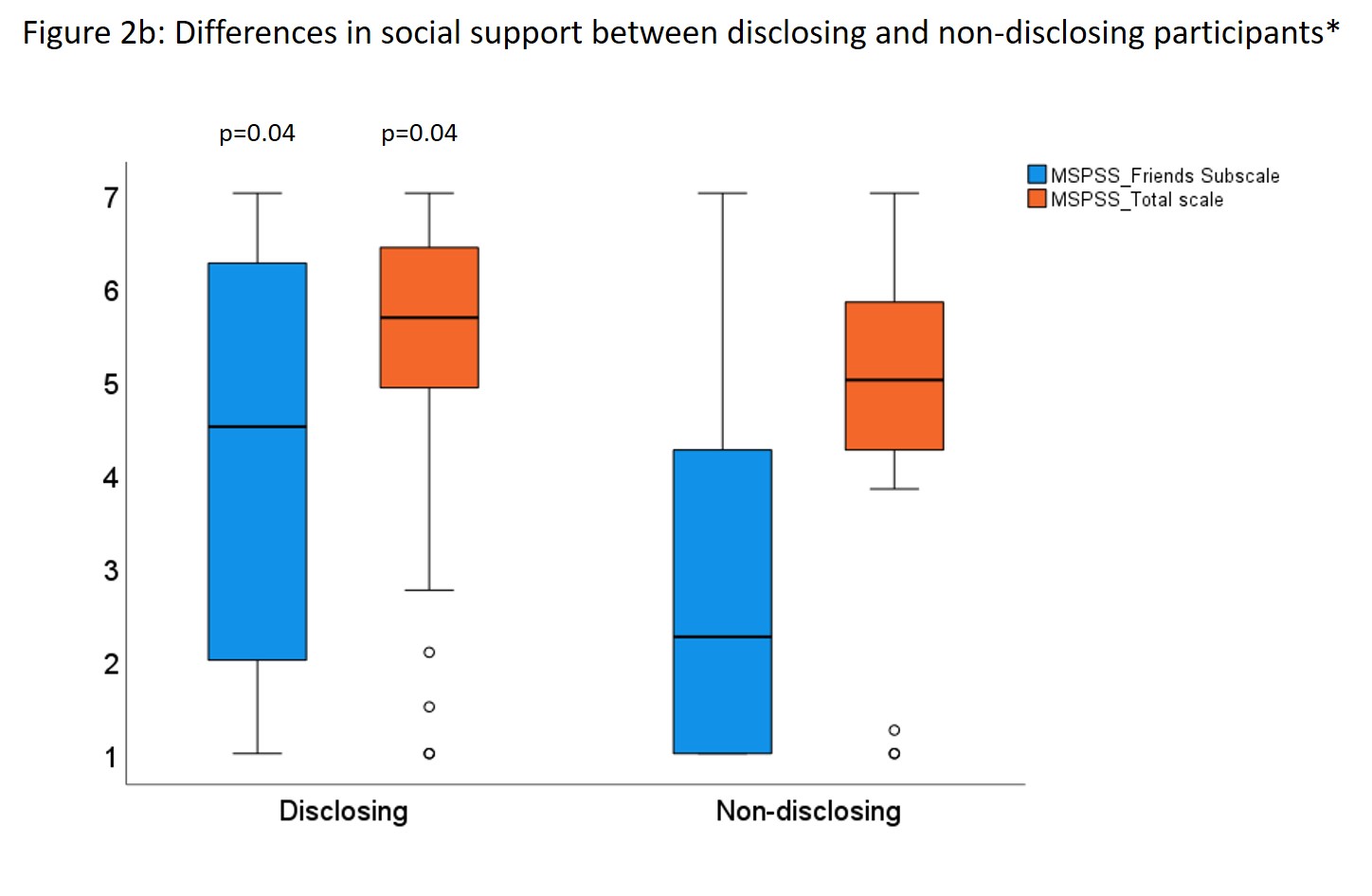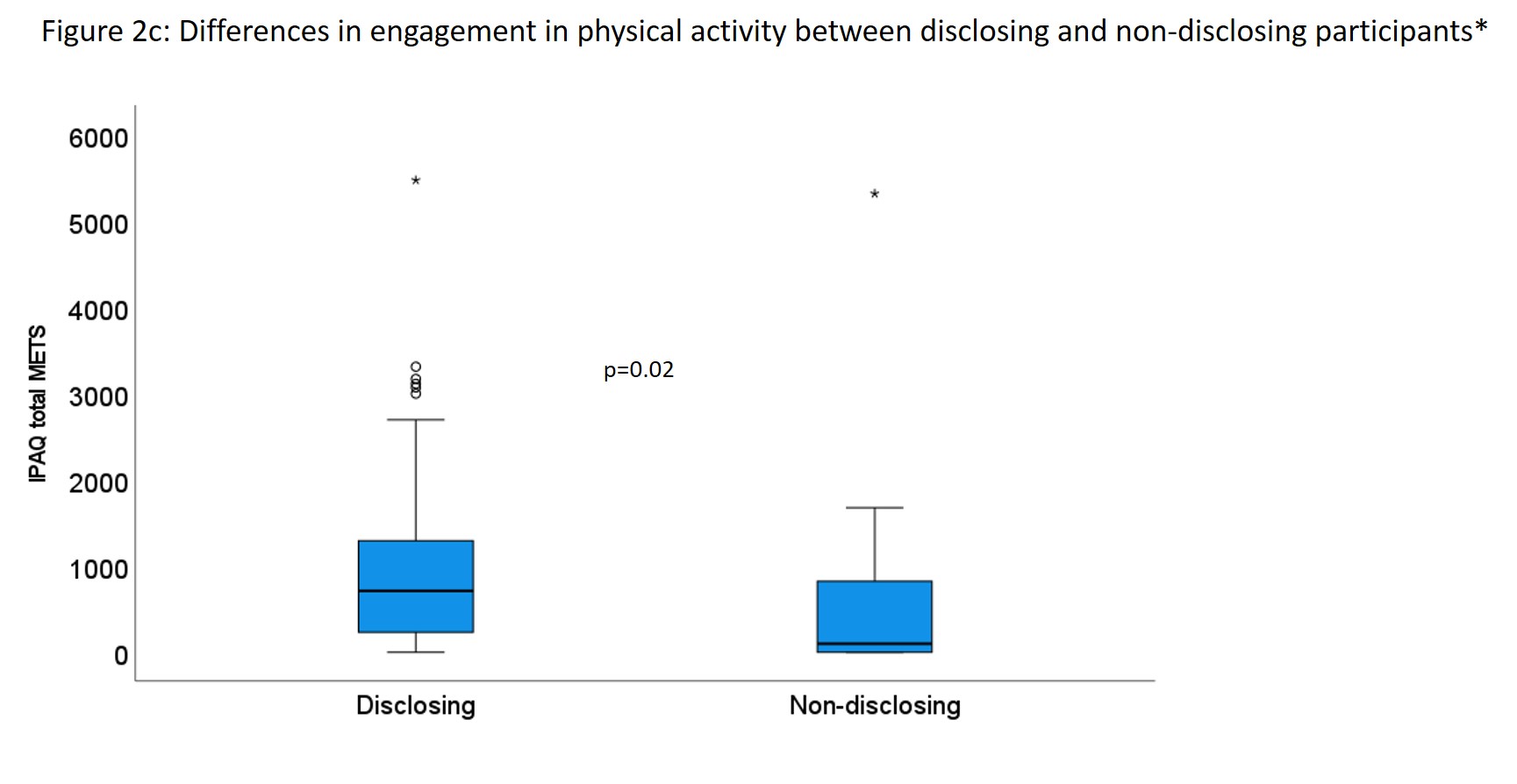 To cite this abstract in AMA style:
G. Yogev-Seligmann, B. Naamneh Abuelhija, M. Giveon, M. Meir Kestenbaum, M. Kafri. Concealment of Parkinson's Disease: Prevalence and Impact on Health and Quality of Life [abstract].
Mov Disord.
2023; 38 (suppl 1). https://www.mdsabstracts.org/abstract/concealment-of-parkinsons-disease-prevalence-and-impact-on-health-and-quality-of-life/. Accessed September 22, 2023.
« Back to 2023 International Congress
MDS Abstracts - https://www.mdsabstracts.org/abstract/concealment-of-parkinsons-disease-prevalence-and-impact-on-health-and-quality-of-life/