Session Information
Session Time: 1:45pm-3:15pm
Location: Hall 3FG
Objective: To explore the characteristics of tremor in patients with essential tremor (ET) and tremor associated with dystonia (TAWD) by using neurophysiology and time frequency analysis.
Background: Tremor features in patients with TAWD may be clinically indistinguishable from ET. There is continuing debate whether it is a variant of ET or not. Neurophysiological studies comparing these two syndromes are limited.
Methods: 21 ET and 9 TAWD (cervical dystonia with bilateral hand tremor) patients were studied. Hand tremors were measured by using accelerometer bilaterally. The tremors were recorded in postural and kinetic conditions, 3 trials/condition. Time-frequency characteristics of the movements were obtained and averaged. At each time point, tremor power Pt was computed by the peak power between 5Hz and 10Hz, and the movement power Pm as the peak power between 0Hz and 4Hz. The dominant side (right/left) was determined by their Pt values. Given the time-frequency data, (1) symmetry ratio was computed as the tremor power of the non-dominant side divided by that of the dominant side; (2) temporal synchrony between the fluctuation of tremor power (over time) and that of movement power was estimated by computing their temporal coherence.
Results: There was a significant difference in variability in tremor power over time during postural and kinetic conditions between groups (coefficient of variation = 0.99 for ET; 1.27 for TAWD, p = 0.02), but there was no effect of task. In both groups, tremor power became more symmetric (right vs. left) during the kinetic condition than postural condition: mean symmetry ratio = 0.89±0.08 (postural) vs. 0.94±0.05 (kinetic condition) (p = 0.05) [Figs. 1&2]. There was no significant task effect on the tremor power itself. However, in the kinetic condition, different trends were observed between two groups (ET vs. TAWD) in terms of the temporal synchrony between the tremor power and movement power: Temporal fluctuation in tremor power was more synchronized with that of movement power in TAWD, indicated by smaller phase delay in their temporal coherence (phase delay = 57.1°±15.6°), compared with the phase delay in ET patients (phase delay = 109.6°±9.6°; p < 0.025) [Figs. 1b vs. 2b; also Fig. 3].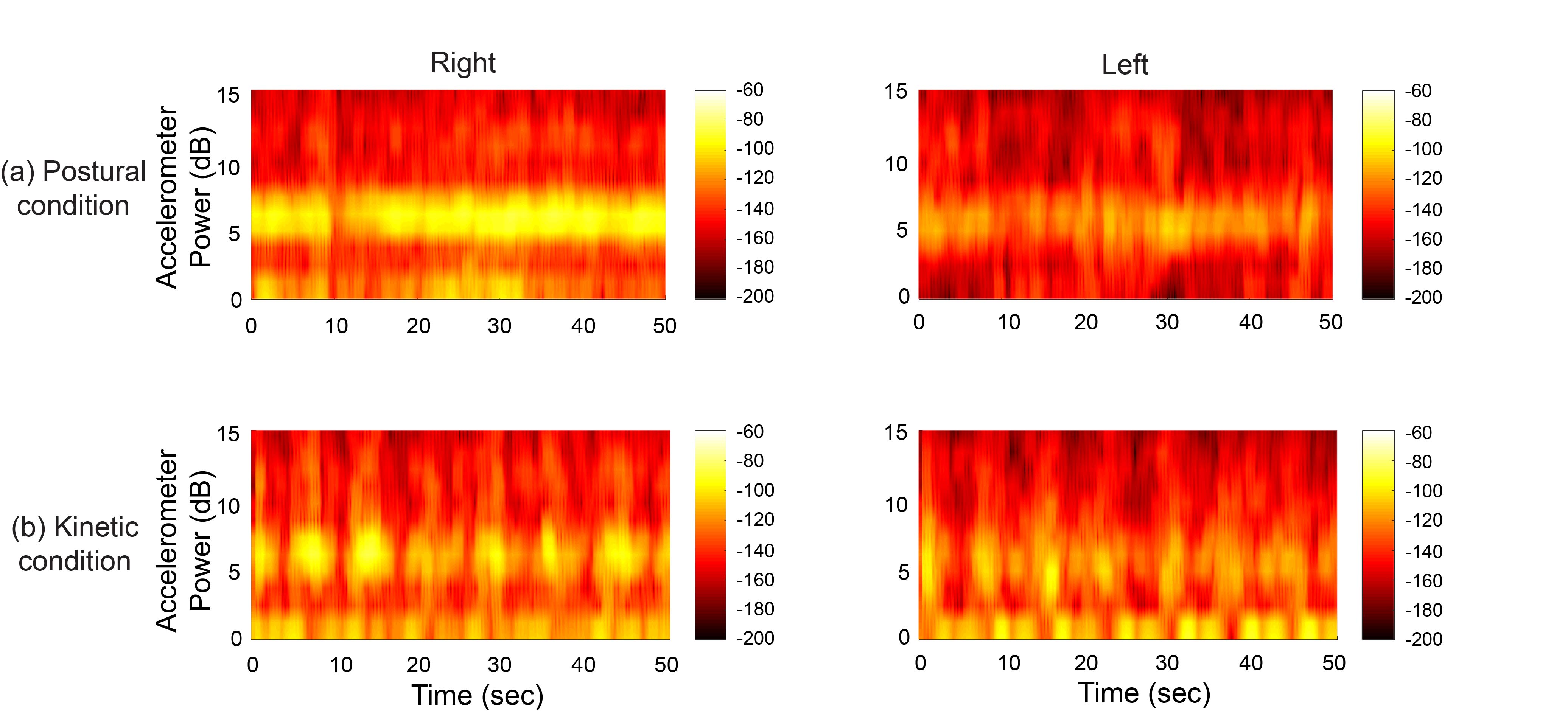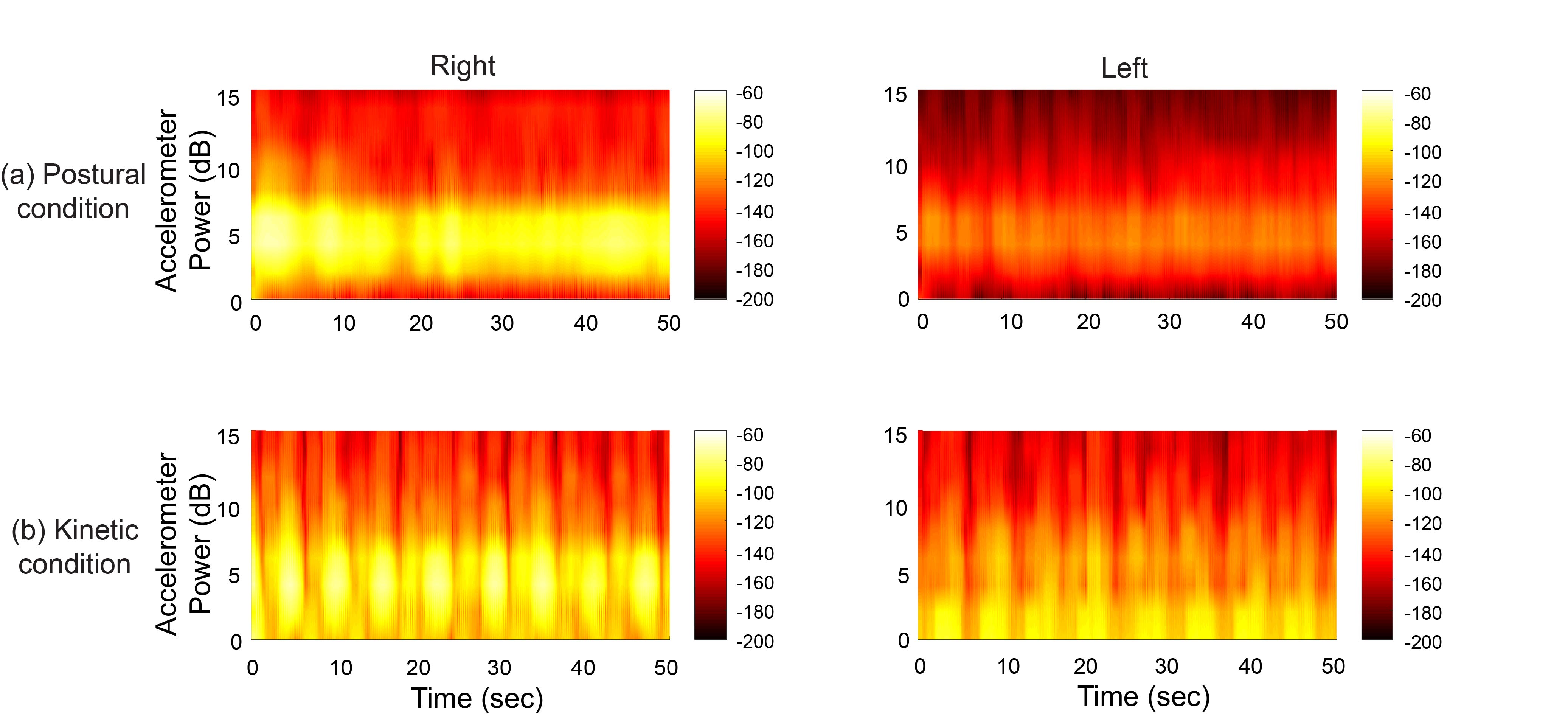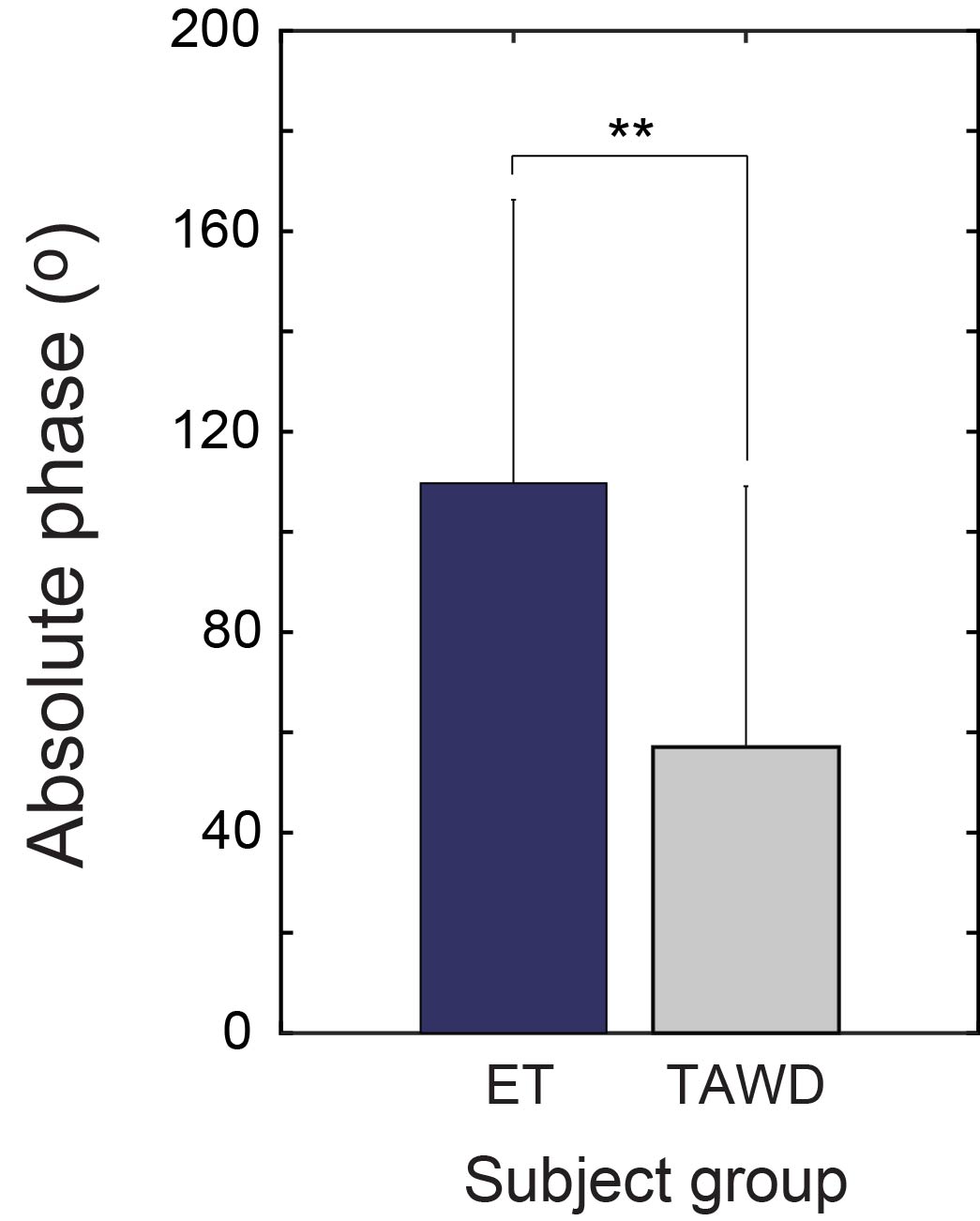 Conclusions: Our study showed that ET and TAWD share similar physiology of postural and kinetic tremor. However, different temporal delay between tremor and movement in ET and TAWD indicate different mechanisms of tremor in the kinetic condition. It might be due to different degree of interaction between the tremor oscillators and the command for voluntary movements.
To cite this abstract in AMA style:
P. Panyakaew, S. Lee, M. Hallett. Different Characteristics of Action Tremor in Essential Tremor and Tremor Associated with Dystonia [abstract].
Mov Disord.
2018; 33 (suppl 2). https://www.mdsabstracts.org/abstract/different-characteristics-of-action-tremor-in-essential-tremor-and-tremor-associated-with-dystonia/. Accessed December 11, 2023.
« Back to 2018 International Congress
MDS Abstracts - https://www.mdsabstracts.org/abstract/different-characteristics-of-action-tremor-in-essential-tremor-and-tremor-associated-with-dystonia/