Session Information
Session Time: 1:45pm-3:15pm
Location: Hall 3FG
Objective: To explore the role of the bedside electrophysiological tests and the characteristics of tremor in task-specific and position-specific tremor.
Background: Task-specific and position-specific tremors are frequent types of tremor that occur when performing affected motor tasks repetitively and frequently.(1). It is currently unclear if they are a variant of dystonia, an overuse syndrome, or a unique tremor syndrome. (2)
Methods: 15 patients with aged 18-72 (54 16.4) with disease duration of 0.5-15 (6.7 6) years were studied. Hand tremor was measured using inertial sensors placed on the hands and surface EMG applied bilaterally on the flexor and extensor muscles. The tremors were recorded during task (writing), posture, and posture with 1-kg weighting if viable. Peak frequency of tremor (Hz) and EMG pattern of the agonist pairs were analysed.
Results: 7 of 15 patients (47%) had task-specific tremor while 8 of 15 patients (53%) had position-specific tremor of the unilateral upper limb. [Table1] Subtle dystonic postures of hands during writing were identified in all task-specific tremors, but not mirror or overflow dystonia, supporting the diagnosis of DT. The peak frequency of writing tremor was 4-8 Hz, but the EMG showed co-contraction in 2/7 patients (29%).[figure1a,b] Two patients with position-specific tremor were diagnosed as DT due to dystonia in the same hand and elsewhere (called tremor associated dystonia (TAWD)). However, postural tremors in these two patients were detected with no frequency shift with loading, suggestive of a central component to their tremor. Four patients with position-specific tremor demonstrated inconsistency of tremor and/or temporary tremor suppression during distraction and ballistic movements in the electrophysiological test, consistent with functional tremor (FT).[figure1c] The last 2 patients with position-specific tremor patients did not reveal subtle dystonia, and were given a diagnosis of isolated position-specific tremor syndrome. However, TDT in these patients was higher than the normal population, suggesting a possible variant of DT.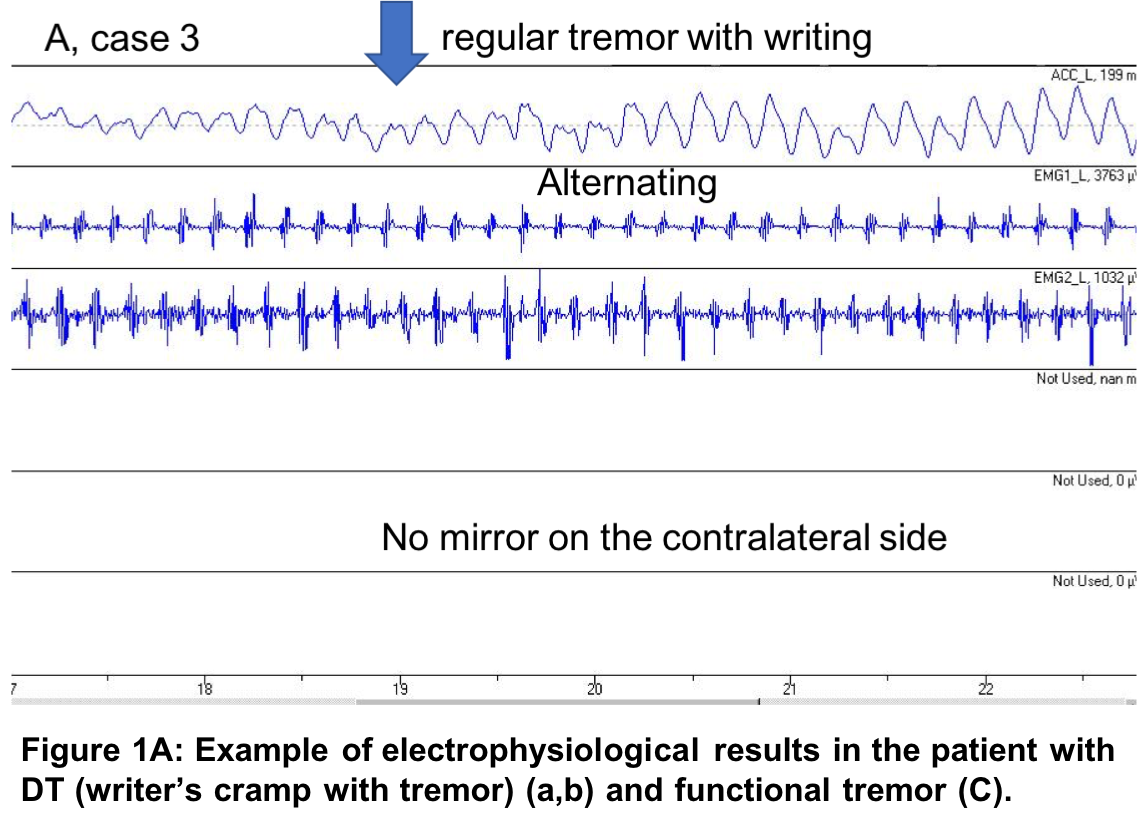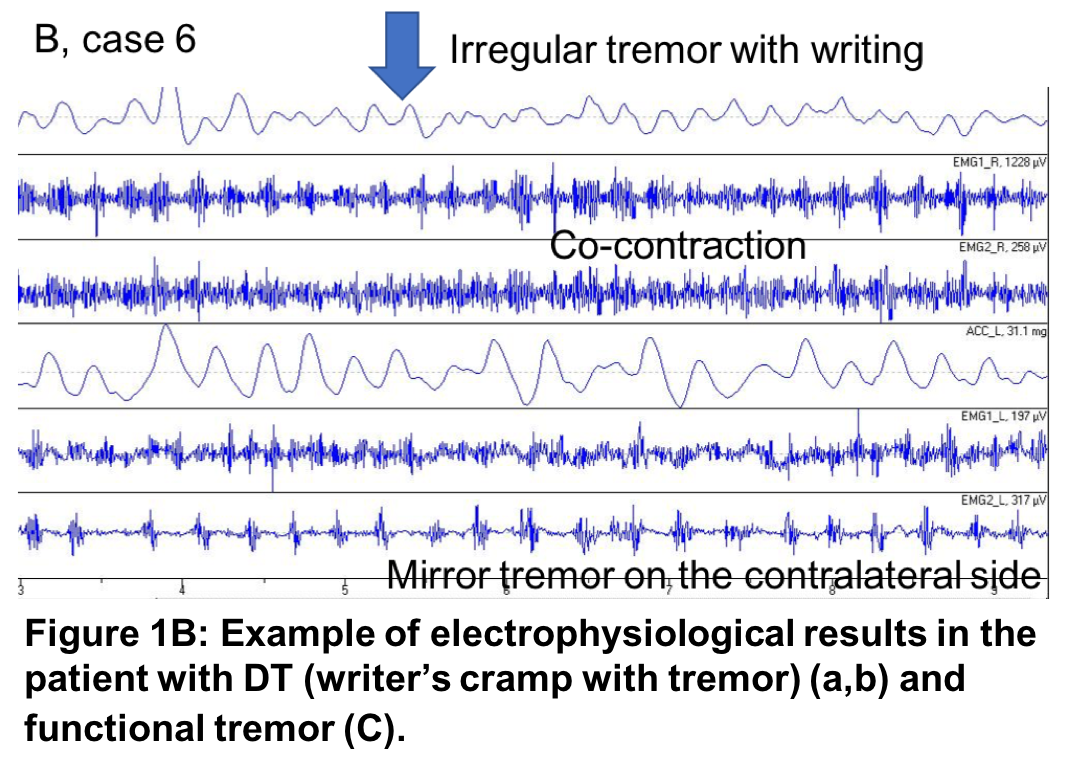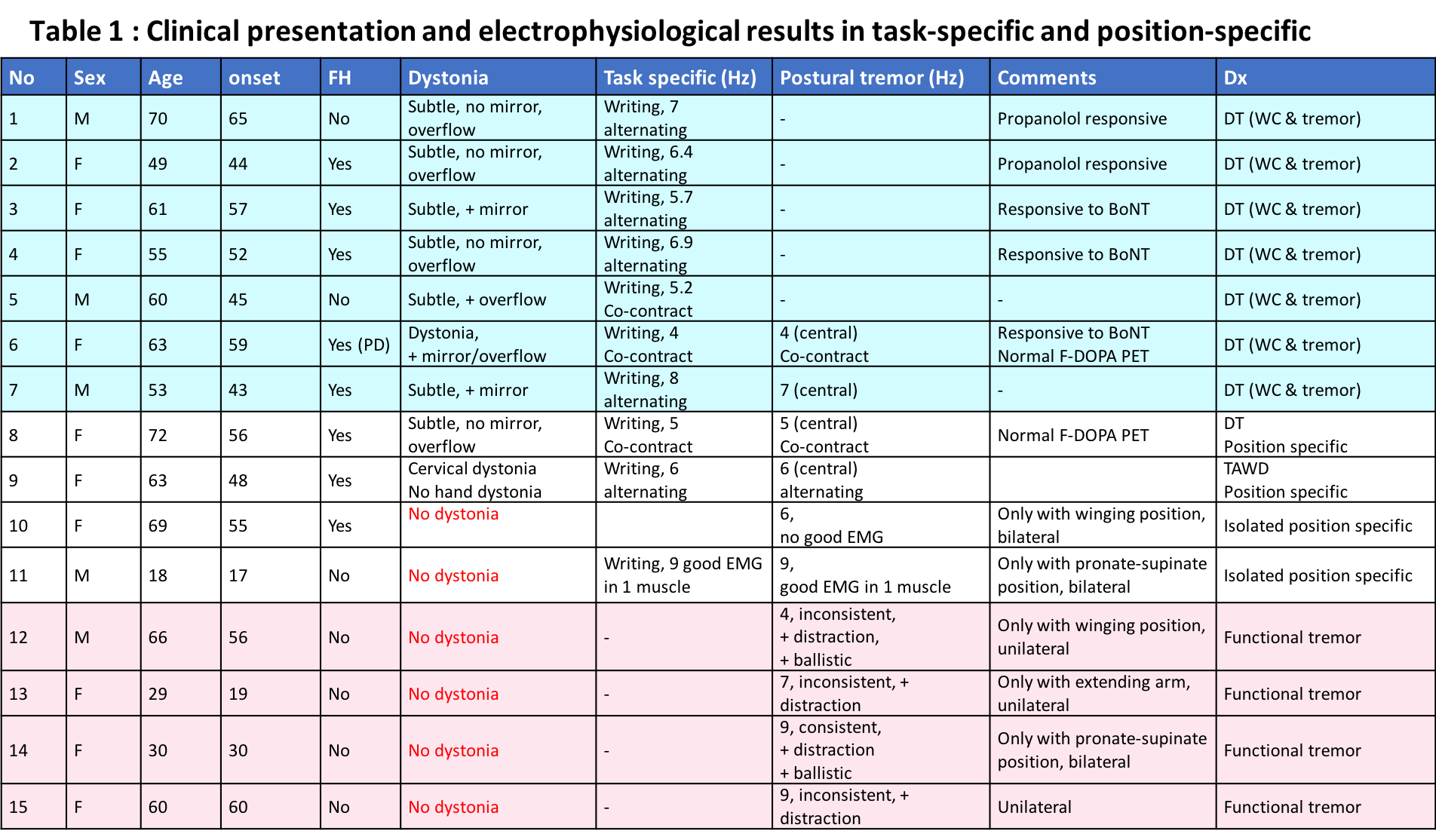 Conclusions: Our case series showed that DT is the common underlying diagnosis of task-specific tremor while position-specific tremors have various etiologies. Electrophysiological tests are helpful for distinguishing FT from organic tremor in position-specific tremor. Physiological criteria for the diagnosis of DT is still lacking and co-contraction of the EMG is not always presented.
References: 1. Bhatia KP, Bain P, Bajaj N, Elble RJ, Hallett M, Louis ED, et al. Consensus Statement on the classification of tremors. from the task force on tremor of the International Parkinson and Movement Disorder Society. Mov Disord. 2018;33(1):75-87. 2. van der Stouwe AM, Elting JW, van der Hoeven JH, van Laar T, Leenders KL, Maurits NM, et al. How typical are 'typical' tremor characteristics? Sensitivity and specificity of five tremor phenomena. Parkinsonism Relat Disord. 2016;30:23-8.
To cite this abstract in AMA style:
P. Panyakaew, R. Bhidayasiri. Electrophysiological characteristics of task-specific and position-specific tremor: A variant of dystonic tremor? [abstract].
Mov Disord.
2018; 33 (suppl 2). https://www.mdsabstracts.org/abstract/electrophysiological-characteristics-of-task-specific-and-position-specific-tremor-a-variant-of-dystonic-tremor/. Accessed December 5, 2023.
« Back to 2018 International Congress
MDS Abstracts - https://www.mdsabstracts.org/abstract/electrophysiological-characteristics-of-task-specific-and-position-specific-tremor-a-variant-of-dystonic-tremor/