Objective: Objective: Evaluate cognitive functions with a neuropsychological test in patients with Essential Tremor attending the Movement Disorders Unit at the National Institute of Neurology and Neurosurgery, Mexico
Background: Essential tremor (ET) is one of the most common neurological diseases. [1]. Years ago, ET was considered as a pure motor disease, nevertheless, recent studies have shown that ET is a heterogeneous disease and affect different and multiple neuronal systems. ET increases the risk of cognitive impairment and dementia. [2]. There is no study who evaluate cognitive impairment in patients with ET in Mexican population.
Method: This was a cross-sectional cohort study conducted at the Movements disorders Unit at the National Institute of Neurology and Neurosurgery, Mexico (INNN) from March to December 2018. We identified patients with diagnoses of essential tremor and cognitive impairment evidenced with a screening Montreal Cognitive Assessment in Spanish (MoCA – S) score < 26 points or patient who complained of cognitive impairment with (MoCA score >26). All patients underwent to neuropsychological battery test to evaluate the cognitive functions, and we evaluate the motor symptoms severity with Fahn-Tolosa-Marin Tremor rating scale. Logistic regression analyses were performed to identify which cognitive domain impairment was associated with ET.
Results: We included a total of 36 patients (64% female), with a mean age 63.2 ± 12.5. The mean duration of disease was 12.9 ± 10.3 years. About treatment 91.2% patients were under treatment (propranolol, primidone or both). The baseline cognitive function was evaluated with MoCA-S reported a mean of 23.8± 0.41; 82.3% patients of the cohort presented with an objective cognitive impairment (score ≤26). There is an inverse correlation between severity of motor symptoms and cognitive impairment evaluated with MoCA-S with a logistic regression coefficient 0.399, p= 0.020. In the table 1 was reported the correlation of the severity of symptoms and the diverse neurophysiological tests.
Conclusion: There is an increase incidence of cognitive impairment in patients with ET in Mexican population with a prevalence of 82.3% There was evident a predominant cognitive domain, characterized por Executive disfunction with greater dysfunction on ideational than motor, Working memory dysfunction with grater affection on evocation than codification.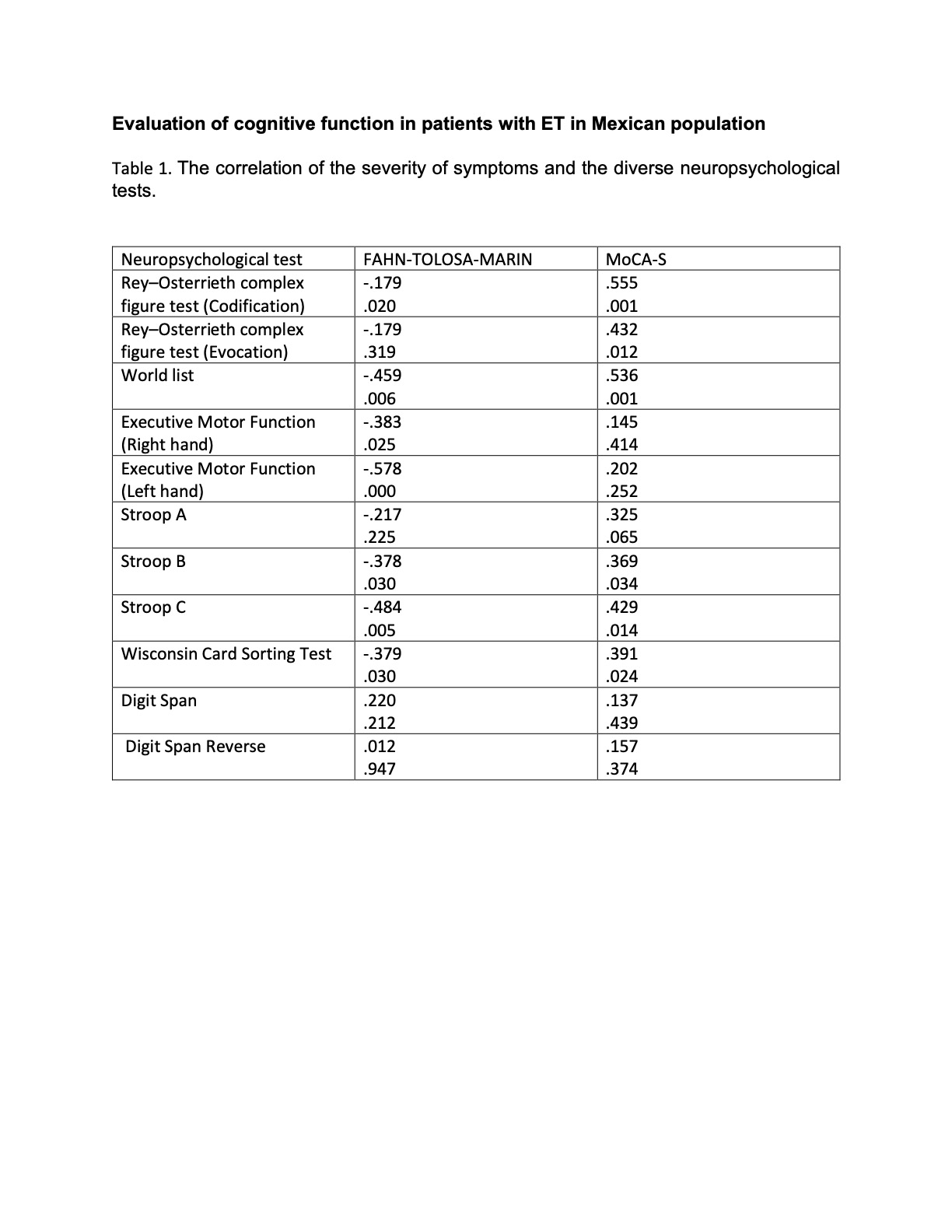 References: 1. Martina Azar, Elodie Bertrand,Elan D Lois, Edward Huey,Kathleen Collins; Brittany Rohl;Stephanie Cosentino, Awareness of cognitive imparirment in individuals with essential tremor, Journal of the Neurological Sciences, 15 feb 2017, 1-27 
 2. Puertas-Martín, V., Villarejo-Galende, A., Fernández-Guinea, S., Romero, J. P., Louis, E. D., & Benito-León, J. A Comparison Study of Cognitive and Neuropsychiatric Features of Essential Tremor and Parkinson's Disease. 
 3. Higginson, C. I., Wheelock, V. L., Levine, D., King, D. S., Pappas, C. T., & Sigvardt, K. A. (2008). Cognitive deficits in essential tremor consistent with frontosubcortical dysfunction. Journal of clinical and experimental neuropsychology, 30(7), 760-765. 
 4. ChandranV, PalPK, ReddyJY,etal. Non-motor features in essential tremor. Acta Neurol Scand 2012;125:332–37 
 5. E. Boutin, M.Vaugoyeau , A.Eusebio,J.P Azulay,T. Witjas, News and Controversias regarding essential tremor, Revue neurologique, Neurol-1489 2015 pag. 11
To cite this abstract in AMA style:
A. Abundes-Corona, M. Rodríguez-Violante, A. Cervantes-Arriaga, H. Estrada-Rodriguez, L. Gaibor-Noboa, D. Vazquez-Guevara. Evaluation of cognitive function in patients with Essential Tremor in Mexican population [abstract].
Mov Disord.
2021; 36 (suppl 1). https://www.mdsabstracts.org/abstract/evaluation-of-cognitive-function-in-patients-with-essential-tremor-in-mexican-population/. Accessed December 4, 2023.
« Back to MDS Virtual Congress 2021
MDS Abstracts - https://www.mdsabstracts.org/abstract/evaluation-of-cognitive-function-in-patients-with-essential-tremor-in-mexican-population/