Objective: To correlate evoked potentials (EPs) during electrical stimulation of subthalamic nucleus, to clinical outcome measures in Parkinson's disease (PD) patients, to guide deep brain stimulation (DBS) programming.
Background: Time constraints can make optimally programming DBS patients challenging. This challenge is further compounded by recent advances in DBS technology that have expanded the programming possibilities1. One solution could be to use EP correlates to guide the programming.
Method: DBS was delivered at 10Hz for 50s and EPs were recorded using EEG. EPs were recorded during stimulation of the eight contacts separately and the segmented contacts in an omnidirectional setting. The stimulation-induced artifact was removed using a template subtraction method, allowing investigation of short-latency peaks (< 10ms). A monopolar review was performed to determine the therapeutic window (TW) of each contact. A correlation analysis was performed between the short-latency peak amplitude and the TW from each contact.
Results: Two PD patients participated in this study, of which both hemispheres were tested (data collection is continuing). In all tested hemispheres, we recorded a short-latency peak around 3ms (P3). The correlation analysis was significant for subject 1 (Figure 1A) for both the left hemisphere (R² = 0.62; p = 0.007) and the right hemisphere (R² = 0.60; p = 0.009) between P3 amplitude recorded from the different contacts and the corresponding TW. For subject 2 (Figure 1B), only the right hemisphere (R² = 0.41; p = 0.045) showed a significant correlation between TW and P3 between the different contacts.
Conclusion: This study shows that different contacts elicit different short-latency EPs. P3 remained the focus of this research because it has already been described in previous studies2–6, where it is often linked to activation of a corticosubthalamic hyperdirect pathway. Furthermore, the preliminary data indicates that P3 amplitude is higher in DBS-contacts where the TW is larger. These preliminary results suggest that P3 might be a good predictor for the TW of each contact and could potentially aid the DBS programming of PD patients. Future research should confirm these results in a larger population. An EP biomarker that correlates to the best clinical contact would be clinically relevant to facilitate the programming of DBS patients in a more objective manner.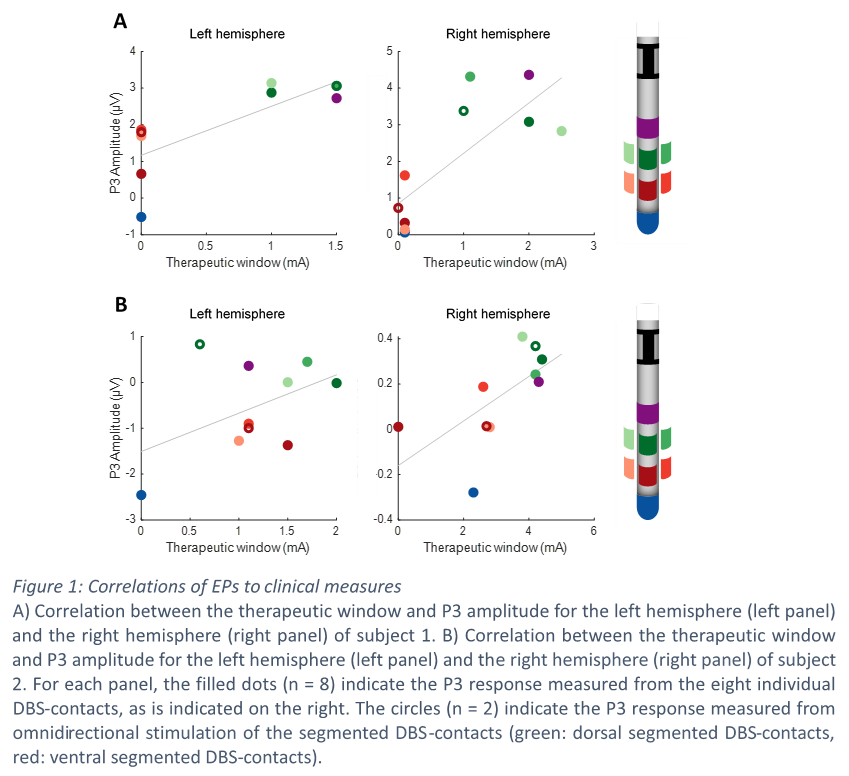 References: 1. Sasaki, F. et al. Closed-loop programming using external responses for deep brain stimulation in Parkinson's disease. Park. Relat. Disord. (2021). doi:10.1016/j.parkreldis.2021.01.023 2. Miocinovic, S. et al. Cortical potentials evoked by subthalamic stimulation demonstrate a short latency hyperdirect pathway in humans. J. Neurosci. (2018). doi:10.1523/JNEUROSCI.1327-18.2018 3. Ashby, P. et al. Potentials recorded at the scalp by stimulation near the human subthalamic nucleus. Clin. Neurophysiol. (2001). doi:10.1016/S1388-2457(00)00532-0 4. Baker, K. B., Montgomery, E. B., Rezai, A. R., Burgess, R. & Lüders, H. O. Subthalamic nucleus deep brain stimulus evoked potentials: Physiological and therapeutic implications. Movement Disorders (2002). doi:10.1002/mds.10206 5. Kuriakose, R. et al. The nature and time course of cortical activation following subthalamic stimulation in parkinson's disease. Cereb. Cortex (2010). doi:10.1093/cercor/bhp269 6. Schmidt, S. L., Brocker, D. T., Swan, B. D., Turner, D. A. & Grill, W. M. Evoked potentials reveal neural circuits engaged by human deep brain stimulation. Brain Stimul. (2020). doi:10.1016/j.brs.2020.09.028
To cite this abstract in AMA style:
J. Peeters, A. Boogers, T. van Bogaert, R. Gransier, J. Wouters, B. Nuttin, M. Mc Laughlin. Evoked potentials as biomarker for deep brain stimulation programming in Parkinson's disease [abstract].
Mov Disord.
2021; 36 (suppl 1). https://www.mdsabstracts.org/abstract/evoked-potentials-as-biomarker-for-deep-brain-stimulation-programming-in-parkinsons-disease/. Accessed December 4, 2023.
« Back to MDS Virtual Congress 2021
MDS Abstracts - https://www.mdsabstracts.org/abstract/evoked-potentials-as-biomarker-for-deep-brain-stimulation-programming-in-parkinsons-disease/